Methodology article

Open Access
A local average distance descriptor for flexible protein structure comparison
BMC Bioinformatics
2014
15:95
Received: 21 September 2013
Accepted: 22 March 2014
Published: 2 April 2014
Abstract
Background
Protein structures are flexible and often show conformational changes upon binding to other molecules to exert biological functions. As protein structures correlate with characteristic functions, structure comparison allows classification and prediction of proteins of undefined functions. However, most comparison methods treat proteins as rigid bodies and cannot retrieve similarities of proteins with large conformational changes effectively.
Results
In this paper, we propose a novel descriptor, local average distance (LAD), based on either the geodesic distances (GDs) or Euclidean distances (EDs) for pairwise flexible protein structure comparison. The proposed method was compared with 7 structural alignment methods and 7 shape descriptors on two datasets comprising hinge bending motions from the MolMovDB, and the results have shown that our method outperformed all other methods regarding retrieving similar structures in terms of precision-recall curve, retrieval success rate, R-precision, mean average precision and F1-measure.
Conclusions
Both ED- and GD-based LAD descriptors are effective to search deformed structures and overcome the problems of self-connection caused by a large bending motion. We have also demonstrated that the ED-based LAD is more robust than the GD-based descriptor. The proposed algorithm provides an alternative approach for blasting structure database, discovering previously unknown conformational relationships, and reorganizing protein structure classification.
Keywords
Average Precision
Mean Average Precision
Surface Residue
Landmark Point
Relative Solvent Accessibility
Background
Protein structure comparison plays an important role in predicting functions of novel proteins [1] and several methods have been developed for pairwise [2–8] and multiple [9–16] comparisons. Most existing methods of structure comparison treat proteins as rigid bodies; however, protein structures are flexible and conformationally changeable in response to binding another molecules relating with biological functions such as immune protection, enzymatic catalysis and cellular locomotion [17, 18]. Such structural variations caused rigid-body algorithms unable to generate correct alignments or retrieve similar structures with large deformations. Therefore, flexibility of proteins should be taken into account when comparing structures and searching for similarities to a query structure.
Alignment methods
Flexible structure comparison has received much attention in recent years. For instance, FlexProt found congruent rigid fragment pairs between two proteins and the flexible regions (hinges), and then a clustering procedure was performed to join consecutive fragment pairs into congruent domain pairs [19, 20]. FATCAT connected aligned fragment pairs based on a dynamic programming algorithm which introduced penalty scores for gaps and twists between consecutive aligned fragment pairs [21]. Compared with FlexProt, FATCAT generates alignments with less twists but similar root mean square deviations (RMSDs) and lengths. The TOPS++FATCAT algorithm reduced the number of aligned fragment pairs during FATCAT comparison processes by applying topological constraints obtained from the alignment of secondary structure elements (SSEs) of TOPS + [22]. Therefore, TOPS++FATCAT is more than 10 times faster compared to FATCAT. Both FlexProt and FATCAT are sequential alignment algorithms thus unable to identify non-sequential alignments. FASE [23] and FlexSnap [24] were designed to tackle the problem of non-sequential flexible structure alignment. FASE compares structures starting from aligned pairs of SSEs with an assumption that an optimal superposition of pairs of structures must have at least one pair of well-aligned SSEs. FlexSnap applies a greedy algorithm for connecting aligned fragment pairs and possesses competitive results against other state-of-the-art pairwise comparison methods. Matt, one of the most popular and accurate flexible multiple structure alignment methods, is also based on the approach of chaining aligned fragment pairs which are allowed translations and rotations during assembling [25, 26].
Non-alignment methods
The alignment/superposition based comparison methods are inefficient for blasting similar structures from a structure database in real-time [27]. Therefore, several non-alignment approaches based on different descriptors of molecular shapes were proposed. These descriptors are usually represented by histograms or vectors, and a similarity score between two molecules is calculated from corresponding descriptors without any alignment [28, 29]. For example, Daras et al. applied the spherical trace transform method to produce rotational invariant descriptor vectors constituted by weighted geometry- and attribute-based vectors for protein classification [30]. The 3D Zernike descriptor represented a protein structure by 121 numbers based on a series expansion of 3D functions for fast retrieval of similarities, and which demonstrated that low-resolution structures were also applicable [27, 31]. Abu Deeb et al. proposed a global descriptor on protein surface, and which was constructed from local patch descriptors defined by residue-specific distance distributions between Cα atoms and the numbers of pairwise residue co-occurrences within each surface patch [32]. Yin et al. compared local surface of proteins by geometric fingerprints of each surface patch [33]. A fingerprint consists of 60 (4 by 15) bins corresponding to the geodesic-distance-dependent distribution of curvatures.
Nevertheless, most non-alignment methods treated proteins as rigid bodies and neglected flexibility of protein conformations required for performing biological functions. To confront the issue of flexibility, Liu and Fang et al. proposed several histogram based descriptors for flexible molecules comparison. For instance, a local diameter descriptor for depicting the local characteristics of boundary points [34], and another descriptor, inner distance, defined as the shortest path between landmark points [28, 35]. Both methods are sensitive to self-connection problems during molecular shape deformation. Accordingly, an improved method named Diffusion Distance Shape Descriptor (DDSD) was proposed, which is based on an average distance instead of the shortest distance between two landmark points [36]. Although DDSD is superior to local diameter, inner distance and other descriptors in terms of retrieving similar protein structures, its performance is still unsatisfied with an F1-measure of 37.04%.
Proposed method
Non-alignment or descriptor based approaches are generally fast enough to search a large database in a real-time manner, but do not provide corresponding information of residues which might provide crucial information for biologists. Combining the ideas of alignment and descriptor based approaches, we propose a novel and efficient descriptor called local average distance (LAD) which is based on either geodesic distances (GDs) or Euclidean distances (EDs) for pairwise flexible protein structure comparison. Each protein structure is firstly transformed into its corresponding LAD profile, and the similarity between two proteins is calculated according to pairwise local alignment on transformed profiles. The Hinge Atlas and Hinge Atlas Gold datasets [37] from the MolMovDB [38] were employed to evaluate the performance of proposed LAD descriptors and to compare with several non-alignment and rigid/flexible structure alignment methods.
Methods
The proposed protein structure comparison algorithm is based on the LAD profile which is built from pairwise residue distances (ED or GD) within a protein. The workflow of generating profiles from atomic coordinates of proteins is shown in Figure
1
. The similarity between two proteins is determined by a local pairwise alignment of their corresponding LAD profiles. The core procedures can be decomposed into triangular surface construction, surface simplification, ED/GD calculation, profile construction and profile comparison. Details of each step are introduced in the following sections.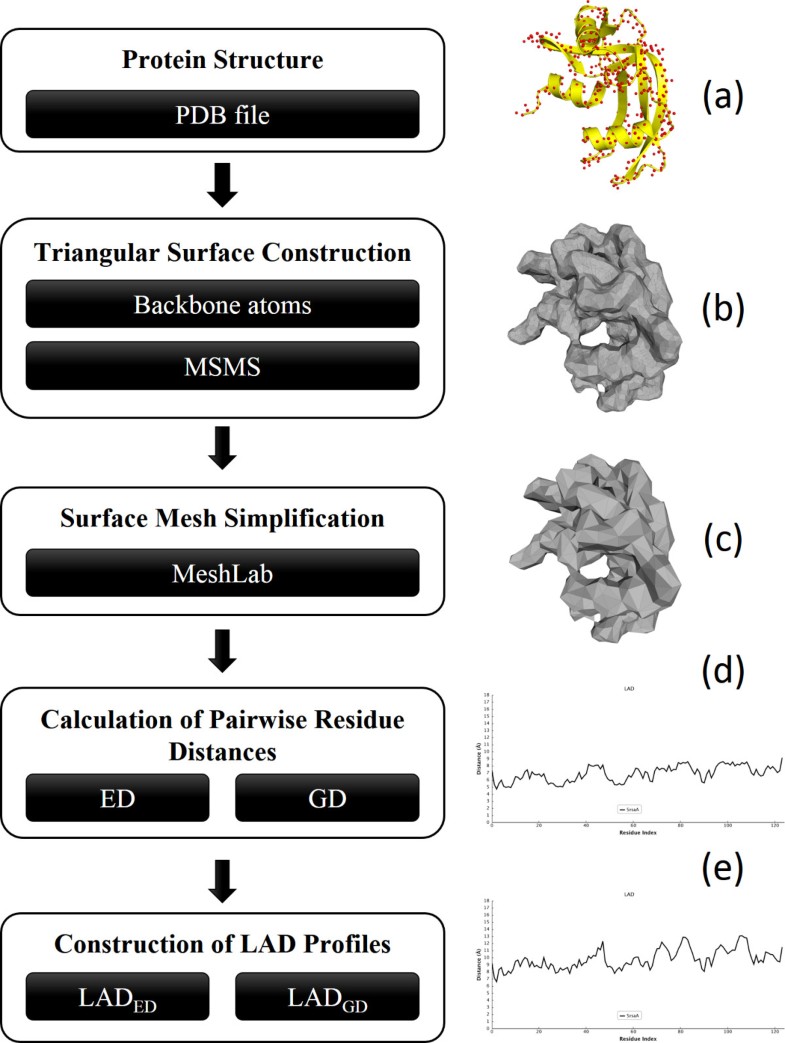 Results
Comparison with structural alignment methods
Comparison with non-alignment methods
The Liu's dataset was employed to compare LAD descriptor with non-alignment methods. In order to compare with the results in [
36
], only the top 64 retrieved structures for each query were used to compute the precision and recall rates. The F
1
-measure is the harmonic mean of recall and precision rates defined as:
where the maximum value is 1. In contrast to the arithmetic mean, both precision and recall rates need to be high to obtain a high F
1
-measure. The retrieval performance of F
1
-measure is listed in Table
3
. LAD
ED
and LAD
GD
achieved 43.27% and 43.18% of F
1
-measure respectively and outperformed the other 7 non-alignment methods with a highest F
1
-measure of 37.04%.
Table 3
Comparison with non-alignment methods on Liu's dataset
| Method | F1-measure (%) |
| --- | --- |
| LADED | 43.27 |
| LADGD | 43.18 |
| Diffusion distance (DD) | 37.04 |
| Inner distance (ID) | 35.83 |
| Shape distribution (SD) | 28.40 |
| Euclidean distance (ED) | 28.81 |
| Solid angle histogram (SAH) | 25.69 |
| Geodesic distance (GD) | 26.42 |
| Spherical harmonic descriptor (SHD) | 23.93 |
Discussion
Self-connection problem
Figure
6
is an example of bona fide domain swapping protein pair holding self-connection on surface caused by a large hinge bending motion. The difficulty is that a self-connection leads to topology changes, hence the inner distance method considering all landmark points cannot solve this problem [
35
,
36
]. However, this type of deformation can be overcome by our proposed descriptor especially for LAD
ED
approach since an LAD only considers the local geometric properties which are not sensitive to global topology changes. Figure
6
d and Figure
6
e have shown a high consistency of LAD
ED
and LAD
GD
profiles between open-form (PDB code: 1a2w, chain A) and close-form (PDB code: 5rsa, chain A) of Ribonuclease A respectively. It is obvious that LAD
ED
is more consistent than LAD
GD
in this case, but both
LAD
div
are close to zero representing highly similar conformations. The (RMSD,
LAD
div
) for LAD
ED
is (0.173, 0.0004) and (0.454, 0.02) for LAD
GD
.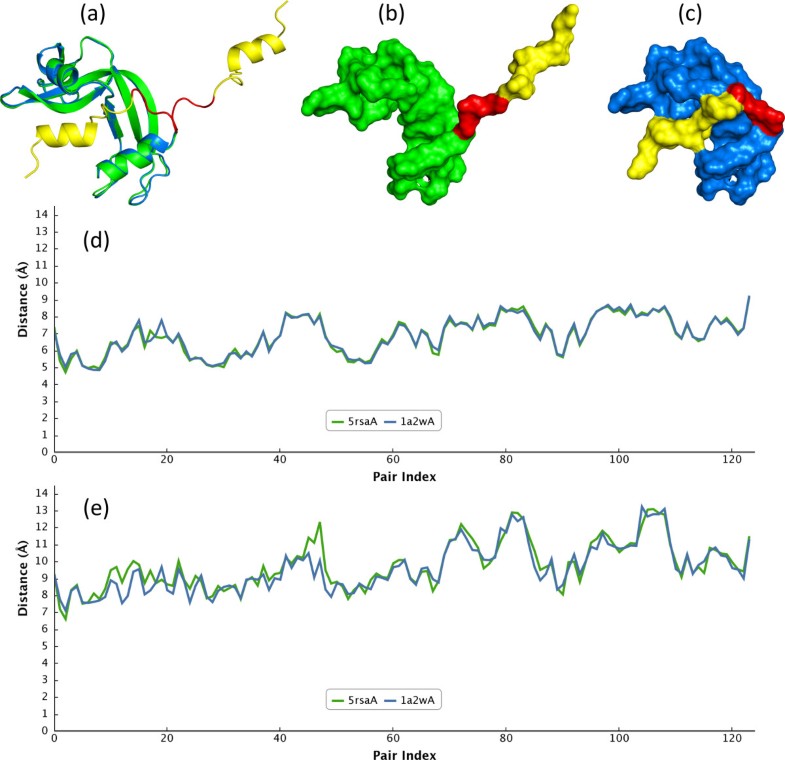 In general, LAD descriptors are insensitive to self-connection cases; however, an LAD
GD
profile is sometimes not consistent at the location of self-connecting regions. Given another domain swapping example in Figure
6
, an open-form Ribonuclease A (PDB code: 1js0, chain A) changes to a closed-form (PDB code: 3di8, chain A). The swapped domain (yellow surface) bends and intertwines with the protein body (blue surface) via conformational changes of highly flexible hinge loops (red surface) (see Figure
7
a and Figure
7
b). In Figure
7
c, it is obvious that the LAD
ED
varies slightly between the open- and close-form states from H105 to A109 residues (magenta rectangle). In contrast, the LAD
GD
of close-form state is higher than that of open-form state at corresponding highlighted regions (see Figure
7
d). For a detailed illustration, it can be imagined a path from the residue H105 to its +3 position (V108). When the swapped domain locates apart from the protein body in the open-form state, the GD between these two residues is the shortest path along the white surface. The GD and ED between the two residues in the open-form state are 11.12 Å and 10.37 Å respectively. However, the path was changed while the swapped domain bending to the body and intertwining with the white surface region forming a self-connection case. The GD is increased significantly due to an additional mountain (yellow region in Figure
7
b) obstructing the original path from residue H105 to V108. The ED maintained high similarity since its path directly passed through the mountain instead of along on the surface. The GD and ED between the two residues of the close-form state are 16.77 Å and 9.57 respectively. This phenomenon is the main reason why an LAD
GD
descriptor more sensitive to the topological changes than LAD
ED
.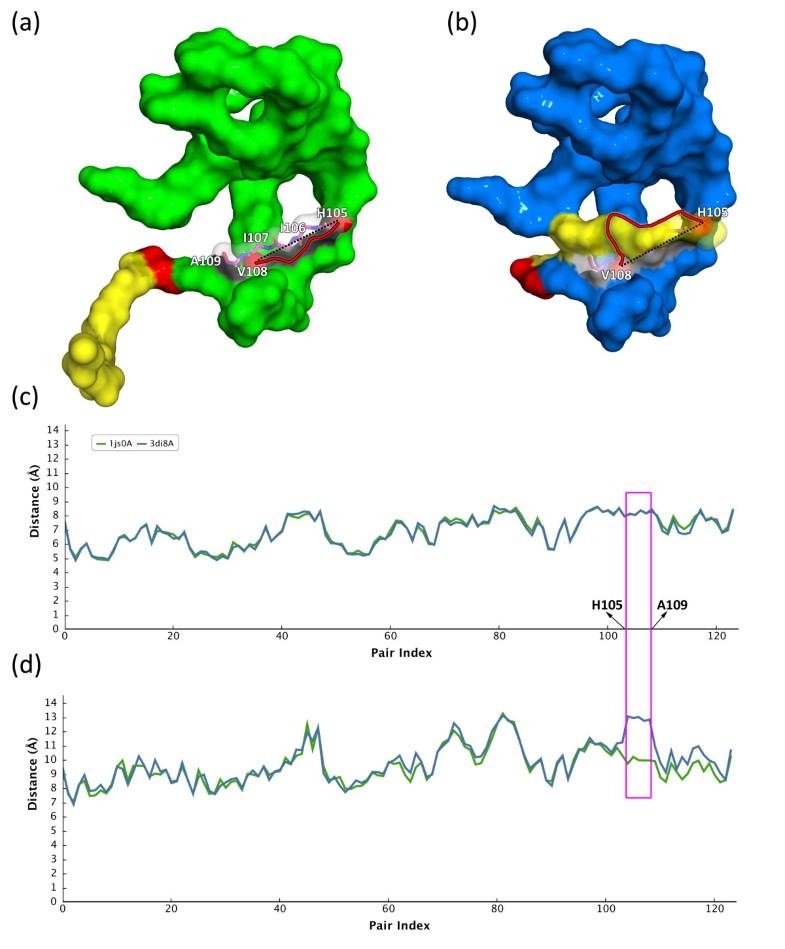 Differences between the previous and proposed ED/GD based methods
In previous studies [34–36], ED and GD were shown to be sensitive to shape deformation and not feasible for flexible molecular shape comparison. However, it is interesting that relying on the proposed LAD methods, both features become insensitive to topological changes and reveal deformation invariant properties to tackle with the flexibility problems. The reason for sensitive ED and GD features in previous studies is that both distances were computed among all global landmark points. On the contrary, the LAD exploits the characterization of local geometric features for each residue and its neighbouring residues. Therefore, ED and GD features become much less sensitive to global topological changes.
Computational time
Pairwise comparison of LAD profiles was performed by a modification of Smith-Waterman algorithm and possessed the same time complexity. The goal of a sequence alignment problem is to identify the correspondence of residues between two given proteins, while a structure alignment emphasizes on finding both an alignment and a spatial superposition. Possible combinations of corresponding residues are countable while possibilities of special superposition are innumerable. Therefore, the computational complexity of the proposed algorithm is inherently less than most commonly used structure alignment methods [66]. The LAD algorithm was implemented by C# .NET running on an Intel Core i5-2500 3.3GHz computer with 16GB ram. According to the 551478 pairwise comparisons mentioned in the result section, it only cost an average computational time of 3.896 and 4.828 milliseconds per comparison for LADED and LADGD profiles respectively.
Conclusions
We proposed a novel profile-based alignment method, named LAD, for pairwise flexible protein structure comparison. It can be constructed in a sense of any kind of spatial measures of local neighbouring residues within a specific sliding window. Here, GD and ED were used to build LADGD and LADED profiles. The idea of LAD improves the ED- and GD-based descriptors which were previously shown to be sensitive to molecular shape deformation, in particular to topologically structural changes. The effectiveness of LAD descriptor has been evaluated on two datasets of hinge bending motions from the MolMovDB. Our methods are robust to deformed flexible molecules and achieve good performance regarding assignment of the queries to different classes of molecules with conformational changes, and the results have shown superior performance compared to existing alignment- and nonalignment-based tools. Finally, the reasons of LAD descriptor being insensitive to flexible proteins with self-connection circumstance was described by taking 3D domain swapping cases as examples, and further discussion of LADED possessing more robust properties than LADGD was also explained. Required computational time for pairwise LADED/LADGD profile comparisons was analyzed to demonstrate its feasibility for constructing an on-line structure comparison system. The proposed descriptor is indeed effective in retrieving deformed proteins and it could be an alternative approach for database search, discovery of previously unknown conformational relationships, and reorganization of protein structure classification.
Abbreviations
LAD:

Local average distance
ED:

Euclidean distance
GD:

Geodesic distance
MAP:

Mean average precision.
Declarations
Acknowledgements
Thanks to Mr. Yueh-Lin Tsai for initiating the research topic and thanks to Professor Liu for providing the testing dataset of Hinge Atlas. This work was supported by the Center of Excellence for the Oceans from National Taiwan Ocean University and the National Science Council, Taiwan (NSC101-2627-B-019-003 and NSC102-2321-B-019-001 to Tun-Wen Pai, NSC102-2325-B-007-001 to Wen-Ching Wang).
Authors' Affiliations
(1)
Department of Computer Science and Engineering, National Taiwan Ocean University, Keelung, Taiwan
(2)
Biomedical Science and Engineering Center, National Tsing Hua University, Hsinchu, Taiwan
(3)
Institute of Molecular and Cellular Biology and Department of Life Science, National Tsing Hua University, Hsinchu, Taiwan
Copyright
© Wang et al.; licensee BioMed Central Ltd. 2014
This article is published under license to BioMed Central Ltd. This is an Open Access article distributed under the terms of the Creative Commons Attribution License (http://creativecommons.org/licenses/by/2.0), which permits unrestricted use, distribution, and reproduction in any medium, provided the original work is properly credited. The Creative Commons Public Domain Dedication waiver (http://creativecommons.org/publicdomain/zero/1.0/) applies to the data made available in this article, unless otherwise stated.