Research article
Open Access
Computational detection of genomic cis- regulatory modules applied to body patterning in the early Drosophila embryo
BMC Bioinformatics
2002
3:30
Received: 29 August 2002
Accepted: 24 October 2002
Published: 24 October 2002
Abstract
Background
Regulation of gene transcription is crucial for the function and development of all organisms. While gene prediction programs that identify protein coding sequence are used with remarkable success in the annotation of genomes, the development of computational methods to analyze noncoding regions and to delineate transcriptional control elements is still in its infancy.
Results
Here we present novel algorithms to detect cis- regulatory modules through genome wide scans for clusters of transcription factor binding sites using three levels of prior information. When binding sites for the factors are known, our statistical segmentation algorithm, Ahab, yields about 150 putative gap gene regulated modules, with no adjustable parameters other than a window size. If one or more related modules are known, but no binding sites, repeated motifs can be found by a customized Gibbs sampler and input to Ahab, to predict genes with similar regulation. Finally using only the genome, we developed a third algorithm, Argos, that counts and scores clusters of overrepresented motifs in a window of sequence. Argos recovers many of the known modules, upstream of the segmentation genes, with no training data.
Conclusions
We have demonstrated, in the case of body patterning in the Drosophila embryo, that our algorithms allow the genome-wide identification of regulatory modules. We believe that Ahab overcomes many problems of recent approaches and we estimated the false positive rate to be about 50%. Argos is the first successful attempt to predict regulatory modules using only the genome without training data. Complete results and module predictions across the Drosophila genome are available at http://uqbar.rockefeller.edu/~siggia/.
Keywords
Weight MatrixArgosWeight MatriceModule PredictionNoncoding Sequence
Background
In higher eukaryotes, many genes feature differential spatial-temporal expression during development and throughout the life cycle of the organism. Their complex transcription regulation is thought to be achieved by the combinatorial action of multiple transcription factors which bind to cis- regulatory DNA sequences. Here, transcription factors are defined as proteins which recognize and bind regulatory sites and have a potential to modulate directly or indirectly through the recruitment of cofactors the activity of the basal transcriptional apparatus of proximal genes. The number of transcription factors is a substantial part of the total number of genes in any organism, for example about 700 out of 13,500 genes in Drosophila [1].
Although combinatorial action of transcription factors has been studied throughout the life cycle of organisms [2], perhaps the most coherent picture has emerged in the context of developmental processes [3, 4]. Here, a great number of experiments suggest that a major part of the gene regulatory apparatus is organized in the form of separable cis- regulatory modules [3]. A given module defines specific aspects of the spatio-temporal pattern of gene expression by the combinatorial action of multiple transcription factors which together define the rate of transcription. Modules thus integrate inputs from several genes and regulate another gene to form developmental networks. Modules seem to share several architectural features [5]: They are typically only hundreds of nucleotides in length and contain multiple binding sites for as many as 4–5 different transcription factors. The frequent occurence of multiple copies of the same motif as well as the enrichment of certain combinations of motifs in a module in comparison with the genome at large provide the basis for our computational strategies to predict genes which are part of the same regulatory network. Existing algorithms for discovering modules [6–8] are based on counting the number of matches of a certain minimal strength to known motifs and thus require ad-hoc parameters for each motif, resulting in parameter dependent predictions. These algorithms are also bound to miss multiple weak binding sites which are known to be present in many modules. We demonstrate a novel algorithm, Ahab, which overcomes these problems.
However, the binding sites (motifs) which reside in modules are often not known. A recent paper [
9
] proposed an algorithm for identfying these sites; here we show that a standard method is capable of identifying typically half of the known binding sites in a module. Its entire output can then be used as input to Ahab (Figure
1
). Finally, we ask if the redundancy of sites inside modules is strong enough to predict modules using only genomic sequence. To our knowledge, our algorithm Argos is the first successful attempt to do this for a metazoan genome.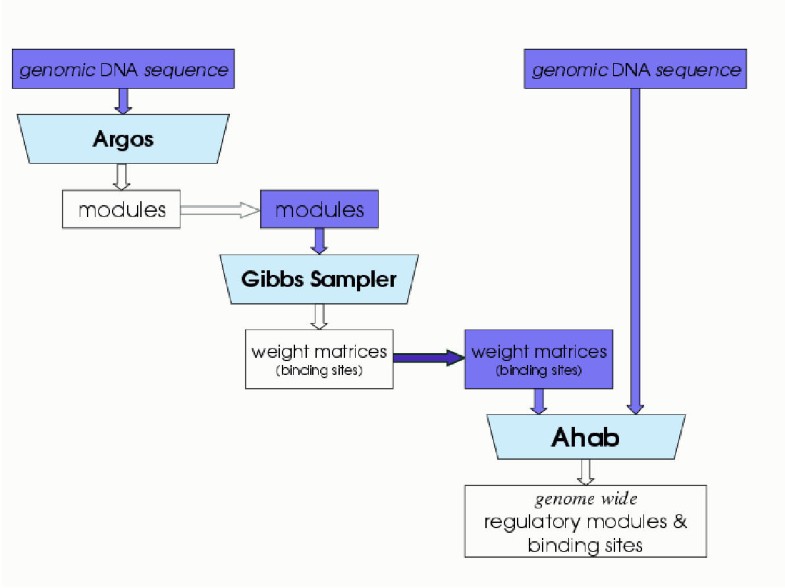 Our system of choice is the body patterning of the early Drosophila embryo which is established by a multi-tiered hierarchy of transcription factors [10]. Broadly distributed maternal factors trigger zygotic gap gene expression in discrete domains along the anterior-posterior axis of the embryo. Maternal and gap gene factors together trigger pair rule gene expression in 7 alternating stripes, which in turn regulate segment polarity and homeotic gene expression in 14 stripes. Many of these factors are known, their binding sites have been studied, and more than 20 modules have been identified. For this system, we show by comparing our predictions to literature results that we can predict regulatory modules using different levels of input – binding sites, regulatory sequence identified by 'promoter bashing'/sufficiency tests, and genomic sequence itself. Altogether, we predict roughly 200 new modules and 7 new sequence motifs and we analyze and validate the performance of each of the three algorithms.
Figure 1 summarizes the input/output levels and serves as a reference for what follows.
Discussion
We have demonstrated algorithms that exploit three very different levels of prior information and lead to statistically highly significant predictions for early developmental modules in the fly. The Ahab algorithm is perhaps closest to the 'calculation' actually performed by the cell. The weight matrix match is a surrogate for the energetic preference of a transcription factor for a particular sequence, and Ahab models the competition of several factors and their binding energies for a stretch of DNA (a module). Ahab ignores distances between binding sites and the actual factor concentrations. Thus, the success of Ahab suggests that just modeling the binding energies is already predictive. It will be interesting to see how well Ahab performs in situations where the concerted binding of cofactors constrains the spacing of binding sites [13, 14].
Finding overrepresented weight matrices is a well studied problem for which Gibbs sampling constitutes a reasonable solution if the data consists of distinct motifs separated by random bases. The difficulty we have encountered with this algorithm in dissecting regulatory modules for binding sites is not rare or diffuse motifs but rather too much signal, namely the overlay of motifs of different sizes and specificities. The Gibbs statistical model is not strictly correct for our data. A more adequate algorithm would allow competition among motifs of different lengths [15]. Irrespective of technical problems, the discovery of binding motifs by site repetition is qualitatively a more difficult task than their recognition by transcription factors [16]. Thus our ability to recover plausible motifs for about half the known factors was not obvious in advance and is another manifestation of the redundancy in module design.
Reference [6] describes another approach to locating modules from clusters of known weight matrices. They count the number of matches of each weight matrix in an interval with a score above some empirically defined cutoff, and then score a 700 bp window as significant when the total number of matches for all factors is large enough. Information about the background is implicitly encoded in their choice of threshold. We do not have factor specific cutoffs, and use a locally defined background model, which renders our algorithm more automatic and less sensitive to local variation in sequence composition, eg poly A runs.
Although we are predicting many more modules than in [6], the positive hit rates are comparable between the two methods (50% vs 10 positives out of 28 predictions [6]). A more detailed comparison of both data sets reveals, however, that the 28 modules predicted by [6], with the exception of the giant one, do not overlap with any of the top 137 modules predicted by Ahab, although there are 4 genes in common to our sets. More strikingly, the 10 modules for which experimental results in [6] suggest functionality based on blastoderm expression of a neighboring gene fall below 500 in our ranking with exception of giant and one of the hairy derived modules for nub, Table 4. Presumably due to the difference in background model, their modules are dominated by Hb sites, while ours are not, which contributes considerably to the divergence of the predictions. Clearly, only direct experimental validation of predicted modules through reporter gene fusions will help to compare the different methods. In this fashion, we plan to test a number of the new modules predicted for key genes in the segmentation system such as h, run, gt, odd, prd, slpl/2 and cad.
In order to understand regulatory networks of genes, it is useful to generalize from a few genes or modules with common functions to new candidates. When control is combinatoric, a purely experimental approach tends to be more tedious than screening a modest list of candidates. Thus a potentially important aspect of our work is the combination of motif discovery from modules via Gibbs sampling and generalization to the entire genome with Ahab. We have demonstrated the feasibility of this procedure when we worked from the hairy stripe 5–7 modules. Interestingly, the candidate list of similar modules genome wide was quite small, but had little overlap with the top scoring modules predicted from the full set of gap gene weight matrices. Hopefully some of the new motifs discovered by Gibbs sampling are real; perhaps they are binding sites for corepressors. Clearly the first step is to confirm a striped expression for some of the genes in Table 4.
Our algorithm Argos for predicting enhancers from raw genomic sequence works astonishingly well. It will be most interesting to use this approach together in conjunction with the customized Gibbs sampler and Ahab in situations where nothing is known experimentally about the transcriptional regulation of genes of interest to identify co-regulated genes. Namely, following the hierarchical structure in Figure 1, Argos could be used to predict modules, then the customized Gibbs sampler to predict binding sites (weight matrices) and finally Ahab to predict, genome wide, genes in the same regulatory network.
Several recent papers [6, 7, 9] as well as ours have taken only the very first steps in applying computational approaches to the the elucidation of cis- regulatory modules. For body patterning in the fly, it is very encouraging that such limited information as we have used works so well. It remains to be seen if the same approaches work on systems where a single master regulatory gene initiates a developmental cascade, or where integration of developmental cues occurs partly at the level of signal transduction.
Conclusions
Predicting and understanding transcriptional regulation is a fundamental problem in biology. We have designed new algorithms for the detection of cis- regulatory modules in the genomes of higher eukaryotes which is a first step in unraveling transcriptional regulatory networks. We have demonstrated, in the case of body patterning in the Drosophila embryo, that our algorithms allow the genome-wide identification of regulatory modules when the motifs for the transcription factors are known (algorithm Ahab), or when only related modules are known (customized Gibbs sampler in conjunction with Ahab), or when only genomic sequence is analyzed with Argos. We believe that Ahab overcomes many problems of recent studies and we estimated the false positive rate to be about 50%. Argos is the first successful attempt to predict regulatory modules using only the genome without training data. All our results and module predictions across the Drosophila genome are available at http://uqbar.rockefeller.edu/~siggia/. The Ahab code is available upon request from the authors.
Contributions
Authors 1, 2 and 4 carried out the computional part of this study, author 3 annotated the Ahab results. All authors read and approved the final manuscript.
Note
1Randomized sequence was produced by randomly pooling and concatenating 100 basepair chunks from genomic noncoding sequence
Declarations
Acknowledgements
We thank Nicholas D. Socci for customizing the Generic Genome Browser such that it allows the genome wide display of the Ahab score (see Fig. 2). Ulrich Unnerstall helped typesetting the supplementary material. Chris Mungall provided help with the fly annotation. The Ahab code is available from the authors. Support was provided by the NSF grant DMR 0129848, and the NIH grant GM-66434.
Authors' Affiliations
(1)
Center for Studies in Physics and Biology, The Rockefeller University, New York, USA
(2)
Laboratory for Developmental Neurogenetics, The Rockefeller University, New York, USA
(3)
CNRS, Observatoire Côte d'Azur, Lab. G. D. Cassini, Nice, France
Copyright
© Rajewsky et al; licensee BioMed Central Ltd. 2002
This article is published under license to BioMed Central Ltd. This is an Open Access article: verbatim copying and redistribution of this article are permitted in all media for any purpose, provided this notice is preserved along with the article's original URL.