From biophysics to evolutionary genetics: statistical aspects of gene regulation
BMC Bioinformatics
2007
8(Suppl 6):S7
Published: 27 September 2007
Abstract
This is an introductory review on how genes interact to produce biological functions. Transcriptional interactions involve the binding of proteins to regulatory DNA. Specific binding sites can be identified by genomic analysis, and these undergo a stochastic evolution process governed by selection, mutations, and genetic drift. We focus on the links between the biophysical function and the evolution of regulatory elements. In particular, we infer fitness landscapes of binding sites from genomic data, leading to a quantitative evolutionary picture of regulation.
Keywords
Binding EnergyEffective Population SizeDetailed BalanceFunctional SiteFunctional Locus
Introduction
Genomic functions often cannot be understood at the level of single genes but require the study of gene networks. This systems biology credo is nearly commonplace by now. Evidence comes from the comparative analysis of entire genomes: Current estimates put, for example, the number of human genes at around 22000, hardly more than the 14000 of the fruit fly, and not even an order of magnitude higher than the 6000 of baker's yeast. The complexity and diversity of higher animals therefore cannot be explained in terms of their gene numbers. If, however, a biological function requires the concerted action of several genes, and conversely, a gene takes part in several functional contexts, an organism may be defined less by its individual genes but by their interactions. The emerging picture of the genome as a strongly interacting system with many degrees of freedom brings new challenges for experiment and theory, many of which are of a statistical nature. And indeed, this picture continues to make the subject attractive to a growing number of statistical physicists.
Genes encode proteins, and proteins perform functions in the cell. Hence, a gene takes part in a biological function only if it is expressed, i.e., if the protein produced from it is present in the cell. Genes interact by regulation: the protein of one gene can influence the production of protein from another gene. Gene regulation can take place during transcription, the process by which the cell reads the information contained in a gene and copies it to messenger RNA (which is subsequently used to make a functional protein). This is the most fundamental level of interactions between genes: the transcription of one gene may be enhanced or reduced by the expression of other genes. Transcriptional regulation is thus a good starting point for theory. We should keep in mind, however, that it is not the only mode of gene interactions. Especially in eukaryotes, additional regulation mechanims involving histones, chromatin, micro-RNAs etc. become relevant, which are just entering the stage of model building. An excellent introduction to the biology of regulation can be found in [1].
This article is a primer on theoretical aspects of gene interactions, and we limit ourselves to transcriptional regulation. Clearly, the subject has rather diverse aspects:
(1) Transcription is a biophysical process, which involves the interaction of DNA and proteins. Its regulation takes place through the binding of proteins to DNA at specific loci in the vicinity of the gene to be regulated. Already at this level, this process is rather complex and not yet fully understood. What enables the protein to find one or a few specific functional sites in a genome of up to billions of base pairs, bind there with sufficient strength to influence transcription, and leave again once its task is performed?
(2) Given that the protein can find its functional sites, can we as well? If that is possible, we can predict the specific gene interactions building regulatory networks from sequence data. The analysis of regulatory DNA is a major topic of research in bioinformatics, with the aim of identifying statistical characteristics of functional loci and of building search algorithms.
(3) Regulation is also becoming an important part of evolutionary biology [2, 3]. If regulatory networks are to explain the differentiation of higher animals, there must be efficient modes of evolution for the interactions between genes. At the level of regulary DNA, these modes remain largely to be explored. It is clear, however, that the underlying evolutionary dynamics is the basis of a quantitative understanding of regulatory networks.
All three aspects of regulation contribute to a unified theoretical picture. Key concepts such as the biophysical binding energy, the bioinformatic scoring function, and the evolutionary fitness turn out to be rather deeply related. We will focus on these crosslinks between different fields, which are likely to become important for future research. A challenge for an introductory presentation is the diversity of relevant background material, only a rather ecclectic account of which can be presented here. Yet, I hope it transpires even from this short introduction that present quantitative genomics is an area of science shaped by a remarkable confluence of ideas from different disciplines.
Biophysics of transcriptional regulation
The fundamental step in the regulatory interaction between two genes is a binding process: the protein produced by the first gene acts as a
transcription factor
for the second gene, i.e., it binds to a functional site on the DNA close to the second gene and thereby enhances or suppresses its transcription. Binding sites are short, typically segments of 10 to 15 base pairs in prokaryotes and even shorter segments in eukaryotes. They are primarily located in the
cis-regulatory region
of a gene, which lies just upstream of its protein-coding sequence and extends over hundreds of base pairs in prokaryotes and over thousands of base pairs in eukaryotes. The scenario of transcriptional regulation is sketched in Fig.
1
. A transcription factor bound to a functional binding site regulates the downstream gene by recruiting or repelling RNA polymerase. This protein-protein interaction catalyzes or suppresses the process of transcription of the gene. All these binding processes should not be understood as on or off; they happen with certain probabilities, which are determined by the binding energies and the numbers of the molecules involved.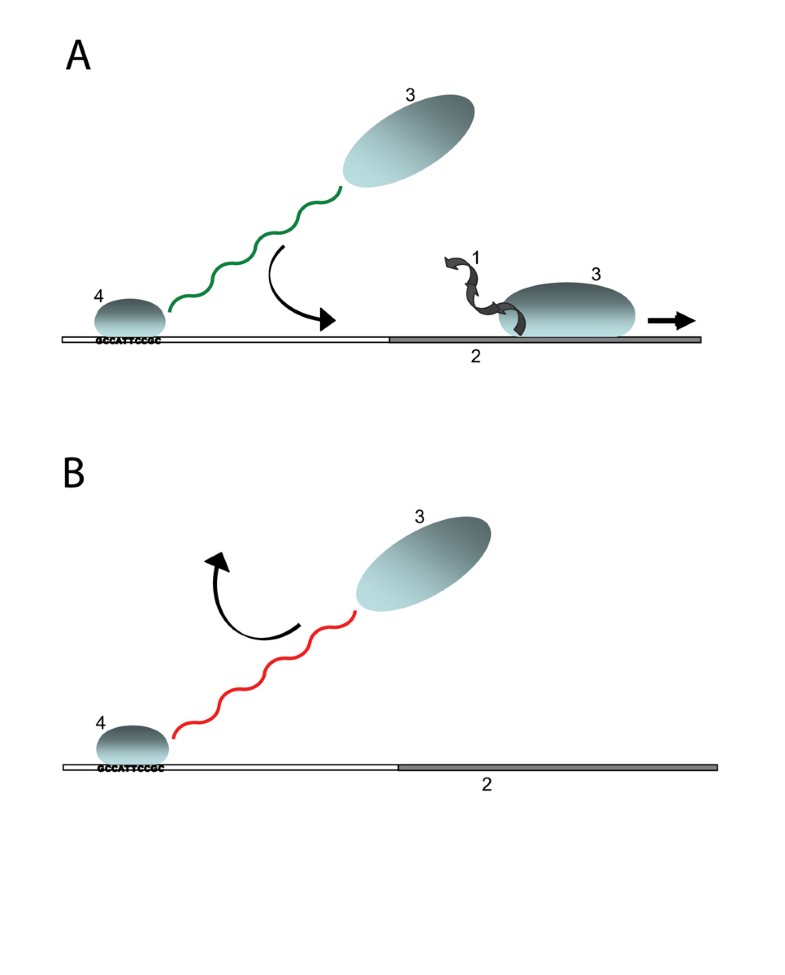 Bioinformatics of regulatory DNA
Predicting regulatory interactions between genes is clearly a key problem in bioinformatics, which is as important as the analysis of individual genes and proteins. It is not surprising that this problem is very difficult since, as we have discussed in the previous section, targeting regulatory input in a large genome is a tremendous signal-to-noise problem even for the cell itself. Its solution via the analysis of regulatory DNA requires finding statistical criteria to distinguish between functional binding sites and background sequence. A general introduction to the relevant sequence statistics can be found in ref. [19].
Evolution of regulatory DNA
In the statistical picture developed so far, background sequences and functional sites are reduced to ensembles P0 and Q. This picture is incomplete in two ways. On one hand, it is quite disconnected from the biophysical aspects discussed before: the specific function of binding sites hardly enters the standard formalism of position weight matrices. On the other hand, there is not yet any notion of time and dynamics. Sequences change by various mutation processes, and the observed sequence ensembles derive from this evolutionary dynamics. The evolution of functional loci is fundamentally different from that of background sequence: it is subject to natural selection, that is, the fitness of an organism depends on its genotype a at a functional locus via the effects on the regulated gene. At this point, the biophysics of binding enters the evolution of functional sequences [25–27]. Moreover, it becomes clear that the statistical framework has to be extended from individual sequences to distributions of genotypes in a population. In this section, we develop an evolutionary picture of regulatory DNA, from which we obtain expressions for the sequence ensembles P0, Q, and the score function S. The next four paragraphs are a self-contained introduction to the underlying concepts of population genetics.
Towards a dynamical picture of the genome
The relationship S = 2NF + const. between score and fitness is a cornerstone of the theoretical picture developed so far, which links its population genetic, bioinformatic and biophysical arches. It relates a key evolutionary variable with the statistics of genomic frequency counts. The physical binding energy is an appropriate phenotypic variable on which fitness and score depend, because molecular function is determined by binding interactions.
We have discussed this picture for transcription factor binding sites, but it can be applied more generally to functional elements in genomes. It relates the statistics of these elements in one genome with their evolutionary dynamics, which is observed in cross-species comparisons. This dynamics is shaped by selection: The components of functional elements are coupled by a common fitness function; such fitness interactions are called epistasis. Hence, functional correlations lead to evolutionary correlations. These can be traced in the Q distribution over fixed genomes of a functional element. A more detailed statistical analysis using the statistics of polymorphisms within a population is briefly sketched below.
Thus, the picture of the genome as a system with multiple interactions has a fundamental dynamical significance. This is important since it allows us to trace functional modules from evolutionary patterns. We conclude the article with a brief outlook on functional integration of regulatory sequences at various and its dynamical implications.
Declarations
Acknowledgements
This article has been published as part of BMC Bioinformatics Volume 8 Supplement 6, 2007: Otto Warburg International Summer School and Workshop on Networks and Regulation. The full contents of the supplement are available online at http://www.biomedcentral.com/1471-2105/8?issue=S6
Authors' Affiliations
(1)
Institut für Theoretische Physik, Universität zu Köln, Köln, Germany
Copyright
© Lässig; licensee BioMed Central Ltd. 2007
This article is published under license to BioMed Central Ltd. This is an open access article distributed under the terms of the Creative Commons Attribution License (http://creativecommons.org/licenses/by/2.0), which permits unrestricted use, distribution, and reproduction in any medium, provided the original work is properly cited.