Research article
Open Access
Corpus annotation for mining biomedical events from literature
BMC Bioinformatics
2008
9:10
Received: 26 July 2007
Accepted: 08 January 2008
Published: 08 January 2008
Abstract
Background
Advanced Text Mining (TM) such as semantic enrichment of papers, event or relation extraction, and intelligent Question Answering have increasingly attracted attention in the bio-medical domain. For such attempts to succeed, text annotation from the biological point of view is indispensable. However, due to the complexity of the task, semantic annotation has never been tried on a large scale, apart from relatively simple term annotation.
Results
We have completed a new type of semantic annotation, event annotation, which is an addition to the existing annotations in the GENIA corpus. The corpus has already been annotated with POS (Parts of Speech), syntactic trees, terms, etc. The new annotation was made on half of the GENIA corpus, consisting of 1,000 Medline abstracts. It contains 9,372 sentences in which 36,114 events are identified. The major challenges during event annotation were (1) to design a scheme of annotation which meets specific requirements of text annotation, (2) to achieve biology-oriented annotation which reflect biologists' interpretation of text, and (3) to ensure the homogeneity of annotation quality across annotators. To meet these challenges, we introduced new concepts such as Single-facet Annotation and Semantic Typing, which have collectively contributed to successful completion of a large scale annotation.
Conclusion
The resulting event-annotated corpus is the largest and one of the best in quality among similar annotation efforts. We expect it to become a valuable resource for NLP (Natural Language Processing)-based TM in the bio-medical domain.
Keywords
Gene OntologyNatural Language ProcessingEvent AnnotationEvent ClassBiological Entity
Background
Due to the ever-increasing amount of scientific articles in the bio-medical domain, Text Mining (TM) has been recognized as one of the key technologies for future bio-medical research [1–8]. In particular, since the limit of simple TM techniques which treat text as a bag of words has become apparent, there has been increased interest in more sophisticated, Natural Language Processing (NLP)-based TM. NLP as a field has been engaged in computer processing of structure of a sentence or text. Recently, advanced NLP software which uses grammatical knowledge and/or machine learning techniques has been increasingly applied to TM for the bio-medical domain [9–21].
For NLP techniques to be successfully applied to text in the bio-medical domain, we first have to construct resources specifically designed for NLP in this domain. Since vocabularies are highly dependent on application domains and since text in the bio-medical domain is full of special technical terms, lexicons that associate terms in the domain with their linguistic and semantic properties are indispensable. Recently, several comprehensive lexicons of the domain have been constructed and made publicly available. These lexical resources will bring further progress in NLP-based TM for the domain [22–28].
Less recognized was the necessity of another type of resource for NLP: annotated corpora [29, 30]. In the bio-medical domain, not only do special terms appear, but in addition common words are used differently with different meanings. Because of this, we need to re-train or adapt NLP programs for the domain. For example, since the statistical distributions of sequences of part-of-speech (POS) and local syntactic trees are different, POS taggers and syntactic parsers have to be adapted for the domain. For empirical systems, this adaptation requires corpora annotated in terms of POS and syntactic trees. In earlier work, our laboratory constructed such an annotated corpus, the GENIA corpus, and made it publicly available to the community [31–33]. Since that time, the GENIA corpus, together with other similar corpora like PennBioIE [34], GENETAG [35], etc., has been used successfully by many groups to develop NLP tools for the domain [36–39].
In this paper, we focus on a new type of annotation, event annotation, recently added to the GENIA corpus. Event annotation belongs to what we call biological annotation. In contrast with linguistic annotation such as POS, or shallow or deep tree annotation, biological annotation is performed by biologists, not by linguists. The goal of biological annotation is to identify what kinds of biological information appear in which part of text, while linguistic annotation focuses on linguistic properties of text in the domain. The term annotation in GENIA is one example of biological annotation. It identifies text spans in which biological entities such as proteins, DNA, RNA, and cellular locations actually appear. As with the POS and tree annotations, the term annotation of the GENIA corpus has been widely used for training NLP tools such as Named Entity Recognizers (NERs) [40–44].
Biological annotation is different in nature from linguistic annotation. In linguistic annotation, we can use existing annotation frameworks designed for the general domain, with few changes. In the GENIA corpus, we used the same set of POS tags and phrase tags developed for the Penn Treebank [45]. In contrast, the biological annotation is domain-dependent by definition. For the term annotation, we had to develop our own ontology of term classes (the GENIA term ontology) for the domain [46].
Though both the term and event annotations belong to the class of biological annotations, we found event annotation to be much more complicated and challenging than term annotation. Most terms denote ontologically simple entities, e.g. un-analyzable basic units. Even though some entities have internal structures which need a hierarchical structure based on meronymy, their relations are grounded in the concrete physical world. Furthermore, in general, terms appear as continuous spans in text, e.g. according to [32], 98% of terms appear in continuous spans.
An event, on the other hand, is not an un-analyzable unit. It has its own internal structure and it involves biological entities as its participants. The relationships between an event and its participants, those among events themselves such as macro- and micro-events, and the causes of events as well as their consequences, are highly dependent on the conceptualization of events by biologists. The relationship between a macro-event and its micro-events, for example, can be seen as a Part-Whole relation, analogous to a protein and its domains. However, this relationship is far more subtle than those found among physical entities. Furthermore, since each participant in an event is mapped to a span of text, the description of an event as a whole is usually spread over several discontinuous spans in text. Compared with entities denoted by terms, events and their identification in text require much more careful examination in terms of their internal structures and their organization into units. In particular, conception of events and their relationships such as causality reflects an intuitive way of seeing the world. Linguistic expressions of events are strongly affected by this conception. Because our intuitive way of seeing the world is somewhat different from the scientific way of understanding the world, existing biological ontologies alone cannot solve all the ontological issues involved in annotating events in text. We defined the GENIA event ontology, which meets the requirements of text annotation, by referring to existing ontologies, mainly Gene Ontology (GO) [47].
The approach to domain-specific event annotation that we adopt in the GENIA project is related to well-known general-domain annotation efforts like Propbank [48, 49] and FrameNet [50, 51]. All of these projects aim to identify events and their semantic participants in text, however a key difference among them is that they make different assumptions about the relationship between syntactic and semantic annotation.
In PropBank, annotation is performed on the syntactic structures of the Penn Treebank. Annotators find and classify the noun phrases (NPs) that are semantically related to a given verb, and the vocabulary of classes that can be assigned is verb-specific. Some semantic annotation work in biology follows this annotation style [52–54], which demonstrates a progressive analysis of linguistic structures: from constituent structure to predicate-argument structure.
In contrast, FrameNet does not explicitly use constituent structure as the basis for semantic annotation. Instead, the semantic annotation abstracts away from syntactic differences as well as lexical differences. Sentences are labeled using a vocabulary of semantic frames, and a group of words share the same frame when they denote the same class of events (e.g. "retail", "sell", and "vend" share the frame of commerce_sell).
Since semantic annotation in the FrameNet style abstracts away from syntactic differences, it is closer to the representation we would like to use for text mining. However the frame classification is still based on general-domain frame semantics. Both FrameNet and Propbank annotation styles require annotators who are familiar with their respective linguistic formalisms.
For biological annotation in GENIA, our goal is to use annotators who are biologists, in order to get qualified interpretations from a biological perspective. These annotators are not systematically aware of linguistic phenomena. As a result, our event classification is information-centered, and can be directly mapped to domain knowledge without reference to syntactic or frame-semantic theory.
The disadvantage of this approach is higher inter-annotator discrepancy [55]. While event annotation is performed based on the assertions made in the text, to map the individual assertions with corresponding event classes, annotators depend on inference. Since inference is affected by the annotator's background knowledge, without appropriate control, annotation of the same text may differ from one biologist to another.
In order to minimize discrepancies and maintain the quality of annotation, we have introduced several measures. Text-bound Annotation requires annotators to indicate clues in the text for every annotation they make. We have also developed a tool, XConc, which provides multi-layered annotation, semantic type checking, and detection of anomalies in the resulting annotations. The annotation guidelines which have been developed during the event annotation also played a key role. The guidelines are written in plain language, and they include many examples of what constitutes appropriate textual evidence for an annotation in GENIA. This helps to define the scope of allowable inferences without using technical definitions that are unfamiliar to our annotators.
After a period of trial and error which lead to initial annotation guidelines, we have completed the annotation of 1,000 abstracts, half of the whole GENIA corpus, with high quality. The annotated corpus consists of 9,372 sentences and 36,114 annotated events, which is by far the largest among similar attempts [53, 56]. We will make the annotation results available to the community, and it is reasonable to expect that the corpus will contribute to further progress in NLP-based TM techniques, including event or relation extraction [57–59], intelligent information retrieval [13, 60], semantic enrichment of text [61], and integration of text information with pathway databases [11, 58].
Conclusion
In the bio-medical domain, event or relation annotation has not been conducted on a large scale, though it is recognized an important step towards advanced NLP-based TM. There are several known difficulties for successful completion of event annotation. We have to first define an annotation scheme, and then perform a large amount of annotations consistently.
In this paper, we first discussed some of basic characteristics of information encoded in text such as underspecification, variable granularity of information, and predicate-centered description, which are reflected in our design of annotation scheme. Then we presented our strategies for maintaining the quality of annotation, including the principles of Text-bound Annotation and Single-facet Annotation, as well as Cross Validation by Semantic Typing.
There remain discrepancies in annotation, in particular, in the annotations of semantic roles other than Cause and Theme. We also need to establish a more theoretically sound framework to treat the relationship between term and event classes in annotation.
In spite of these remaining problems, as the first phase, the current version of event annotation is complete in its own right. The quality and the size of the annotated corpus make it one of the best and largest, compared to similar attempts. In combination with the existing annotations on the GENIA corpus, the annotation discussed in this paper will contribute to further progress in NLP-based TM activities, such as event extraction, intelligent information retrieval, semantic enrichment of text, and integration of text information with pathway databases. The event-annotated corpus and the annotation guidelines will be made publicly available in XML at the homepage of GENIA Project [71].
Methods
Annotation procedure
We started our annotation work in May, 2005 with one coordinator (a biologist working full-time on this project) and three graduate students in molecular biology. The initial phase of three months was for exploratory annotation, in which three annotators were given the same set of abstracts to annotate and a rather simple annotation manual. The manual was provided by the Caderige project [59].
Inspection of the first annotation results revealed greater discrepancies than we had expected. This is partly because the manual provided by the French group was intended for annotation of text on "Bacillus subtilis and transcription", and there were many phenomena that were not covered. More seriously, biologists made overly-subjective interpretations using their own background knowledge and by referring to context.
Based on these results, we revised the manual substantially and started the annotation work in earnest in December, 2005. We also found that sharing experience and discussing specific annotation examples among the annotators is crucial for maintaining quality. Therefore, we decided to organize frequent meetings between the coordinator and the annotators. The meetings continued regularly, once every week, until the end of the first phase. The coordinator and the annotators were jointly involved in the adjudication process of problematic cases. Special databases and annotation software (XConc) were developed to maintain the results of adjudication and facilitate flexible retrieval of annotation results, for reference.
Since we had already finished the term annotation, we were able to check semantic homogeneity of arguments in the annotated events. We found that examination of the distribution of term classes used as arguments was effective for finding anomalies in annotation, and we made it a regular practice at the meetings to discover problematic cases.
There have been changes of annotators. Whenever a new annotator joined, we trained her/him by using previously annotated examples, with a constantly-revised manual. On average, five part-time annotators (graduate students), one senior coordinator and one junior coordinator have been involved in annotation throughout the whole period of 1.5 years.
Annotated information
While the current annotation focuses on identification of event classes, along with clue expressions for classes and fillers of the two major roles Cause and Theme, we annotated other semantic roles as well. These role annotations correspond to semantic role assignments for the complements and adjuncts of verbs, as seen in linguistics-based annotation efforts such as PropBank. Except for some event classes that internally involve locations, these semantic roles capture the biological context where an event takes place. Examples of these additional semantic role annotations are shown in Table
7
.
Table 7
Semantic role types and their annotation instances
| clueLoc | clueTime | clueExperiment |
| --- | --- | --- |
| nuclear (135) | early (15) | electrophoretic mobility shift assays (13) |
| in t cells (106) | subsequent (13) | northern blot analysis (9) |
| in human monocytes (57) | during t-cell activation (8) | electrophoretic mobility shift assay (7) |
| in monocytes (50) | within 30 min (6) | by electrophoretic mobility shift assays (7) |
| in b cells (41) | initial (6) | using electrophoretic mobility shift assays (4) |
| intracellular (38) | during aging (6) | in transient transfection assays (4) |
| in jurkat cells (34) | during monocytic differentiation (5) | in emsas (4) |
| in jurkat t cells (33) | simultaneous (4) | in electrophoretic mobility shift assays (4) |
| in monocytic cells (30) | during the immune response. (4) | site-directed mutagenesis (3) |
| in t lymphocytes (28) | during erythroid differentiation (4) | nuclear run-on experiments (3) |
| surface (27) | at 24 hr (4) | in gel mobility shift assays (3) |
| cells (24) | rapidly (3) | immunoblot analysis (3) |
| cytoplasmic (21) | for 6 hours (3) | gel-shift analysis (3) |
| in these cells (20) | for 6 h (3) | emsa (3) |
| in human t cells (20) | first (3) | cotransfection experiments (3) |
| t cells (18) | during the immune response (3) | by northern blot analysis (3) |
| cellular (18) | during the cell cycle (3) | by flow cytometry (3) |
| in activated t cells (17) | during t cell activation (3) | by electrophoretic mobility shift assay (3) |
| to the nucleus (16) | during myelopoiesis (3) | western blotting (2) |
| in the nucleus (16) | during monocyte differentiation (3) | transient transfection experiments (2) |
| in hela cells (16) | at 8 hr (3) | supershift analysis (2) |
| in thp-1 cells (15) | 24 h (3) | rt-pcr (2) |
| in b lymphocytes (15) | within 8 hr of infection (2) | northern blot analyses (2) |
| b cell (15) | within 6 h (2) | northern analysis (2) |
| in u937 cells (14) | within 4 hours (2) | mutational analysis (2) |
| in fibroblasts (13) | within 20 min (2) | mutational analyses (2) |
| b cells (13) | within 2 h (2) | mobility shift assays (2) |
| transendothelial (12) | second (2) | inhibition studies (2) |
| t-cell (12) | in a primary t cell response (2) | in transient transfection experiments (2) |
| into the nucleus (12) | from day 7 to day 14 of culture (2) | in transient assays (2) |
| ... | ... | ... |
Annotation tools
From time to time, we changed the annotation criteria and the format of annotation. Since such changes had to be reflected in previous annotations, we developed a tool for manual annotation, XConc Suite, which provides annotators with the functions of retrieving and editing existing annotations, as well as functions for creating new annotations.
The XConc (XML-based Concordancer) Suite is an integrated annotation environment providing an XML editor, a concordancer and an ontology browser which all interact with each other. For example, the users can retrieve existing annotations and view the concordance in KWIC (keyword in context) format. Figure
8
shows a screenshot of XConc. The pane in the bottom shows the list of annotation instances of
Regulation
(including its child classes,
Positive_regulation
and
Negative_regulation
). Users can choose an instance from the list in order to open the file containing the annotation, which will automatically locate the cursor on the annotation, so that they can easily make an addition to it.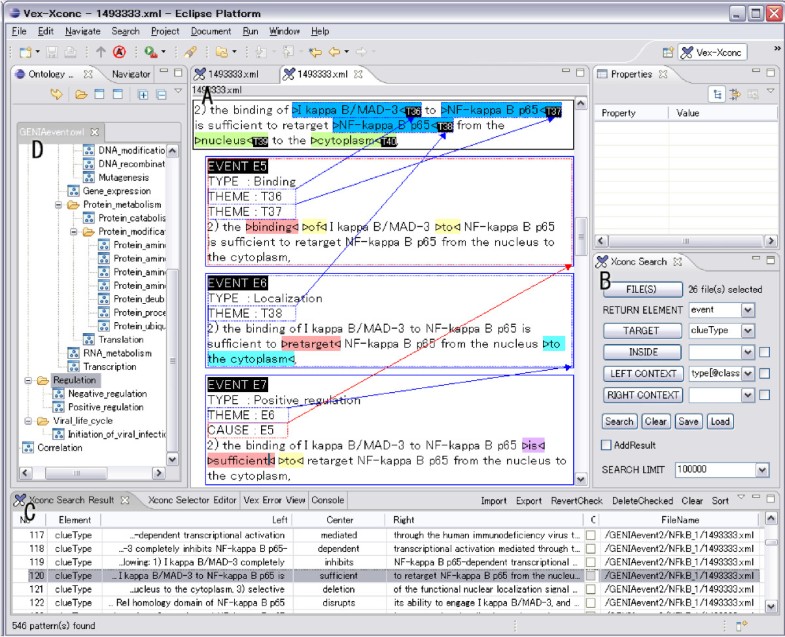 In the figure, an XML editor in the middle shows an annotation instance from the underlying XML file. The cursor is located in the text span "sufficient" in the bottom of the editor window. This is the result of choosing a specific instance from the annotations list, mentioned above. The XML editor and the concordancer are integrated with the ontology browser (shown in the left of the screenshot). This allows users to select an event or term class (including or excluding its child classes) using the browser, both for annotation creation and annotation search.
The XConc Suite is implemented on top of Eclipse, a widely used, general-purpose software development platform. This provides the XConc Suite with general functionality for software development, including project and file management and version control. A proper version control system, like CVS supported by Eclipse, is particularly crucial for long term software development activities like corpus annotation. Another characteristic feature of the XConc Suite is its flexibility. Since it is developed for general XML applications rather than for a particular format, the annotation schemes and corresponding user interfaces are easily customized by using
DTD
(Document Type Definitions) [
72
] and
CSS
(Cascade Stylesheets) [
73
]. XConc has evolved in parallel with actual annotation work. In particular, the following functionalities of XConc were found indispensable for efficient and stable annotation.
1.

Functions for Multi-layered Annotation: Our event annotation is based on the term annotation, which was completed previously on the same corpus. Arguments of an event, Cause and Theme, are chosen from already-annotated terms. This reduces discrepancies in terms of selection of text spans for arguments. When appropriate terms were not annotated as such in the term annotation, annotators were required to report to the coordinators.

2.

Functions for Ontologies: The two ontologies, the GENIA term ontology and the GENIA event ontology, are represented in OWL, and XConc manages them using Protégé. While we encouraged annotators to use as many leaf concepts as possible in the event annotation, we also gave them guidelines for when they should use broader, less specific concepts. This avoids forced interpretation and thus reduces discrepancies. Tools for navigating through the ontologies were essential for annotators when choosing the appropriate event classes.

3.

Functions for Structured Objects: Unlike the term annotation, the event annotation has to deal with the internal structures of an event, such as elements which fill the roles of Theme and Cause. An event can be a role-filler for other events. Flexible functions for assigning Ids to structured objects, and for referring to them by these Ids in subsequent annotations, are indispensable for efficient annotation.

4.

Functions for Retrieval: XConc provides functions for retrieval of annotations previously made, based on patterns of annotation tags. To examine previous annotations in similar contexts, especially the ones which have already been adjudicated by the coordinators, is very useful for maintaining homogeneity of annotation.
These functions correspond to ways in which annotators interact with the corpus in the process of performing their work.
Declarations
Acknowledgements
The authors thank Alicia Tribble for help revising the English and logic of the manuscript, and also thank other GENIA project members, especially Yuka Tateisi and Yoshimasa Tsuruoka who contributed with the construction of previous GENIA annotations. This work was partially supported by Grant-in-Aid for Specially Promoted Research (MEXT, Japan) and Genome Network Project (MEXT, Japan).
Authors' Affiliations
(1)
Department of Computer Science, School of Information Science and Technology, University of Tokyo, Tokyo, Japan
(2)
School of Computer Science, University of Manchester, Manchester, UK
(3)
National Centre for Text Mining, University of Manchester, Manchester, UK
Copyright
© Kim et al; licensee BioMed Central Ltd. 2008
This article is published under license to BioMed Central Ltd. This is an Open Access article distributed under the terms of the Creative Commons Attribution License (http://creativecommons.org/licenses/by/2.0), which permits unrestricted use, distribution, and reproduction in any medium, provided the original work is properly cited.