Research article

Open Access
The contrasting properties of conservation and correlated phylogeny in protein functional residue prediction
BMC Bioinformatics
2008
9:51
Received: 05 September 2007
Accepted: 25 January 2008
Published: 25 January 2008
Abstract
Background
Amino acids responsible for structure, core function or specificity may be inferred from multiple protein sequence alignments where a limited set of residue types are tolerated. The rise in available protein sequences continues to increase the power of techniques based on this principle.
Results
A new algorithm, SMERFS, for predicting protein functional sites from multiple sequences alignments was compared to 14 conservation measures and to the MINER algorithm. Validation was performed on an automatically generated dataset of 1457 families derived from the protein interactions database SNAPPI-DB, and a smaller manually curated set of 148 families. The best performing measure overall was Williamson property entropy, with ROC0.1 scores of 0.0087 and 0.0114 for domain and small molecule contact prediction, respectively. The Lancet method performed worse than random on protein-protein interaction site prediction (ROC0.1 score of 0.0008). The SMERFS algorithm gave similar accuracy to the phylogenetic tree-based MINER algorithm but was superior to Williamson in prediction of non-catalytic transient complex interfaces. SMERFS predicts sites that are significantly more solvent accessible compared to Williamson.
Conclusion
Williamson property entropy is the the best performing of 14 conservation measures examined. The difference in performance of SMERFS relative to Williamson in manually defined complexes was dependent on complex type. The best choice of analysis method is therefore dependent on the system of interest. Additional computation employed by Miner in calculation of phylogenetic trees did not produce improved results over SMERFS. SMERFS performance was improved by use of windows over alignment columns, illustrating the necessity of considering the local environment of positions when assessing their functional significance.
Keywords
Conservation Measure
Surface Accessibility
Functional Residue
Relative Solvent Accessibility
Evolutionary Trace
Background
A major focus of research in molecular biology is to determine the function of the gene products encoded in an organism's genome. Genes that code for protein are heavily studied by experimental methods, but these approaches may take years to provide a detailed understanding of a single gene's function within the context of the organism and its life-cycle. As a consequence, even though the complete genome sequences of more than 52 eukaryotes, 47 archaea, and 517 bacteria are currently known [1], and the location of protein-coding genes can be determined with reasonable accuracy [2], only a few thousand proteins have been functionally characterised with a high degree of confidence. Accordingly, computational methods to predict the function of a protein given its amino acid sequence play a major role in guiding the experimental characterisation of a newly sequenced genome. The majority of methods aim to classify protein sequences by function, and apply a range of techniques from pair-wise sequence searching to profile-profile HMMs [3] to identify similarities to well-characterised proteins annotated by the Gene Ontology [4]. Although assigning a protein to a broad functional class (e.g. hydrolase or synthase) may be achieved with a reasonable degree of confidence by these methods, reliably predicting which residues are involved in conferring specificity for a particular substrate remains a major challenge. The present work is concerned with identifying "functional residues" that might be associated either with core function (CF) or specificity (SD [5]).
The most common approach for predicting functional residues from the amino acid sequence has been to exploit the evolutionary information present in an accurate multiple protein sequence alignment. Providing the sequences are sufficiently diverse, the location of positions in the alignment with invariant, or highly "conserved" amino acids may suggest structural or functional importance. A number of different scoring functions have been developed to quantify conservation of protein sequence alignment positions as reviewed in [
6
]. In recent work by Capra and Singh [
7
], important positions in a sequence alignment are located by differentiating amino acid distributions at positions under evolutionary pressure from those of positions that are not. All these techniques will identify columns 1–4 of the multiple alignment fragment shown in Figure
1
as conserved, but will not discriminate between columns 3 and 4. Since in a multiple sequence alignment the sequences are grouped by overall similarity, column 4 suggests that the position is important to all sequences, but conservation of Lys in one subfamily and Glu in the other indicates that the position may have a role in defining the structural or functional specificity within the protein family. A number of algorithms seek explicitly to identify such Specificity Defining (SD) positions and so discriminate between columns 3 and 4. For example, the AMAS algorithm [
8
] identifies SD positions that have conserved physicochemical properties within pre-defined sub-families of proteins (e.g. +ve charge), yet exhibit different properties between the sub-families (e.g. +ve charge compared to -ve). In the 'Evolutionary Trace' (ET) technique [
9
] alignments are first sub-grouped by the use of partitions on a phylogenetic tree, and predictions are interpreted by mapping onto protein structures. ET originally required the tree partition to be chosen manually, but subsequent developments have attempted to address this issue [
10
,
11
]. In contrast to AMAS, and ET, the 'Sequence Space' algorithm [
12
] which represents sequences of an alignment as vectors in high dimensional space, does not require pre-grouping of the sequences. In Sequence Space, principal components analysis is employed to derive both the principal sequence subgroupings, and the SD positions characteristic of each group. More recently, Marttinen [
13
] applied a Bayesian statistical approach in an analogous manner, again deriving both the optimal subgrouping and functionally relevant positions of an alignment.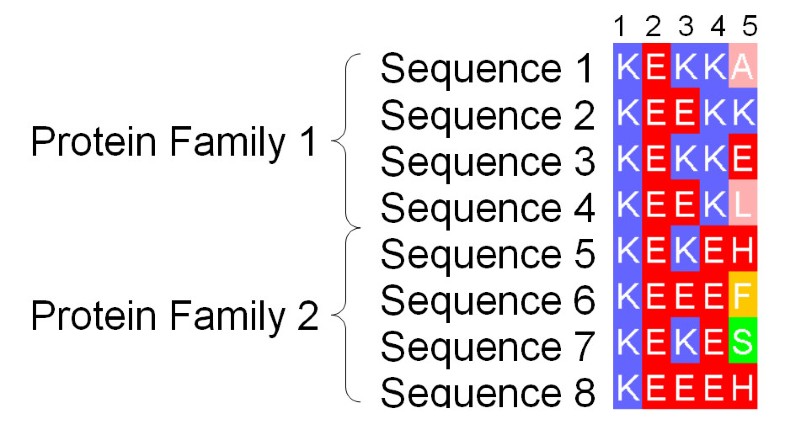 The SD methods discussed thus far assume a single underlying subgrouping. In contrast, the ConSurf method [14–16] infers a phylogenetic tree to normalise an entropy score over all columns in an alignment. The method incorporates a model of substitution rates along branches of the tree and in the most recent version this is performed within a Bayesian framework [17]. Alignment positions are classified based on the normalised entropy score, and colour-coded classes mapped to the surface of an example structure. A different approach was taken in the MINER algorithm, where a phylogentic tree is derived for windows of a given size at each position in the alignment. The degree to which these trees correlate with the tree derived from the whole alignment is determined by counting topological differences. The highest correlating regions, referred to as 'phylogenetic motifs', are proposed as functionally significant [18]. The MINER and ConSurf approaches are attractive since no artificial divisions of the alignment are necessary. However, while multiple valid phylogenetic trees are possible given a single alignment-derived distance matrix, both these techniques derive only one. If phylogeny estimation is not the objective of the investigation, assuming a single phylogenetic tree unnecessarily removes information. This problem is not intractable, and probabilistic models [19] can facilitate representation of multiple possible trees. However this level of complexity may not be necessary, since the phylogentic structure of alignment columns may be compared to that of the whole by use of distance matrices without first inferring a tree.
Pazos and Valencia [20] demonstrated that distance matrices derived from single columns of protein family alignments can be effective in the prediction of protein-protein interactions. A 'mutational behavior' method was also demonstrated, showing that distance matrices generated at single alignment positions that correlate with a matrix from the whole alignment can be indicative of functional sites [21]. However, the mutational behaviour method is limited to single alignment columns which may render it susceptible to noise. The alternative explored in the SMERFS algorithm [22] introduced in this paper is to work directly from distance matrices and to consider the local neighbourhood of each position in the alignment. The output of SMERFS is somewhat similar to the similarity deviation score produced by the three-dimensional cluster analysis method of Landgraf and coworkers [23]. However unlike the method of Landgraf, SMERFS considers neighbours in sequence, not structure, and therefore functions in the absence of an available structure. In this paper the SMERFS algorithm is systematically evaluated alongside other methods on a new large collection of protein-protein and protein-small molecule interface examples derived from the SNAPPI-DB database [24].
Conclusion
The work presented here has shown that SMERFS produces sets of putative functional positions in multiple sequence alignments fundamentally different from those of conservation measures. For this reason conservation measures and phylogeny-aware methods such as SMERFS should be considered as complementary tools. The data suggest that if alignment positions involved in the core function of a protein, for example catalysis, are the target of a study, relatively simple conservations measures remain the most useful tool. If less critical positions, perhaps responsible for defining sequence subfamiliy specificity, are the target, then methods such as SMERFS may be of use. Finally, SMERFS has been shown to predict many more surface positions than conservation, reducing the possibility of confusing signals from positions of core structural rather than functional significance.
The complementary nature of conservation measures and those that seek specificity-defining positions are strongly suggestive of a combined approach. However, attempts made as part of this study to produce a hybrid classifier based on a rigorous probabilistic approach have failed. This may be because the relative importance of specificity-defining positions is different for differing complex types. For this reason a potentially useful approach would be to construct different combined classifiers for complexes of different types. The BW05 set contains too little data to produce accurate probabilities of sites for given score pairs based on observations, but a larger set of this type available in future might produce improved results. If method combination is not feasible, a simpler approach would be to determine those characteristics that make an alignment more amenable to one type of analysis or another, and select measures accordingly. Despite the work described here and elsewhere in prediction of functional residues, it remains true that the accuracy of functional residue prediction techniques falls short of that necessary for true utility in the laboratory. There are multiple likely causes of this, and therefore multiple potential solutions.
The first is the definition of 'functional residue' employed by studies such as this. Protein residues may be closely implicated in the hydrogen bonding networks that stabilise an interacting site without being directly involved in the interaction. This was demonstrated in the aminotransferase case study above, but only direct interactions formed part of the validation data sets. Perceived performance of prediction methods might improve if residues peripheral to interacting sites are included in analyses, though such information is harder to derive automatically from structural data alone.
From a pure sequence-based perspective, difficulties result from the variable level of divergence present in protein sequence families. Families with either insufficient sequences, or too little divergence between homologues confound analysis since too little evolutionary history is evident to discern true conservation. Too many sequences or too much divergence, and patterns may be lost in noise or obscured by gaps. It may be possible to tackle this issue by careful choice of sequences for analysis, and estimation of likely accuracy given the sequence data available.
Another key factor in an analysis like this is the fact that the meaning of 'functional position' is dependent on the protein family in question. This study has shown that the performance of methods is variable depending on the type of interaction under consideration. A study that sub-divided interactions into a larger number of classes would be likely to reveal further differences between methods.
Note in proof
During the proofing of this manuscript, we were contacted by Capra and Singh [7], who had compared their JSD method to the Williamson conservation measure on their data set. They reported un-windowed ROC_0.1 values of 0.033 and 0.008 for enzyme-ligand and protein-protein interfaces respectively for their method, compared to 0.025 and 0.008 for Williamson. We have carried out a preliminary analysis of our SNAPPI-DB dataset using code supplied by Capra and Singh. In our hands, the only improvement over Williamson was for small molecule interactions, but this was insignificant.
Declarations
Acknowledgements
We thank the BBSRC for funding a quota studentship for JRM, Mr A. Waterhouse for answering JalView queries and Dr J. Procter for helpful discussions. We offer special thanks to James Bradford and Professor David Westhead for supplying the BW05 data set. We also thank Drs J. Monk and T. Walsh for computing support.
Authors' Affiliations
(1)
School of Life Sciences Research, University of Dundee, UK
References
Genome Pages at the EBI[http://www.ebi.ac.uk/genomes/]
Do JH, Choi DK: Computational approaches to gene prediction. J Microbiol 2006, 44(2):137–144.PubMedGoogle Scholar
Martin DMA, Berriman M, Barton GJ: GOtcha: a new method for prediction of protein function assessed by the annotation of seven genomes. BMC Bioinformatics 2004, 5: 178. 10.1186/1471-2105-5-178PubMed CentralView ArticlePubMedGoogle Scholar
Ashburner M, Ball CA, Blake JA, Botstein D, Butler H, Cherry JM, Davis AP, Dolinski K, Dwight SS, Eppig JT, Harris MA, Hill DP, Issel-Tarver L, Kasarskis A, Lewis S, Matese JC, Richardson JE, Ringwald M, Rubin GM, Sherlock G: Gene ontology: tool for the unification of biology. The Gene Ontology Consortium. Nat Genet 2000, 25: 25–29. 10.1038/75556PubMed CentralView ArticlePubMedGoogle Scholar
Kalinina OV, Novichkov PS, Mironov AA, Gelfand MS, Rakhmaninova AB: SDPpred: a tool for prediction of amino acid residues thatdetermine differences in functional specificity of homologousproteins. Nucleic Acids Res 2004, (32 Web Server):W424–8. [1362–4962 Journal Article]. 10.1093/nar/gkh391Google Scholar
Valdar WS: Scoring residue conservation. Proteins 2002, 48(2):227–41. [1097–0134 (Electronic) Journal Article Review]. 10.1002/prot.10146View ArticlePubMedGoogle Scholar
Capra JA, Singh M: Predicting functionally important residues from sequence conservation. Bioinformatics 2007, 23(15):1875–1882. 10.1093/bioinformatics/btm270View ArticlePubMedGoogle Scholar
Livingstone CD, Barton GJ: Protein sequence alignments: astrategy for the hierarchical analysis of residue conservation. Comput Appl Biosci 1993, 9(6):745–56. [0266–7061 Journal Article]PubMedGoogle Scholar
Lichtarge O, Bourne HR, Cohen FE: An evolutionary trace method defines binding surfaces common to protein families. J Mol Biol 1996, 257(2):342–58. [0022–2836 Journal Article] 10.1006/jmbi.1996.0167View ArticlePubMedGoogle Scholar
Yao H, Kristensen DM, Mihalek I, Sowa ME, Shaw C, Kimmel M, Kavraki L, Lichtarge O: An accurate, sensitive, and scalable method toidentify functional sites in protein structures. J Mol Biol 2003, 326: 255–61. [0022–2836 Journal Article] 10.1016/S0022-2836(02)01336-0View ArticlePubMedGoogle Scholar
Lichtarge O, Yao H, Kristensen DM, Madabushi S, Mihalek I: Accurate and scalable identification of functional sites by evolutionary tracing. J Struct Funct Genomics 2003, 4(2–3):159–66. 10.1023/A:1026115125950View ArticlePubMedGoogle Scholar
Casari G, Sander C, Valencia A: A method to predict functional residues in proteins. Nat Struct Biol 1995, 2(2):171–8. 10.1038/nsb0295-171View ArticlePubMedGoogle Scholar
Marttinen P, Corander J, Toronen P, Holm L: Bayesian search of functionally divergent protein subgroups and their function specific residues. Bioinformatics 2006, 22(20):2466–2474. 10.1093/bioinformatics/btl411View ArticlePubMedGoogle Scholar
Armon A, Graur D, Ben-Tal N: ConSurf: an algorithmic tool for the identification of functional regions in proteins by surface mapping of phylogenetic information. J Mol Biol 2001, 307: 447–63. [0022–2836 Journal Article] 10.1006/jmbi.2000.4474View ArticlePubMedGoogle Scholar
Pupko T, Bell RE, Mayrose I, Glaser F, Ben-Tal N: Rate4Site: an algorithmic tool for the identification of functional regions in proteins by surface mapping of evolutionary determinants within their homologues. Bioinformatics 2002, 18(Suppl 1):S71–7. [1367–4803 (Print) Evaluation Studies Journal Article Validation Studies]View ArticlePubMedGoogle Scholar
Landau M, Mayrose I, Rosenberg Y, Glaser F, Martz E, Pupko T, Ben-Tal N: ConSurf 2005: the projection of evolutionary conservation scores of residues on protein structures. Nucleic Acids Res 2005, (33 Web Server):W299–302. 10.1093/nar/gki370Google Scholar
Mayrose I, Graur D, Ben-Tal N, Pupko T: Comparison of site-specific rate-inference methods for protein sequences: empirical Bayesian methods are superior. Mol Biol Evol 2004, 21(9):1781–91. 10.1093/molbev/msh194View ArticlePubMedGoogle Scholar
La D, Livesay DR: Predicting functional sites with anautomated algorithm suitable for heterogeneous datasets. BMC Bioinformatics 2005, 6: 116. [1471–2105 (Electronic) Journal Article] 10.1186/1471-2105-6-116PubMed CentralView ArticlePubMedGoogle Scholar
Felsenstein J: Maximum likelihood and minimum-steps methods for estimating evolutionary trees from data on discrete characters. Syst Zool 1973, 22: 240–249. 10.2307/2412304View ArticleGoogle Scholar
Pazos F, Valencia A: Similarity of phylogenetic trees as indicator of protein-protein interaction. Protein Eng 2001, 14(9):609–614. 10.1093/protein/14.9.609View ArticlePubMedGoogle Scholar
del Sol Mesa A, Pazos F, Valencia A: Automatic methods for predicting functionally important residues. J Mol Biol 2003, 326(4):1289–1302. 10.1016/S0022-2836(02)01451-1View ArticlePubMedGoogle Scholar
SMERFS webserver[http://www.compbio.dundee.ac.uk/smerfs/]
Landgraf R, Xenarios I, Eisenberg D: Three-dimensional cluster analysis identifies interfaces and functional residue clusters inproteins. J Mol Biol 2001, 307(5):1487–502. [0022–2836 Journal Article] 10.1006/jmbi.2001.4540View ArticlePubMedGoogle Scholar
Jefferson ER, Walsh TP, Roberts TJ, Barton GJ: SNAPPI-DB: a database and API of Structures, iNterfaces and Alignments for Protein-Protein Interactions. Nucleic Acids Res 2007, (35 Web Server):D580-D589. 10.1093/nar/gkl836Google Scholar
La D, Livesay DR: MINER: software for phylogenetic motif identification. Nucleic Acids Res 2005, (33 Web Server):W267–70. [1362–4962 (Electronic) Journal Article] 10.1093/nar/gki465Google Scholar
Thompson JD, Gibson TJ, Plewniak F, Jeanmougin F, Higgins DG: The CLUSTALX windows interface: flexible strategies for multiple sequence alignment aided by quality analysis tools. Nucleic Acids Res 1997, 25(24):4876–4882. 10.1093/nar/25.24.4876PubMed CentralView ArticlePubMedGoogle Scholar
Pilpel Y, Lancet D: The variable and conserved interfaces of modeled olfactory receptor proteins. Protein Sci 1999, 8(5):969–977.PubMed CentralView ArticlePubMedGoogle Scholar
Williamson RM: Information theory analysis of the relationship between primary sequence structure and ligand recognition among aclass of facilitated transporters. J Theor Biol 1995, 174(2):179–88. [0022–5193 (Print) Journal Article] 10.1006/jtbi.1995.0090View ArticlePubMedGoogle Scholar
Wu TT, Kabat EA: An analysis of the sequences of the variable regions of Bence Jones proteins and myeloma light chains and their implications for antibody complementarity. J Exp Med 1970, 132(2):211–250. 10.1084/jem.132.2.211PubMed CentralView ArticlePubMedGoogle Scholar
Jores R, Alzari PM, Meo T: Resolution of hypervariable regions in T-cell receptor beta chains by a modified Wu-Kabat index of amino acid diversity. Proc Natl Acad Sci USA 1990, 87(23):9138–9142. 10.1073/pnas.87.23.9138PubMed CentralView ArticlePubMedGoogle Scholar
Karlin S, Brocchieri L: Evolutionary conservation of RecA genes in relation to protein structure and function. J Bacteriol 1996, 178(7):1881–1894.PubMed CentralPubMedGoogle Scholar
Valdar WS, Thornton JM: Protein-protein interfaces: analysis of amino acid conservation in homodimers. Proteins 2001, 42: 108–124. 10.1002/1097-0134(20010101)42:1<108::AID-PROT110>3.0.CO;2-OView ArticlePubMedGoogle Scholar
Taylor WR: The classification of amino acid conservation. J Theor Biol 1986, 119(2):205–218. 10.1016/S0022-5193(86)80075-3View ArticlePubMedGoogle Scholar
Mirny LA, Shakhnovich EI: Universally conserved positions in protein folds: reading evolutionary signals about stability, folding kinetics and function. J Mol Biol 1999, 291: 177–196. 10.1006/jmbi.1999.2911View ArticlePubMedGoogle Scholar
Gerstein M, Altman RB: Average core structures and variability measures for protein families: application to the immunoglobulins. J Mol Biol 1995, 251: 161–175. 10.1006/jmbi.1995.0423View ArticlePubMedGoogle Scholar
Sander C, Schneider R: Database of homology-derived protein structures and the structural meaning of sequence alignment. Proteins 1991, 9: 56–68. 10.1002/prot.340090107View ArticlePubMedGoogle Scholar
Bradford JR, Westhead DR: Improved prediction of protein-protein binding sites using a support vector machines approach. Bioinformatics 2005, 21(8):1487–1494. 10.1093/bioinformatics/bti242View ArticlePubMedGoogle Scholar
Blankenfeldt W, Nowicki C, Montemartini-Kalisz M, Kalisz HM, Hecht HJ: Crystal structure of Trypanosoma cruzi tyrosine aminotransferase: substrate specificity is influenced by cofactor binding mode. Protein Sci 1999, 8(11):2406–2417.PubMed CentralView ArticlePubMedGoogle Scholar
Schmidt A, Sivaraman J, Li Y, Larocque R, Barbosa JA, Smith C, Matte A, Schrag JD, Cygler M: Three-dimensional structure of 2-amino-3-ketobutyrate CoA ligase from Escherichia coli complexed with a PLP-substrate intermediate: inferred reaction mechanism. Biochemistry 2001, 40(17):5151–5160. 10.1021/bi002204yView ArticlePubMedGoogle Scholar
Sonnhammer EL, Eddy SR, Durbin R: Pfam: a comprehensive database of protein domain families based on seed alignments. Proteins 1997, 28(3):405–20. 10.1002/(SICI)1097-0134(199707)28:3<405::AID-PROT10>3.0.CO;2-LView ArticlePubMedGoogle Scholar
Finn RD, Mistry J, Schuster-Bockler B, Griffths-Jones S, Hollich V, Lassmann T, Moxon S, Marshall M, Khanna A, Durbin R, Eddy SR, Sonnhammer ELL, Bateman A: Pfam: clans, web tools and services. Nucleic Acids Res 2006, (34 Database):D247–51. 10.1093/nar/gkj149Google Scholar
Boutselakis H, Dimitropoulos D, Fillon J, Golovin A, Henrick K, Hussain A, Ionides J, John M, Keller PA, Krissinel E, McNeil P, Naim A, Newman R, Oldfield T, Pineda J, Rachedi A, Copeland J, Sitnov A, Sobhany S, Suarez-Uruena A, Swaminathan J, Tagari M, Tate J, Tromm S, Velankar S, Vranken W: E-MSD: the European BioinformaticsInstitute Macromolecular Structure Database. Nucleic Acids Res 2003, 31: 458–62. [1362–4962 (Electronic) Journal Article] 10.1093/nar/gkg065PubMed CentralView ArticlePubMedGoogle Scholar
Bernstein FC, Koetzle TF, Williams GJ, Meyer EF, Brice MD, Rodgers JR, Kennard O, Shimanouchi T, Tasumi M: The Protein Data Bank: a computer-based archival file for macromolecular structures. J Mol Biol 1977, 112(3):535–542. 10.1016/S0022-2836(77)80200-3View ArticlePubMedGoogle Scholar
Murzin AG, Brenner SE, Hubbard T, Chothia C: SCOP: a structural classification of proteins database for the investigation of sequences and structures. J Mol Biol 1995, 247(4):536–540. 10.1006/jmbi.1995.0159PubMedGoogle Scholar
Orengo CA, Michie AD, Jones S, Jones DT, Swindells MB, Thornton JM: CATH-a hierarchic classification of protein domain structures. Structure 1997, 5(8):1093–1108. 10.1016/S0969-2126(97)00260-8View ArticlePubMedGoogle Scholar
Henrick K, Thornton JM: PQS: a protein quaternary structure file server. Trends Biochem Sci 1998, 23(9):358–61. [0968–0004 Journal Article] 10.1016/S0968-0004(98)01253-5View ArticlePubMedGoogle Scholar
Felsenstein J: PHYLIP – Phylogeny Inference Package(Version 3.2). Cladistics 1989, 5: 164–166.Google Scholar
Glazebrook K, Economou F: PDL: The Perl Data Language. The Perl Journal 1997., (5):Google Scholar
Hanley JA, McNeil BJ: The meaning and use of the area under a receiver operating characteristic (ROC) curve. Radiology 1982, 143: 29–36.View ArticlePubMedGoogle Scholar
Hanley JA, McNeil BJ: A method of comparing the areas under receiver operating characteristic curves derived from the same cases. Radiology 1983, 148(3):839–843.View ArticlePubMedGoogle Scholar
McNemar Q: Note on the sampling error of the difference between correlated proportions or percentages. Psychometrika 1947, 12: 153–157. 10.1007/BF02295996View ArticlePubMedGoogle Scholar
Zvelebil MJ, Barton GJ, Taylor WR, Sternberg MJ: Prediction of protein secondary structure and active sites using the alignment of homologous sequences. J Mol Biol 1987, 195(4):957–61. 10.1016/0022-2836(87)90501-8View ArticlePubMedGoogle Scholar
Copyright
© Manning et al; licensee BioMed Central Ltd. 2008
This article is published under license to BioMed Central Ltd. This is an Open Access article distributed under the terms of the Creative Commons Attribution License (http://creativecommons.org/licenses/by/2.0), which permits unrestricted use, distribution, and reproduction in any medium, provided the original work is properly cited.