New challenges for text mining: mapping between text and manually curated pathways
BMC Bioinformatics
2008
9(Suppl 3):S5
Abstract
Background
Associating literature with pathways poses new challenges to the Text Mining (TM) community. There are three main challenges to this task: (1) the identification of the mapping position of a specific entity or reaction in a given pathway, (2) the recognition of the causal relationships among multiple reactions, and (3) the formulation and implementation of required inferences based on biological domain knowledge.
Results
To address these challenges, we constructed new resources to link the text with a model pathway; they are: the GENIA pathway corpus with event annotation and NF-kB pathway. Through their detailed analysis, we address the untapped resource, 'bio-inference,' as well as the differences between text and pathway representation. Here, we show the precise comparisons of their representations and the nine classes of 'bio-inference' schemes observed in the pathway corpus.
Conclusions
We believe that the creation of such rich resources and their detailed analysis is the significant first step for accelerating the research of the automatic construction of pathway from text.
Keywords
Text Mining
Name Entity Recognition
GENIA Corpus
Text Mining Tool
Textual Context
Background
Originally created as a graphical depiction of biological knowledge, the pathway has developed into a way of organizing biological knowledge [1, 2]. Pathways are becoming increasingly important for bio-medical research, since they represent collectively attested interpretations of a large number of facts scattered throughout literature. As such, Text Mining (TM) tools that facilitate the construction and maintenance of pathway knowledge bases have become indispensable tools for biologists to manage the ever-increasing quantity of biological literature.
A few TM systems have been developed for automatic bio-network construction by extracting binary interactions between proteins or genes [3–6]. While the resultant networks appear to be pathways, they do not represent any coherent interpretations of the reported facts. To transform the results of automatically constructed networks to pathways seems to require further efforts which emulate the interpretations of biologists, including inferences based on biological background knowledge.
In this study, we took on a very different approach from previous works. We first examined how a biologist would construct a pathway from a given set of articles by recording which sentences in the articles the biologist found useful for the construction of the portions of a pathway. Then, we formulated what difficulties TM techniques should resolve in order to facilitate a manual curation process for pathways. The results show that pathway construction involves much more challenging tasks for the current TM technology than we had initially assumed.
The main challenges are classified into three groups: (1) the identification of the mapping position of a specific entity or reaction in a given pathway, (2) the recognition of the causal relationships among multiple reactions, and (3) the formulation and implementation of required inferences based on biological domain knowledge. Inferences that biologists make to associate information in text with pathway (concrete representation of interpretation) seem quite different from deduction. Certain expressions in text trigger inferences, which are abductive in nature, to relate them with specific interpretations. Though this type of inference is pervasive in the process of understanding text and unspecific to the biology domain, we call them "bio-inferences" for the sake of brevity.
In this paper, we report a detailed corpus study, which leads to the formulation of these three challenges. We expect the results will contribute to the design of an intelligent TM tool kit for pathway construction and maintenance. The study has been conducted by adding new annotations to a subset of the GENIA corpus [7, 8], which associates sentences with corresponding portions in a pathway, and compares them with event annotations independently made to the GENIA corpus.
Discussion
Due to the complexity and size of the pathways being, and to be constructed, TM tools for facilitating their construction and maintenance become crucial for bio-medical research. At the same time, text retrieval based on pathways will become an effective means by which biologists may gain access to articles relevant to their interests. For all such scenarios for TM tools to be materialized, technical challenges involved in associating text with pathways have to be properly understood and formulated.
In this paper, we identified the three challenges. The first one, identification of the mapping position of a specific entity in a pathway, is beyond the traditional challenge tasks of accession number assignment for proteins [11] or protein-protein interactions (PPI) [16]. The resulting comparison between a PPI network and a pathway shows that the same biomolecules appear in several places in a pathway, thus making it necessary for us to associate bio-molecular expressions in text with one of their occurrences in a pathway. The correspondence is highly context dependent.
The second challenge is the recognition of constraints on sequences of multiple reactions. While temporal sequences of events have been studied in the general domain, their techniques are mostly concerned with the treatment of temporal expressions [17]. On the other hand, as exemplified in this paper, we have to recognize causal relationships among events, which require inferences based on the domain knowledge as well as subtle textual cues in text, instead of explicit temporal expressions.
The third and the most difficult of the challenges is the problem involved in formulating and implementing bio-inferences. Half of all crucial evidence sentences do not contain an explicit description of events. The specialist inferred implicit events, and the inferences seem to be triggered by specific fragments of expressions in text. While logical or deductive inferences based on the domain knowledge certainly play a role in the process [20], the inferences here are more akin to associative and plausible inferences [21]. How to formulate and exploit such inferences in TM would be the greatest challenge of all.
The analysis given in this paper has been made on the pathway corpus, which has been built based on the GENIA corpus. Since the GENIA pathway corpus is a highly biased corpus [
22
], and the size is currently not large enough, we are now working on scaling up the pathway corpus by using full papers, and extending the corpus beyond the GENIA set. Figure
6
shows a fuller version of the NF-kB pathway being constructed by a collection of full papers from the whole Medline. To enlarge the pathway corpus as a rich resource, we will append annotations to the collected relevant sentences depending on whether the text is relevant, which reaction it indicates, whether the expression is 'direct' or 'indirect,' and its inference scheme in cases where the expression 'indirect.' The stored data will be also annotated by the GENIA method of event annotation. In the future we will be engaged in another kind of pathway such as epidermal growth factor receptor signalling pathway thus establishing a consistent method of the pathway annotation for the automatic building of a pathway from text.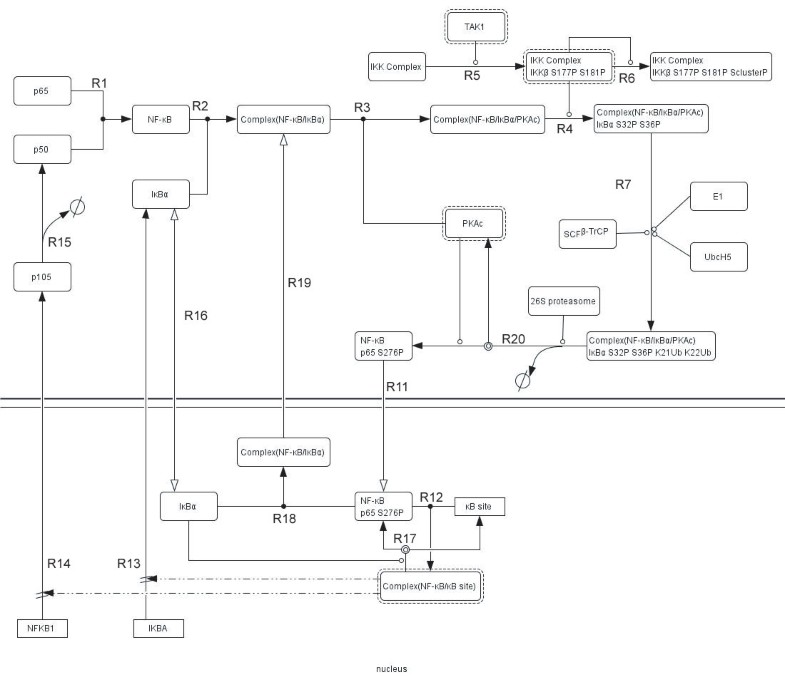 Conclusions
In this study, we presented two new resources: pathway corpus and its corresponding NF-kB pathway, whose mapping among pathway and text is compared with annotated events. Based on a detailed corpus study, we formulated three challenges for TM tools. We also revealed that inferences triggered by highly domain-dependent cues play a central role in recovering events implicit in text but crucial for text-pathway association. We believe the corpus-based study presented in this paper is an important first step for addressing the new TM technology for pathway construction.
Methods
Construction of a PPI network and its mapping to a pathway
The PPI network for the proteins in the TLR pathway is constructed by using an IE system [23]. The IE system uses a full parser [24] to reveal the semantic structures of sentences, and then applies simple rules to identify event types. The event type recognition is based on linguistic clues developed by our previous work [8]. A dictionary-based protein name recognizer is used to map the protein names to a set of accession numbers [10].
The distribution of path lengths for the binding and positive regulation events (Figure 1) are calculated after KO identifies the corresponding nodes in the pathway for each protein in the sentences in which the event is recognized. Moreover, the distribution of path lengths for pairs in all extracted events is calculated by assuming that the two nodes which give the shortest path are the nodes corresponding to the two proteins of a given pair. Therefore, the lengths tend to be estimated to be shorter than in actuality.
Event annotation and the pathway corpus
GENIA event annotation was made on half of the GENEA corpus [8, 25], and consists of 1,000 Medline abstracts. It contains 9,372 sentences in which 36,114 events are identified. The annotation was carried out over the process of two years by a group of annotators (four to six biologists) and one coordinator (co-author of the paper, TO). In order to avoid inter-annotator discrepancy, the instructions were given to prevent them from making free inferences.
On the contrary, the pathway corpus was constructed by a single biologist (co-author of the paper, KO) who has a substantial amount of experience in constructing pathways from literature [9, 26]. KO read all of 5, 223 sentences in the 561 abstracts and constructed the pathway, all the links of which were associated with a set of evidence sentences taken from 5,223 sentences. Unlike event annotation, KO established those links freely and then analyzed, retrospectively, what inferences were made in the process.
Declarations
Acknowledgements
This work was partially supported by Grant-in-Aid for Specially Promoted Research (Ministry of Education, Culture, Sports, Science and Technology (MEXT), Japan), Genome Network Project (MEXT, Japan), and Special Coordination Funds for Promoting Science and Technology (MEXT, Japan).
This article has been published as part of BMC Bioinformatics Volume 9 Supplement 3, 2008: Proceedings of the Second International Symposium on Languages in Biology and Medicine (LBM) 2007. The full contents of the supplement are available online at http://www.biomedcentral.com/1471-2105/9?issue=S3.
Authors' Affiliations
(1)
Department of Computer Science, Graduate School of Information Science and Technology, University of Tokyo, Tokyo, Japan
(2)
Faculty of Informatics, Kogakuin University, Tokyo, Japan
(3)
School of Computer Science, University of Manchester, Manchester, UK
(4)
National Centre for Text Mining, Manchester, UK
Copyright
© Oda et al.; licensee BioMed Central Ltd. 2008
This article is published under license to BioMed Central Ltd. This is an open access article distributed under the terms of the Creative Commons Attribution License (http://creativecommons.org/licenses/by/2.0), which permits unrestricted use, distribution, and reproduction in any medium, provided the original work is properly cited.