Research article
Open Access
Topological characterization of neuronal arbor morphology via sequence representation: II - global alignment
BMC Bioinformatics
2015
16:209
Received: 2 March 2015
Accepted: 30 April 2015
Published: 4 July 2015
Abstract
Background
The increasing abundance of neuromorphological data provides both the opportunity and the challenge to compare massive numbers of neurons from a wide diversity of sources efficiently and effectively. We implemented a modified global alignment algorithm representing axonal and dendritic bifurcations as strings of characters. Sequence alignment quantifies neuronal similarity by identifying branch-level correspondences between trees.
Results
The space generated from pairwise similarities is capable of classifying neuronal arbor types as well as, or better than, traditional topological metrics. Unsupervised cluster analysis produces groups that significantly correspond with known cell classes for axons, dendrites, and pyramidal apical dendrites. Furthermore, the distinguishing consensus topology generated by multiple sequence alignment of a group of neurons reveals their shared branching blueprint. Interestingly, the axons of dendritic-targeting interneurons in the rodent cortex associates with pyramidal axons but apart from the (more topologically symmetric) axons of perisomatic-targeting interneurons.
Conclusions
Global pairwise and multiple sequence alignment of neurite topologies enables detailed comparison of neurites and identification of conserved topological features in alignment-defined clusters. The methods presented also provide a framework for incorporation of additional branch-level morphological features. Moreover, comparison of multiple alignment with motif analysis shows that the two techniques provide complementary information respectively revealing global and local features.
Keywords
Sequence alignmentNeuronal morphologyMultiple sequence alignmentTree topology
Background
Neuronal morphology has been an important research topic due to its relevance to neuron growth, electrophysiology, classification, connectivity, and pathology. In recent years the availability of morphological data has dramatically increased across a broad set of species, cell types, and conditions thanks in part to search and curation efforts of NeuroMorpho.Org [1]. Meanwhile, new staining, imaging, and reconstruction technologies are producing orders of magnitude more data from animal models in projects such as FlyCircuit [2] and FlyLight [3]. Ongoing advancements are continuously improving automated reconstruction [4,5] and groundbreaking large scale endeavors such as the BRAIN Initiative are expected to expand the amount of data from mammalian organisms by additional fold factors. Importantly, these large datasets provide opportunity to validate universal morphological characteristics [6,7] as well as to discover or test features and relationships of specific neuron types [8]. Drawing inspiration from the field of genomics, where the Human Genome Project ushered in an analogous flood of data, a variety of new methods are being developed to enable search and analysis of the growing pool of morphological data.
Historically, most metrics devised for morphological analysis have focused at the whole neuron level or averaged across branches, with some derived methods quantifying a feature as a function of distance from the soma (i.e. Sholl analysis [9,10]). Pairwise comparisons have greater potential to detect fine structural distinctions, making them appropriate for search, curation, classification, and exploration of prototypical features. Recently several studies have used pairwise comparisons in morphological analysis. Pairwise sequence alignment of neurite path directional vectors helped determine the unique neuroblast lineage of larval Drosophila neurons [11]. The NBLAST algorithm leveraged a form of vector comparison, with nearest edges in two neuron images aligned and measured by their tangent vectors and spatial distance [12]. Thus, anatomical position and overall shape were applied for search, clustering, and classification to a database of over 16,000 Drosophila neurons. The Path2Path algorithm compares neurons by assigning every path, from root to tip, of one neuron to the other. The distance is given by the deformation of the paths, modulated by the difference in topological hierarchy of points along the paths [13]. An extension of the Elastic Shape Analysis Framework captures the difference between trees based on path shape and topology, as well as bifurcation locations and angles [14]. This method can also generate a representative "mean shape", though the examples primarily represent common path features. BlastNeuron, the most recent entry into the field, focuses on aligning branches both by topology and path shape via dynamic programming after first searching for similar neurons on the basis of morphometrics [15]. In addition to providing an efficient approach for search in large databases, the alignment component could prove useful in detecting and pinpointing differences between related neurons and between reconstructions of the same neuron produced by multiple algorithms, enabling error correction and even synthesis of those algorithms.
The tree edit distance (TED) compares the topology of two trees by determining the minimum sequence of edit operations required to transform one tree into another [16]. Specifically, each branch of two trees is aligned to a branch in the other tree or labeled as an insertion. Branch features such as length, volume, surface, and bifurcation angle can be represented; in this case an edit cost based on their differences is applied for each branch assignment. The TED has been used on tree structures in multiple fields [17,18] and constitutes the most related algorithm to what we present here.
We present an original strategy to evaluate alignment of topology distinctly from other branch features across a broad range of neuronal classes. Our method exploits the novel encoding of neuron trees as sequences of characters representing bifurcations presented in the preceding companion paper [19]. We align the resulting strings with a custom-developed Python package introduced here: Pattern Analysis via Sequence-based Tree Alignment (PASTA). We used model-based cluster analysis on alignment scores to group similar neurites. Furthermore, we generated a consensus representation of clustered neurites by multiple sequence alignment revealing the conserved structural features of the corresponding trees. Sufficiently large neuron classes, well-defined by available metadata, were compared to the clusters to determine whether those classes are topologically distinct and, if so, what their defining global features are. Each arbor type of axons, dendrites, and pyramidal cell apical dendrites showed clear topology alignment clusters with distinctly conserved features. Moreover, we show that multiple alignment consensuses and motif analysis provide complementary levels of analysis of neurite topology. As an immediate application, the PASTA tool also enabled detection of previously unidentified duplicate reconstructions in the NeuroMorpho.Org database; this important curation step will be incorporated in the regular data processing pipeline of this repository. At the same time, the approach is extensible to more complex representations as required by the research goal.
Methods
Sequences are generated from neuronal trees as presented in the companion paper [
19
]: each branch is encoded as an
A
,
C
, or
T
depending on whether its child branches both bifurcate, bifurcate and terminate, or both terminate. A depth-first traversal keeps child branches relatively near to parent branches in the sequence representation, and traversing the smaller subtree (in terms of number of branches) before the larger (i.e.
StL
traversal) further preserves that proximity. This choice also allows for a more intuitive description of changes to a tree structure (Figure
1
a).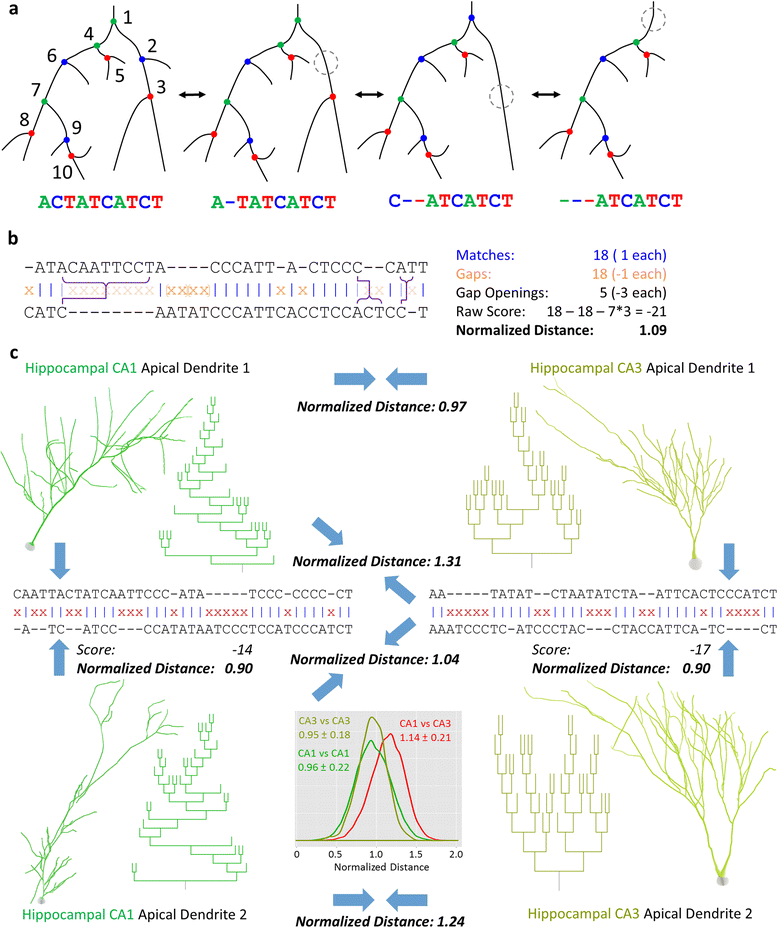 Custom sequence alignment algorithms were developed for tree-derived sequences given their particular structural features. A global alignment algorithm was developed with specialized character types and alignment rules associated with bifurcation types. The scores produced by this method were normalized by size and a random-tree baseline prior to analysis. A multiple sequence alignment algorithm was also custom-adapted for tree-sequences from the genomics global and multiple alignment techniques.
Other well-established data manipulation and analysis methods utilized in this work are briefly described as well, such as the creation of a metric space from alignments for further analysis including classification and model-based clustering. Clusters are then statistically analyzed for associations with known cell groups. This Methods section also describes the (publicly available) dataset used in this study and related selection criteria. All code developed for this study (and associated documentation), including tree and sequence generation (Java), sequence alignment (Python), and analysis (R), is available open source at http://krasnow1.gmu.edu/cn3/NeuriteSequence/.
Results
Using the separated arbors of neurons from the NeuroMorpho.Org database, each neurite was encoded as a sequence [19], aligned with every other sequence in the dataset, and the scores normalized and converted into distances (Figure 1b). Inspection of normalized distances from hippocampal CA1 and CA3 apical dendrites, two groups known to have distinct topologies, showed greater distances between sequences from different groups than from within the same group (Figure 1c). This verifies that the tree-sensitive alignment of neurite sequences can distinguish different neurite classes. While the distributions of within- and between-class distances overlap considerably, they are clearly more distinct than those generated using average partition asymmetry (Additional file 1: Figure S4), which has previously been shown to distinguish CA1 and CA3 pyramidal apical dendrites [33]. We next undertook an unsupervised cluster analysis to identify groups of neurites for inspection of topological features.
Discussion
The following discussion focuses specifically on sequence alignment. More generally relevant issues of topological encoding are discussed in the companion article [19].
Biological interpretations and current limits of experimental data
Axons are of particular interest due to their role in connecting neurons to enable network function. Given the diversity of cortical inhibitory interneurons in terms of axonal morphology [34], it is not surprising that these cells would fall into different topological clusters. Perisomatic-targeting interneurons are responsible for generating synchronous network rhythms [35,36] by densely synapsing on a large number of principal neurons. The relative symmetry of perisomatic-targeting interneurons might then reflect a combination of dense synaptic fields along with growth mechanisms to ensure minimal path distance (balanced against wiring minimization) [37]. Shorter paths to targets would serve to optimize synchrony of the GABAergic signals from the interneuron.
It is interesting that a complementary subset of (dendritic-targeting) interneurons would instead associate with neocortical pyramidal cells based on the topological sequences of the respective axonal arbors. This does not mean that the two axonal classes have the same distribution of topological features, as they do not share the cluster space equally; however their co-clustering does suggest a substantial overlap in those features. The relatively asymmetric branching of dendritic-targeting interneurons and mouse pyramidal cells suggests two possible non-exclusive explanations. The first is that the two classes are similar in their spatial targeting, and distinct from that of perisomatic-targeting interneurons. An alternative is that both classes are not as highly constrained in the timing of their efferent signals and thus wiring minimization is preferred over path minimization and its limiting effect on signal delay. The spatial targeting explanation is consistent with the roles of pyramidal cells and dendritic targeting interneurons in network computation requiring a diverse synaptic distribution to generate more powerful networks [38,39]. Specifically, sparser postsynaptic targeting would yield greater differences between the connectivity profiles of principal neurons and thus increase network complexity, which may aid in computational functions such as pattern separation [40].
The differentiation between mouse and rat pyramidal cell axons is not as clear from a biological perspective. It is important to recognize, however, that most morphological data are derived from in vitro slice preparations, most often preventing the full reconstruct of axonal trees. Relative to dendrites, axons typically involve more expansive arbors and span well beyond the region explored in a given experiment. Given the size difference between mouse and rat brains, the impact of slicing on the reconstruction would be larger for rat axons. To test this hypothesis, we compared artificially clipped mouse pyramidal axons to their rat counterparts. Our analysis suggests that morphological incompleteness due to sectioning artifacts is not the source of the difference between mouse and rat. Three pyramidal cell axons of various sizes (155, 495, and 1,725 bifurcations), were selected among the few instances of in vivo (putatively more complete) reconstructions, one from rat hippocampus and two from cat neocortex. To simulate the effect of tissue slicing, these arbors were modified by eliminating all branches and sub-trees beyond a given distance in the z-dimension from the soma. Cutting at several distances showed a decrease in normalized alignment score, but even with a quarter of the z-range and less than 50% of the original sequence length, the scores always remained significantly greater (four standard deviations above the mean) than length-matched random sequences. Other similarly severe cuts maintained much higher normalized scores. This suggests that sequence analysis is relatively robust to reconstruction artifacts of this kind. Thus, brain size is not likely to explain the differences between rat and mouse axonal trees. Other experimental protocol details, or an unknown biased sampling of neocortical pyramidal neurons, may yet be responsible; however, it is also possible that mouse and rat pyramidal cell axons indeed slightly differ in their branching topology.
Sequence alignment and expanded representations
The global sequence alignment modifications were necessary to ensure proper accounting of tree topology. Attempts to use standard global alignment (not respecting tree structure) and a simpler clustering method revealed no meaningful differences among known neuron types. This is because very different trees could have similar sequences if the structural attributes of bifurcations are disregarded. For instance, three subsequences with distinct patterns, α, β, and γ, could be arranged in sequence as αβγ and matched to another sequence α'β'γ' where α' is a close match to α, β' to β, and γ' to γ. These two trees, however, could be arranged in very different ways: α as the parent of subtrees β and γ, and α' as the parent of β' and β' as the parent of γ'. Thus, αβγ and α'β'γ' would match well despite substantially different tree structures. In contrast, the modified global alignment algorithm implemented in PASTA distinguishes the two cases.
Expanded representations including branch-level morphological features could enhance alignment sensitivity, decreasing the likelihood of spurious alignment for shorter sequences. For instance, several characters could be used for each topological node type to encode the bifurcation angles (i.e. between child branches, between bisector and parent branch, or between child plane and parent) relative to the population distribution. The increased sequence complexity would alleviate the need for a gap opening cost, allowing a greater range for parameter tuning. Additionally, such encodings would enable analyses for relating local topological patterns with other morphological features. Subtree size and tortuosity are similarly reliable branch metrics which could be encoded; distance from soma and maximum distance to termination are also suitable candidates. Diameter and associated metrics (e.g. surface area and volume), while possible in principle, are more susceptible to experimental protocols [33]. Combining several morphological attributes in the encoding would multiply the number of characters required, but feature vectors could be used rather than characters, increasing sensitivity at the expense of speed. Alternatively, the number of features and their discretization could be judiciously selected based on the specific research questions.
Leveraging pairwise tree alignment, cluster analysis, and multiple sequence alignment, an expanded encoding could help discover novel relationships between morphological features, including their relative conservation and specificity across neuronal classes. For instance, the different tortuosity among interneuron classes [41] could reveal regional differences within the arbor, which would suggest axonal domains with specific targeting features. The level of conservation would provide an indication of the feature's functional importance as well as provide a constraint for modeling growth mechanisms.
Since morphology ultimately depends on ultrastructural features to produce function, lower-scale branch properties such as spines or bouton densities and even local molecular expression could create powerful analyses. This would require a richer data type and new experimental processes, but with recent technologies the prospect is real [42-44]. Combining biophysical data with pairwise alignment would enable exploration and detection of morphological-physiological relationships, such as spike failures near regions of high bifurcation density, or receptors of neurotrophic factors in sequences with many C nodes. Spatial information, such as the cortical layer or brain region in which a branch is located, could also be encoded, allowing for explicit alignment by anatomical domain. While we found no association between axonal consensuses and spatial location relative to the soma (e.g. Figure 5c and e), such associations may be anticipated with apical dendrites and more complete axonal reconstructions spanning multiple brain regions, and spatial encoding would facilitate such discoveries. The code available at http://krasnow1.gmu.edu/cn3/NeuriteSequence/ includes sample expanded branch feature encoding to enable future exploration by the research community.
An extended encoding could also improve classification. While we showed that the alignment space is at least as informative as standard topological metrics, whole-neurite metrics (e.g. height, total length, convex hull volume) and branch level features such as length and tortuosity are also useful for classification. For a discussion of which morphometrics are effective for neuronal classification, see [45]. A feature matrix composed of alignment space dimensions and morphometrics would allow for classification on both. In cases in which classes are similar in terms of average branch level metric but different in their relation to topology, the extended encoding has the potential to be more powerful than simply adding branch level metric distributions to the feature matrix. An optimized multi-stage classification which aligns only neurites similar by standard morphometrics could deliver an improved classifier with only a modest increase in alignment computation.
Optimizing algorithms and analysis
The sequence approach depends critically on the constraint that small-side subtrees necessarily be matched to other smaller-side subtrees. This condition produces near-optimal results (equivalent to the tree edit distance) with moderately to highly asymmetric trees, which have low probabilities of improved tree-alignment from a larger-side subtree aligned to a smaller-side subtree. The scores are near optimal even in the case of trees with greater symmetry, so long as the subtrees are topologically similar. This assumption is generally true of neurites, which explains its effectiveness in this study. However, it is possible to conceive a "worst-case scenario" of a root bifurcating into two large subtrees with exactly the same number of branches, but one fully symmetric and one fully asymmetric. Aligning the corresponding sequence with an almost identical arbor in which a single branch is added to the symmetric side (or a single C node removed from the asymmetric side) would yield a dismally low score despite the great structural similarity between the two trees.
To gauge the risk incidence of this effect in neurites, we assessed the asymmetry characteristics of bifurcations with similar subtree sizes, specifically, those with a difference of no more than 6 bifurcations. Of the 5% of axon, 26% of apical dendrite, and 36% of dendrite bifurcations satisfying the condition, the median difference in asymmetry was 0.14, with 75% having a difference less than 0.25 (95% with a difference less than 0.47), though the differences were much smaller for the 5% of subtrees with more than 50 bifurcations. This survey suggests that only dendrites might be susceptible to this problem, though with reasonably small impacts for each instance. Thus, based on currently available data, the relatively simple topological encoding results in practically robust sequence alignments However, the possibility that future larger dataset of complete axonal reconstructions will require a more optimal alignment method cannot be ruled out.
In the big-data prospect of orders-of-magnitude increase in neurite dataset size, heuristics will become important for efficient processing. Given that MDS does not require distances for every neurite pair, not all pairwise combinations are necessary for producing an alignment space. Moreover, for search or analysis, topological metrics can be used to limit the number of neurite alignments by filtering out those that would likely score poorly, as achieved by BlastNeuron with a broader range of morphometrics [15]. The PASTA algorithm itself can be sped up by ignoring the possibilities least likely to contribute to an optimal alignment (e.g. those corresponding to the upper right and lower left corners in the alignment matrix: see Additional file 1: Figure S1c). Other heuristic approaches could be applied that involve candidate seed locations of short matching strings from which the alignment is extended in either direction [46]. The most efficient modern algorithms index seeds in advance [47]. A larger dataset of more complete axons, widely expected from ongoing and discussed connectomic projects, would require appropriate heuristics and efficient implementation in a compiled language, such as C or C++. In cases where sensitivity is more important than speed, sequences of branch feature vectors could take the place of discrete characters.
The diversity of available gene sequence alignment tools highlights the utility of specific parameters and alternative algorithms for different experimental questions or computational requirements [47-50]. Methods of neurite pairwise alignment of one sort or another, including variations on our method, will likely grow in a similar manner to fill various niches, whether in terms of sensitivity or efficiency.
Conclusion
The newly developed method for aligning binary tree sequences enabled the comparison of large numbers of neurites and revealed their shared topological features. Sequence alignment similarity with a purely topological encoding was sufficient to distinguish different arbor types (axons, dendrites, and apical dendrites) as well as certain neuron types, brain regions, and species. Moreover, the sequence representations could differentiate cell classes better than (or at par with) traditional morphometrics and are consistently as informative as traditional topological metrics. Cluster analysis produced groupings highly associated with known metadata differences, and multiple sequence alignment generated a consensus representation of each cluster that revealed the common topological features. Comparative analysis between consensus and motif profile demonstrated that these analyses captured complementary topological characteristics, with consensuses reliably extracting global features and motifs effectively quantifying local features.
Declarations
Acknowledgements
We thank Duncan E. Donohue, John J. Grefenstette, Matteo Mainetti, and Iosif I. Vaisman for insightful discussions and ideas. This work was supported by NIH grant R01 NS39600. Publication of this article was funded in part by the George Mason University Libraries Open Access Publishing Fund.
Authors' Affiliations
(1)
Department of Molecular Neuroscience, Center for Neural Informatics, Structures, and Plasticity, Krasnow Institute for Advanced Study (MS2A1), George Mason University, Fairfax, USA
Copyright
© Gillette et al. 2015
This is an Open Access article distributed under the terms of the Creative Commons Attribution License (http://creativecommons.org/licenses/by/4.0), which permits unrestricted use, distribution, and reproduction in any medium, provided the original work is properly credited. The Creative Commons Public Domain Dedication waiver (http://creativecommons.org/publicdomain/zero/1.0/) applies to the data made available in this article, unless otherwise stated.