Methodology article
Open Access
Knowledge transfer via classification rules using functional mapping for integrative modeling of gene expression data
BMC Bioinformatics
2015
16:226
Received: 31 October 2014
Accepted: 10 June 2015
Published: 23 July 2015
Abstract
Background
Most 'transcriptomic' data from microarrays are generated from small sample sizes compared to the large number of measured biomarkers, making it very difficult to build accurate and generalizable disease state classification models. Integrating information from different, but related, 'transcriptomic' data may help build better classification models. However, most proposed methods for integrative analysis of 'transcriptomic' data cannot incorporate domain knowledge, which can improve model performance. To this end, we have developed a methodology that leverages transfer rule learning and functional modules, which we call TRL-FM, to capture and abstract domain knowledge in the form of classification rules to facilitate integrative modeling of multiple gene expression data. TRL-FM is an extension of the transfer rule learner (TRL) that we developed previously. The goal of this study was to test our hypothesis that "an integrative model obtained via the TRL-FM approach outperforms traditional models based on single gene expression data sources".
Results
To evaluate the feasibility of the TRL-FM framework, we compared the area under the ROC curve (AUC) of models developed with TRL-FM and other traditional methods, using 21 microarray datasets generated from three studies on brain cancer, prostate cancer, and lung disease, respectively. The results show that TRL-FM statistically significantly outperforms TRL as well as traditional models based on single source data. In addition, TRL-FM performed better than other integrative models driven by meta-analysis and cross-platform data merging.
Conclusions
The capability of utilizing transferred abstract knowledge derived from source data using feature mapping enables the TRL-FM framework to mimic the human process of learning and adaptation when performing related tasks. The novel TRL-FM methodology for integrative modeling for multiple 'transcriptomic' datasets is able to intelligently incorporate domain knowledge that traditional methods might disregard, to boost predictive power and generalization performance. In this study, TRL-FM's abstraction of knowledge is achieved in the form of functional modules, but the overall framework is generalizable in that different approaches of acquiring abstract knowledge can be integrated into this framework.
Keywords
Transfer learningKnowledge transferFunctional modulesFunctional mappingClassification rulesIntegrative modelingGene expressionBiomarker discovery
Background
With the advent of high-throughput 'transcriptomic' technology, biomarkers measured in tissue or bodily fluids have generated a vast amount of data, from which classification models can be and have been developed to predict the early development, diagnosis, and prognosis of diseases [1]. A major challenge for class prediction tasks is that a small sample size (tens to hundreds) and a large number of variables (ranging from hundreds to several thousand) characterize most types of 'transcriptomic' data, like gene expression data. Classification models learned from such high-dimensional data might not generalize well nor command a strong statistical support. In addition, the heterogeneity of sample sources and experimental protocols can make discovering robust biomarkers that can predict a disease state with high fidelity very difficult.
To address these challenges a combination of multiple, but independent studies, which were designed to investigate the same biological problem, have been proposed to improve classification performance in diagnostic and prognostic models [1–4]. Two of the most common strategies for combining "transcriptomic" data for integrative modeling are via meta-analysis and cross-platform data merging [5]. In the former approach, integration occurs at the interpretive level, where results (e.g., classification accuracy, p-values, ranks, etc.) from individual studies are combined, while with the latter, integration occurs by rescaling of expression values into numerically comparable measures before the class prediction task.
A major limitation about these approaches is that they are unable to incorporate prior domain knowledge nor transfer latent biological information, which might help boost predictive performance. Studies by Ptitsyn and colleagues [6] revealed that the state (e.g., level of perturbations) of some pathways like, cell adhesion, energy metabolism, antigen presentation, and cell cycle regulation could predict metastasis progression in colorectal and breast cancer samples. Meanwhile, Huang et al. [7] suggested that pathway-based prognosis models for breast cancer performs better than a gene-based one. Thus, incorporating or transferring prior biological knowledge, such as the state of a pathway or functional associations of genes, into model generation could improve predictive performance on 'transcriptomic' datasets.
Ganchev and colleagues proposed a novel framework — transfer rule learning (TRL) — which leverages the concept of transfer learning to build an integrative model of classification rules from two datasets [8]. Transfer learning (TL) is the use of information learned from one task, which we call the source task, to learn another different, albeit related, task, which we call the target task [9]. Given two datasets, where one is designated as the source and the other as target, TRL builds classification rules according to two main steps. First, it learns a rule model on the source, and second, it transfers knowledge learned from the source model to seed learning of a new rule model on the target. TRL is a useful tool for integrative modeling for multiple microarray gene expression (MAGE) studies. Given two or more datasets, TRL can carry out integrative modeling in a pairwise fashion.
The TRL framework has limited capabilities. Its strategy for knowledge transfer could be improved. Generally, humans are able to recognize and apply knowledge learned from a previous task to a new task if they can align the commonalties between the two [9, 10]. For instance, skills learned from a programming language like C++, could be applied to learn a new language, like Java. Both adhere to common programming principles (e.g., both implement a "for loop") even though the syntax can be different. Therefore, for transfer learning to be meaningful it is essential to capture the commonalities that the source and target share. TRL's mechanism for establishing this commonality is to identify common variables between the source and target datasets. However, studies have shown that different classification models built on independent microarray datasets can contain different sets of biomarkers with little overlap. In addition, models based on different variable sets can yield similar classification performance when tested on the same validation dataset [1, 11, 12]. This means that relying solely on identical variables to establish commonality might not be enough, and therefore exploring and incorporating other means of determining variable equivalence could be vital for model performance.
Several genes, though represented by different symbols, could have something in common. For instance, they might belong to the same biological pathway or be associated to the same disease. In humans, for example, the TP53 gene, which encodes the tumor protein p53, is known to play a key role in the activation and/or control of apoptosis [13]. Meanwhile, caspase-6, an effector caspase, which is encoded by the CASP6 genes, cleaves to other proteins to trigger the apoptosis process [13]. Superficially, TP53 and CASP6 are different, but they both play a prominent role in apoptosis. TRL and several meta-analysis methods cannot capture this functional similarity or many others for integrative analysis.
We present in this paper, TRL-FM, an extension to the TRL framework, which can capture and incorporate abstract knowledge to improve integrative modeling of MAGE datasets. TRL-FM leverages functional modules to capture and abstract underlying commonalities, such as functional similarities, among variables across MAGE datasets. To the best of our knowledge, this is the first paper proposing the application of functional modules via knowledge transfer for integrative rule modeling of multiple gene expression datasets.
A functional module (FM) consists of a group of cellular components and their interactions that can be associated with a specific biological process. An FM can be a discrete functional entity separable from other FMs or an amalgam of various FMs with a single functional theme [14]. TRL-FM posits that biomarkers that co-occur in the same FM can possess similar predictive value, so that they can serve as proxies for each other during knowledge transfer from one dataset to another. Armed with this basis, TRL-FM should be able to recognize functionally similar, but non-identical variables (e.g., TP53 and CASP6 as illustrated above) to facilitate knowledge transfer.
Our goal in this study was threefold. First, to test whether FMs can be used to capture the underlying commonality among variables of different but related gene expression datasets, and are more effective when used as bridges to assist knowledge transfer than relying on identical variables. Second, to test the hypothesis that integrative modeling via the TRL-FM approach outperforms traditional models based on single gene expression data sources. Last, to evaluate and compare the classification performance of TRL-FM with traditional methods, using 21 gene expression datasets that were collected from three respective studies: one on brain cancer, one on prostate cancer, and one on a lung disease (idiopathic pulmonary fibrosis or IPF).
Methods
Figure
1
depicts an overview of the TRL-FM framework. For the sake of simplicity, this framework performs transfer between two different, but related, sets of microarray data — a source and a target. However, TRL-FM, as we will show later in this article, can glean information from several sources to facilitate knowledge transfer — a strategy that is akin to receiving advice from several experts. The key steps according to the framework are as follows: First select — using a feature selection method — relevant variables from the source(s). Second, identify FMs among the selected variables. Third, using the discovered FMs, along with rules induced from the source(s) datasets; build a prior hypothesis of classification rules. Finally, using the prior hypothesis as a seed, learn a new classification rule model from the target dataset. TRL-FM is composed of four major components to execute these steps namely, feature selection via discretization, identification of functional modules, classification rule learning, and transfer learning of classification rules via functional mapping. We briefly describe these components below.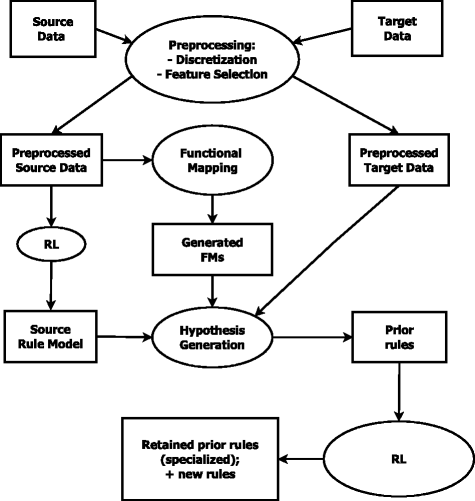 Conclusions
In this paper, we develop and evaluate a novel TRL-FM framework that extends existing classification rule-learning methods to use abstract domain knowledge to facilitate integrative modeling of multiple types of gene expression data. Empirical results from this study highlight a couple of key points. First, the results from our comprehensive experiments conducted in this paper lend strong support to our hypothesis that the TRL-FM approach can statistically significantly outperform TRL, including traditional models based on single gene expression data sources. Second, TRL-FM's ability to leverage functional modules to capture the relatedness among source and target variables is more intelligent, effective, and biologically intuitive than TRL's reliance on variable overlaps, which can be superficial and uninformative. Third, integrative modeling, via the TRL-FM framework leads to better performance than other integrative analysis approach, like meta-analysis, which cannot transfer vital information from one dataset to another. Last, the TRL-FM framework, when extended and refined, can serve as a viable alternative and/or complementary methodology for integrative modeling of multiple 'transcriptomic' datasets.
Declarations
Acknowledgements
The research reported in this publication was supported in part by the National Library of Medicine Training Grant (5T15LM007059-26), the National Institute of General Medical Sciences Award (R01GM100387), the National Library of Medicine (5R01LM011155-04), and the National Cancer Institute Award (P50CA90440). We would also like to extend our gratitude to Jeya Balaji Balasubraman and Aditya Nemlekar for their contributions to the design and implementation of TRL-FM.
Authors' Affiliations
(1)
Department of Biomedical Informatics, University of Pittsburgh, Pittsburgh, USA
(2)
Intelligent Systems Program, University of Pittsburgh, Pittsburgh, USA
(3)
Department of Computational & Systems Biology, University of Pittsburgh, Pittsburgh, USA
References
Azuaje F: Bioinformatics and biomarker discovery:" omic" data analysis for personalized medicine: Wiley. com; 2011.Google Scholar
Rhodes DR, Chinnaiyan AM. Integrative analysis of the cancer transcriptome. Nat Genet. 2005;37:S31–7.View ArticlePubMedGoogle Scholar
Taminau J, Lazar C, Meganck S. Now, #xe9 A: Comparison of merging and meta-analysis as alternative approaches for integrative gene expression analysis. ISRN. Bioinformatics. 2014;2014:7.Google Scholar
Warnat P, Eils R, Brors B. Cross-platform analysis of cancer microarray data improves gene expression based classification of phenotypes. BMC Bioinformatics. 2005;6:265.View ArticlePubMedPubMed CentralGoogle Scholar
Kumar Sarmah C, Samarasinghe S. Microarray data integration: frameworks and a list of underlying issues. Curr Bioinforma. 2010;5(4):280–9.View ArticleGoogle Scholar
Ptitsyn AA, Weil MM, Thamm DH: Systems biology approach to identification of biomarkers for metastatic progression in cancer. BMC Bioinformatics 2008;9(Suppl 9):S8.Google Scholar
Huang S, Yee C, Ching T, Yu H, Garmire LX. A novel model to combine clinical and pathway-based transcriptomic information for the prognosis prediction of breast cancer. PLoS Comput Biol. 2014;10(9):e1003851.View ArticlePubMedPubMed CentralGoogle Scholar
Ganchev P, Malehorn D, Bigbee WL, Gopalakrishnan V. Transfer learning of classification rules for biomarker discovery and verification from molecular profiling studies. J Biomed Inform. 2011;44(Suppl 1):S17–23.View ArticlePubMedPubMed CentralGoogle Scholar
Pan SJ, Yang QA. A Survey on Transfer Learning. Ieee T Knowl Data En. 2010;22(10):1345–59.View ArticleGoogle Scholar
Gentner D, Markman AB. Structure mapping in analogy and similarity. Am Psychol. 1997;52(1):45.View ArticleGoogle Scholar
Ein-Dor L, Kela I, Getz G, Givol D, Domany E. Outcome signature genes in breast cancer: is there a unique set? Bioinformatics. 2005;21(2):171–8.View ArticlePubMedGoogle Scholar
Fan C, Oh DS, Wessels L, Weigelt B, Nuyten DS, Nobel AB, et al. Concordance among gene-expression–based predictors for breast cancer. N Engl J Med. 2006;355(6):560–9.View ArticlePubMedGoogle Scholar
Fridman JS, Lowe SW. Control of apoptosis by p53. Oncogene. 2003;22(56):9030–40.View ArticlePubMedGoogle Scholar
Hartwell LH, Hopfield JJ, Leibler S, Murray AW. From molecular to modular cell biology. Nature. 1999;402(6761 Suppl):C47–52.View ArticlePubMedGoogle Scholar
Garcia S, Luengo J, Sáez JA, López V, Herrera F. A survey of discretization techniques: Taxonomy and empirical analysis in supervised learning. Knowledge and Data Engineering, IEEE Transactions on. 2013;25(4):734–50.View ArticleGoogle Scholar
Quinlan JR: C4. 5: programs for machine learning, vol. 1: Morgan kaufmann; 1993.Google Scholar
Clark P, Niblett T. The CN2 induction algorithm. Mach Learn. 1989;3(4):261–83.Google Scholar
Clearwater SH, Provost FJ: RL4: A tool for knowledge-based induction. In: Tools for Artificial Intelligence, 1990, Proceedings of the 2nd International IEEE Conference on: 1990. IEEE: 24–30.Google Scholar
Lustgarten J, Visweswaran S, Gopalakrishnan V, Cooper G. Application of an efficient Bayesian discretization method to biomedical data. BMC Bioinformatics. 2011;12(1):309.View ArticlePubMedPubMed CentralGoogle Scholar
Pehkonen P, Wong G, Törönen P. Theme discovery from gene lists for identification and viewing of multiple functional groups. BMC bioinformatics. 2005;6(1):162.View ArticlePubMedPubMed CentralGoogle Scholar
Tarca AL, Bhatti G, Romero R. A comparison of gene set analysis methods in terms of sensitivity, prioritization and specificity. PLoS One. 2013;8(11), e79217.View ArticlePubMedPubMed CentralGoogle Scholar
Tamayo P, Steinhardt G. Liberzon A. The limitations of simple gene set enrichment analysis assuming gene independence. Statistical methods in medical research: Mesirov JP; 2012.Google Scholar
Barrell D, Dimmer E, Huntley RP, Binns D, O'Donovan C, Apweiler R. The GOA database in 2009–an integrated Gene Ontology annotation resource. Nucleic Acids Res. 2009;37(Database issue):D396–403.View ArticlePubMedGoogle Scholar
Wang JZ, Du Z, Payattakool R, Yu PS, Chen CF. A new method to measure the semantic similarity of GO terms. Bioinformatics. 2007;23(10):1274–81.View ArticlePubMedGoogle Scholar
Ng AY, Jordan MI, Weiss Y. On spectral clustering: Analysis and an algorithm. Advances in neural information processing systems. 2002;2:849–56.Google Scholar
Rousseeuw PJ. Silhouettes: a graphical aid to the interpretation and validation of cluster analysis. J Comput Appl Math. 1987;20:53–65.View ArticleGoogle Scholar
Bigbee WL, Gopalakrishnan V, Weissfeld JL, Wilson DO, Dacic S, Lokshin AE, Siegfried JM: A Multiplexed Serum Biomarker Immunoassay Panel Discriminates Clinical Lung Cancer Patients from High-Risk Individuals Found to be Cancer-Free by CT Screening. Journal of Thoracic Oncology 2012, 7(4):698–708 610.1097/JTO.1090b1013e31824ab31826b31820.Google Scholar
Gopalakrishnan V, Ganchev P, Ranganathan S, Bowser R. Rule learning for disease-specific biomarker discovery from clinical proteomic mass spectra. In: Data Mining for Biomedical Applications. Springer; 2006. p. 93–105.Google Scholar
Ranganathan S, Williams E, Ganchev P, Gopalakrishnan V, Lacomis D, Urbinelli L, et al. Proteomic profiling of cerebrospinal fluid identifies biomarkers for amyotrophic lateral sclerosis. J Neurochem. 2005;95(5):1461–71.View ArticlePubMedPubMed CentralGoogle Scholar
Ryberg H, An J, Darko S, Lustgarten JL, Jaffa M, Gopalakrishnan V, et al. Discovery and verification of amyotrophic lateral sclerosis biomarkers by proteomics. Muscle Nerve. 2010;42(1):104–11.View ArticlePubMedPubMed CentralGoogle Scholar
Ganchev P: Transfer rule learning for biomarker discovery and verification from related data sets. Doctoral Dissertation. 2011.Google Scholar
Fawcett T: Using rule sets to maximize ROC performance. In: Data Mining, 2001 ICDM 2001, Proceedings IEEE International Conference on: 2001. IEEE: 131–138.Google Scholar
Tseng GC, Ghosh D, Feingold E. Comprehensive literature review and statistical considerations for microarray meta-analysis. Nucleic Acids Res. 2012;40(9):3785–99.View ArticlePubMedPubMed CentralGoogle Scholar
Li J, Tseng GC. An adaptively weighted statistic for detecting differential gene expression when combining multiple transcriptomic studies. The Annals of Applied Statistics. 2011;5(2A):994–1019.View ArticleGoogle Scholar
Johnson WE, Li C, Rabinovic A. Adjusting batch effects in microarray expression data using empirical Bayes methods. Biostatistics. 2007;8(1):118–27.View ArticlePubMedGoogle Scholar
Hanahan D, Weinberg RA. Hallmarks of cancer: the next generation. Cell. 2011;144(5):646–74.View ArticlePubMedGoogle Scholar
McGarry K. A survey of interestingness measures for knowledge discovery. Knowledge Eng Review. 2005;20(1):39–61.View ArticleGoogle Scholar
Ooi CH, Ivanova T, Wu J, Lee M, Tan IB, Tao J, et al. Oncogenic pathway combinations predict clinical prognosis in gastric cancer. PLoS Genet. 2009;5(10):e1000676.View ArticlePubMedPubMed CentralGoogle Scholar
Hamosh A, Scott AF, Amberger JS, Bocchini CA, McKusick VA. Online Mendelian Inheritance in Man (OMIM), a knowledgebase of human genes and genetic disorders. Nucleic Acids Res. 2005;33 suppl 1:D514–7.PubMedGoogle Scholar
Kanehisa M, Goto S. KEGG: kyoto encyclopedia of genes and genomes. Nucleic Acids Res. 2000;28(1):27–30.View ArticlePubMedPubMed CentralGoogle Scholar
Liberzon A, Subramanian A, Pinchback R, Thorvaldsdóttir H, Tamayo P, Mesirov JP. Molecular signatures database (MSigDB) 3.0. Bioinformatics. 2011;27(12):1739–40.View ArticlePubMedPubMed CentralGoogle Scholar
Nishimura D: BioCarta. Biotech Software & Internet Report: The Computer Software Journal for Scient 2001, 2(3):117–120.Google Scholar
Joshi-Tope G, Gillespie M, Vastrik I, D'Eustachio P, Schmidt E, de Bono B, et al. Reactome: a knowledgebase of biological pathways. Nucleic Acids Res. 2005;33(Suppl 1):D428–32.Google Scholar
Hewett M, Oliver DE, Rubin DL, Easton KL, Stuart JM, Altman RB, et al. PharmGKB: the pharmacogenetics knowledge base. Nucleic Acids Res. 2002;30(1):163–5.View ArticlePubMedPubMed CentralGoogle Scholar
Benjamini Y, Hochberg Y. Controlling the false discovery rate: a practical and powerful approach to multiple testing. J R Stat Soc Ser B Methodol. 1995;289–300.Google Scholar
Copyright
© Ogoe et al. 2015
This is an Open Access article distributed under the terms of the Creative Commons Attribution License (http://creativecommons.org/licenses/by/4.0), which permits unrestricted use, distribution, and reproduction in any medium, provided the original work is properly credited. The Creative Commons Public Domain Dedication waiver (http://creativecommons.org/publicdomain/zero/1.0/) applies to the data made available in this article, unless otherwise stated.