JACUSA: site-specific identification of RNA editing events from replicate sequencing data
BMC Bioinformatics
BMC series – open, inclusive and trusted
2017
18:7
Received: 26 November 2016
Accepted: 16 December 2016
Published: 3 January 2017
Abstract
Background
RNA editing is a co-transcriptional modification that increases the molecular diversity, alters secondary structure and protein coding sequences by changing the sequence of transcripts. The most common RNA editing modification is the single base substitution (A→I) that is catalyzed by the members of the Adenosine deaminases that act on RNA (ADAR) family. Typically, editing sites are identified as RNA-DNA-differences (RDDs) in a comparison of genome and transcriptome data from next-generation sequencing experiments. However, a method for robust detection of site-specific editing events from replicate RNA-seq data has not been published so far. Even more surprising, condition-specific editing events, which would show up as differences in RNA-RNA comparisons (RRDs) and depend on particular cellular states, are rarely discussed in the literature.
Results
We present JACUSA, a versatile one-stop solution to detect single nucleotide variant positions from comparing RNA-DNA and/or RNA-RNA sequencing samples. The performance of JACUSA has been carefully evaluated and compared to other variant callers in an in silico benchmark. JACUSA outperforms other algorithms in terms of the F measure, which combines precision and recall, in all benchmark scenarios. This performance margin is highest for the RNA-RNA comparison scenario.
We further validated JACUSA's performance by testing its ability to detect A→I events using sequencing data from a human cell culture experiment and publicly available RNA-seq data from Drosophila melanogaster heads. To this end, we performed whole genome and RNA sequencing of HEK-293 cells on samples with lowered activity of candidate RNA editing enzymes. JACUSA has a higher recall and comparable precision for detecting true editing sites in RDD comparisons of HEK-293 data. Intriguingly, JACUSA captures most A→I events from RRD comparisons of RNA sequencing data derived from Drosophila and HEK-293 data sets.
Conclusion
Our software JACUSA detects single nucleotide variants by comparing data from next-generation sequencing experiments (RNA-DNA or RNA-RNA). In practice, JACUSA shows higher recall and comparable precision in detecting A→I sites from RNA-DNA comparisons, while showing higher precision and recall in RNA-RNA comparisons.
Keywords
SNVRNA editingADARAPOBEC3Variant calling
Background
RNA editing refers to co-transcriptional RNA base modifications that increase transcript sequence diversity without changing the underlying genome. Two types of single base modifications, namely adenosine to inosine conversions (A→I) and cytidin to uridine (C→U) conversions, have been characterised in detail over decades of research [1]. Both conversions are executed by two specific classes of RNA binding proteins (RBPs) that interact with their respective RNA targets: Adenosine deaminase acting on RNA (ADAR) catalyses A→I conversions, whereas APOBEC1 family members catalyse C→U conversions.
ADAR mediates the more frequent A→I editing by binding to double-stranded RNA and subsequent hydrolytic deamination of adenosine residues [1]. Most functional editing sites described so far are found in transcripts for neuronal transporters and channel proteins in the brain [2]. Herein, editing is critical for normal brain development and function. Specifically, ADAR-mediated editing of the GluA2 subunit of the mammalian AMPA receptor is an essential event [3]. Generally, inosine is interpreted as guanosine by the translation machinery, which may lead to codon substitutions in protein-coding sequences. Almost 100% of the human GluA2 transcripts are edited at codon position 607 which leads to a substitution of glutamine (CAG codon) with arginine (CIG codon) in the polypeptide chain. The introduction of a positive charge reduces calcium permeability in the mammalian AMPA receptor. In human, aberrant editing of the Q/R sites has been associated with death of motor neurons [4].
However, the vast majority of editing events takes places outside of coding regions [2]. Repetitive elements as well as 5' and 3' untranslated regions (UTRs) are the most frequent targets of RNA editing [5]. Especially Alu elements are targets of positionally unspecific abundant editing events [5, 6]. Alu repeats are short (≈ 300bp) mobile elements that are widespread in primates. Alu elements often co-occur in inverted pairs and form double-stranded RNA molecules after transcription, which constitute a favourable substrate for ADAR family members.
Taken together, site-specific RNA editing events may lead to amino acid substitutions by changing codons in coding sequences. Apart from its role in coding regions, RNA editing may also influence transcript splicing and structure and could have an effect on mRNA stability and nuclear export [2].
Identification of RNA editing sites
The previously introduced RNA editing events are single nucleotide variants that can be detected from comparing genomic and transcriptomic sequencing data. RNA-DNA differences (RDDs) of the nucleotide frequency spectrum at a given location are the most direct way of identifying editing sites, whereas RNA-RNA comparison may pinpoint differential editing events across samples and conditions (RNA-RNA differences, in short RRDs). The availability of deep next-generation sequencing data enabled the transcriptome-wide discovery of RNA editing events. A direct comparison of gDNA and cDNA sequencing data has been proposed early on [7]. However, these early attempts suffered from the inherent artefacts of short read sequencing data and ambiguities in read mapping. For example, a re-analysis of the primary data of [7] revealed that close to 90% of the reported sites were false positives due to mapping and sequencing artifacts [8]. It was noted specifically that false editing calls were predominantly originating from base calls close to the start or end of reads, whereas true positives did not show this positional bias. Sequencing errors, read mapping errors and library preparation biases, which were introduced by ligation or amplification steps, all contribute to the high false positive rate. It is therefore essential to take these confounding factors into account or to remove them in a pre-processing step.
Several software solutions have been suggested for calling SNV sites: SAMtools/BCFtools [9], REDItools [10] and others (e.g. [11] and [12]). One particular common procedure for the identification of RNA editing is based on arbitrary thresholds for the number of minimal variant reads and minimal variant frequency (=10%) while at least a coverage of 10 reads is required [13].
Based on our previous experience from developing ACCUSA2 [14], we implemented a new software package, the JAVA framework for accurate SNV assessment (JACUSA). JACUSA is a fast and precise solution for quantitative single nucleotide variant detection in RNA-DNA or RNA-RNA comparisons. JACUSA is primarily designed for the detection of position-specific editing events and readily integrates information from replicate experiments.
In the next sections, we will present our statistical framework and data processing steps in detail. We benchmark JACUSA on simulated data sets and compare its performance to other available and popular variant callers: REDItools [10], MuTect [15], and SAMtools/BCFtools [9]. We will then discuss the performance of JACUSA and the other tested variants callers in a controlled biological setting using sequencing data from ADAR knockdown experiments with human embryonic kidney (HEK-293) cells. Herein, several gDNA and cDNA libraries were sequenced to facilitate RNA-DNA and RNA-RNA comparisons based on Illumina sequencing data. Moreover, we made use of published RNA-seq data from Drosophila melanogaster fly brains that either originate from a wild type strain or a strain with a genetically ablated dADAR gene. With the Drosophila samples, we specifically look at the identifiability of editing events in protein coding exons in neuronal tissue where they have been reported previously [16].
Implementation
In the following, we present the JACUSA software in detail, discuss the test statistics that supports replicate experiments and a set of positional filters that enable the pruning of false positive variants for a more accurate detection of SNVs. Equally important, we have implemented parallel and memory-efficient read processing routines for better performance and usability.
Results
In silico benchmark
We use two benchmark scenarios (Fig. 2) to compare JACUSA with other popular variant callers: REDItools, SAMtools/BCFtools, and MuTect. The gDNA vs. cDNA scenario works with all variant callers while the cDNA vs. cDNA comparison scenario could be only tested with SAMtools/BCFtools and JACUSA. Equally important, SAMtools/BCFtools and JACUSA are the only two variant callers that support replicates in our benchmark. More details on the benchmark setup and how others and our software were used are given in section 3.1 of the Additional file 1.
Detection of SNVs in RNA-DNA comparisons
When no replicates are used, JACUSA shows a 6−10
%
higher true positive rate (TPR) as compared to the other tested methods while being competitive at the level of precision (see Fig.
3
a
,
b
). The single replicate scenario is highly relevant in practice, as RNA-seq replicate counts are typically low in RDD studies in the clinics. We specifically used the accuracy measure and the F-score to evaluate the balance between precision and true positive rate (see Additional file
1
: Section 3.2). The main difference between these performance measures is that the accuracy measure includes the number of true negatives.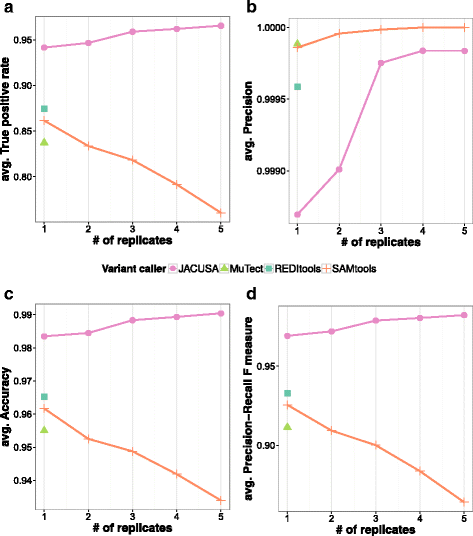 Of all tested methods, JACUSA scores the highest in terms of accuracy and F-score (see Fig. 3). The tradeoff between TPs and FPs can be nicely observed for the comparison of MuTect and REDItools. While REDItools shows a higher TPR (87,45% compared to 83,73% of MuTect, Fig. 3 a), the precision is slightly higher for MuTect (99,99% compared to 99.96% forREDItools, Fig. 3 b). SAMtools/BCFtools scores third in terms of TPR and achieves together with MuTect the highest precision of 99,99%.
JACUSA takes advantage of replicate information and shows a steady increase in performance with the number of employed replicates. SAMtools/BCFtools on the other hand displays only growing precision with increasing number of replicates and the remaining performance measures are decreasing. The drop in performance is highest for 5 replicates and amounts to more than 15% of TRP. JACUSA consistently performs better than SAMtools/BCFtools in terms of TPR, F-score, and accuracy (see Fig. 3 a-d).
Additional results and details are given in Additional file 1: Section 3.3.
Detection of SNVs in RNA-RNA comparisons
In the cDNA vs. cDNA scenario we replace the single gDNA sample by one or more cDNA samples with variant sites where the target frequency differs by more than 10% between both cDNA pools. We introduce polymorphic positions of equal target frequency into both samples. The goal of this benchmark is to test the ability of the respective variant caller to distinguish between variant sites with a target frequency difference of Δ>0.1 and polymorphic positions with equal target frequency.
As before, we evaluate the variant callers by comparing overall performance measures such as F-score and accuracy. A general observation is the lower accuracy in Fig.
4
a
for calling variant sites in cDNA vs cDNA comparisons. In essence, it is a much harder task than contrasting gDNA vs. cDNA samples. In terms of true positive rate, JACUSA outperforms SAMtools/BCFtools in this scenario by at least 40% when replicates are available and by over 35% when no replicates are available (see Fig.
4
a
).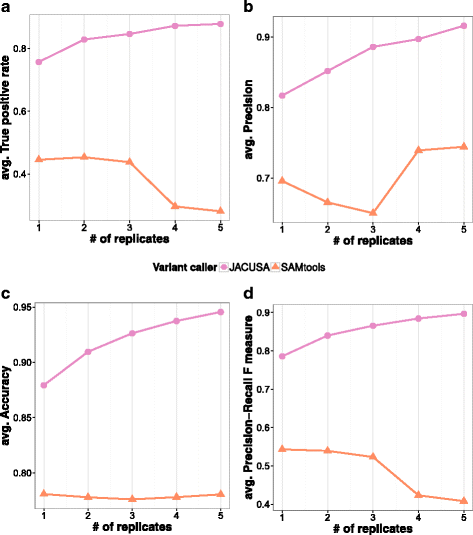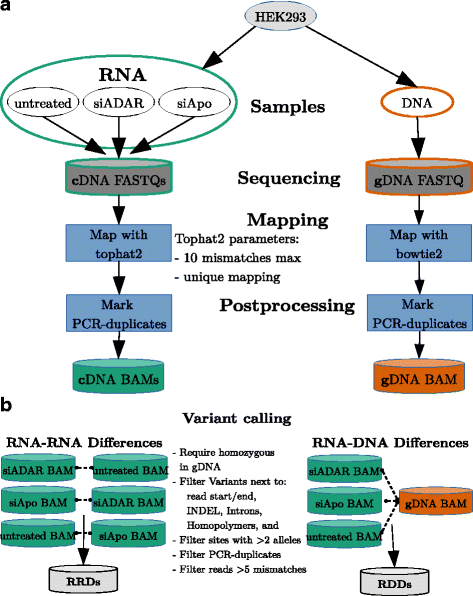 Next, we combined true positives (TPs) and false positives (FPs) into composite measures and observed 10−16% better average accuracy for JACUSA (see Fig. 4 c). This is even more pronounced for the F-score measure, where JACUSA is performing at least 20% better in all tested replicate scenarios (see Fig. 4 d).
Additional results and details are given in Additional file 1: Section 3.4. A general overview on the single thread runtime of each tested software is shown in Additional file 1: Section 3.6.
Editing in HEK-293 cells
To assess the performance of JACUSA in practice, we designed a controlled experiment to generate sequencing input data from cell culture experiments (see Fig. 5 a). Briefly, we resequenced the genome of HEK-293 cells to an average coverage of 30x (gDNA data). We obtained matching cDNA data from our previously published study [22]. Cells were either untreated or have been subjected to siRNA knockdown experiments targeting either ADAR 1+2 (siADAR) or APOBEC3 B,C, and F (siAPOBEC3). The ADAR and APOBEC3 family members have been previously observed as mRNA-binding proteins in a transcriptome-wide proteomics screen of the same cell type [26]. However, the APOBEC3 familiy members did not show significant C-to-U RNA editing activity in our assays.
Subsequently, we conducted gDNA vs. cDNA comparisons on the aforementioned data sets and predicted RNA editing sites with SAMtools/BCFtools, MuTect, and JACUSA. For each variant caller, we selected optimal thresholds for the HEK-293 data set based on our results from the in silico data set: gDNA vs. cDNA score threshold is 1.15 and cDNA vs. cDNA threshold is 1.56. Additional details on selecting score thresholds are given in Additional file 1: Section 3.5.
For MuTect and REDItools we adopted a strategy presented in [12] to utilize replicate information by first calling variants on pooled biological replicates and finally filtering and requiring that the primarily identified variants are present in all replicates. We used JACUSA as explained in Fig. 5 b to detect RNA editing sites utilizing replicates. Additional details on the workflow and results are given in Additional file 1: Section 4 and following. All editing site predictions are listed in Additional file 2.
Conclusion
In this manuscript, we have presented JACUSA as an accurate and fast one-stop solution to identify site-specific SNV events in matched sequencing samples. JACUSA outperformed other SNV callers in an in silico benchmark that assessed SNV calling performance in terms of identifying site-specific RNA-DNA differences (RDDs) and RNA-RNA differences (RRDs). While the first benchmark is the typical scenario for identifying RNA editing sites from homozygous genomic positions, the second benchmark represents another interesting case of identifying condition specific changes in editing frequencies.
JACUSA shows the best recall and competitive precision in comparison to all tested software solutions. The performance gain over its competitors is especially visible for the detection of RNA-RNA differences. In terms of recall, JACUSA outperforms SAMtools/BCFtools in the RRD scenario by at least 40% when replicates are available and by over 35% when no replicates are available. Intriguingly, this is not at the expense of precision which is at least 10% better over all tested number of replicates.
In practice, we tested JACUSA in a controlled experimental setup where we generated DNA and RNA-seq data from HEK-293 cells. Similar to the in silico benchmark, we first identified candidate sites of RNA editing via RDD comparisons and checked if their editing frequency would respond to changes in ADAR protein levels by siRNA knockdown experiments. With this setup, we could nicely demonstrate that JACUSA has a better recall and comparable precision to other tested variant callers in identifying A→G editing sites in RNA-DNA comparisons.
Subsequently, we assessed the RRD or differential editing scenario by predicting SNVs between replicate siAPOBEC3 and siADAR RNA samples. Again, JACUSA overall predicts more sites in homozygous DNA positions and a greater proportion of A→G editing sites than SAMtools (83.0% vs 67.8%) in this RNA-RNA comparison scenario on HEK-293 RNA-seq data.
These results were further corroborated by looking at an independent RNA-seq data set from Drosophila melanogaster heads. Herein, JACUSA reports the highest number of RNA editing sites (857 vs 674) with much higher precision (92.1% vs 86.3% of all RRD sites).
In summary, JACUSA is a versatile software for the precise and sensitive detection of single nucleotide level differences in DNA-RNA as well as RNA-RNA comparisons from Illumina sequencing data. In this manuscript, we have specifically explored its excellent ability to detect site-specific RNA editing events.
Availability and requirements
gDNA-seq data have been deposited in the NCBI SRA under accession SRP050149.
Abbreviations
ADAR:

Adenosine deaminases that act on RNA
RDD:

RNA-DNA-differences
RRD:

RNA-RNA-differences
RBP:

RNA binding protein
SNP:

Single nucleotide polymorphism
SNV:

Single nucleotide variant
Declarations
Acknowledgments
All authors would like thank all members of the Dieterich and Landthaler Labs for numerous valuable discussions.
Funding
CD and MP acknowledge funding by the Max Planck Society.
Authors' contributions
CD conceived and designed the study. MP implemented JACUSA. MP and CD performed data analyses and wrote the manuscript with input from all other authors. EW carried out all experiments in HEK-293 cells. ML and UO provided materials and valuable feedback in the course of this project. All authors read and approved the final manuscript.
Competing interests
The authors declare that they have no competing interests.
Consent for publication
Not applicable.
Ethics approval and consent to participate
Not applicable.
Open Access This article is distributed under the terms of the Creative Commons Attribution 4.0 International License (http://creativecommons.org/licenses/by/4.0/), which permits unrestricted use, distribution, and reproduction in any medium, provided you give appropriate credit to the original author(s) and the source, provide a link to the Creative Commons license, and indicate if changes were made. The Creative Commons Public Domain Dedication waiver (http://creativecommons.org/publicdomain/zero/1.0/) applies to the data made available in this article, unless otherwise stated.
Authors' Affiliations
(1)
Max Planck Institute for Biology of Ageing, Cologne, Germany
(2)
Berlin Institute for Medical Systems Biology, Max-Delbrück-Center for Molecular Medicine, Berlin, Germany
(3)
Section of Bioinformatics and Systems Cardiology, Klaus Tschira Institute for Integrative Computational Cardiology at the Department of Internal Medicine III, University Hospital Heidelberg, Heidelberg, Germany
(4)
German Center for Cardiovascular Research (DZHK) - Partner site Heidelberg/Mannheim, Im Neuenheimer Feld 669, Heidelberg, Germany