Research article

Open Access
Using structural knowledge in the protein data bank to inform the search for potential host-microbe protein interactions in sequence space: application to Mycobacterium tuberculosis
BMC Bioinformatics
BMC series – open, inclusive and trusted
2017
18:201
Received: 17 August 2016
Accepted: 16 February 2017
Published: 4 April 2017
Abstract
Background
A comprehensive map of the human-M. tuberculosis (MTB) protein interactome would help fill the gaps in our understanding of the disease, and computational prediction can aid and complement experimental studies towards this end. Several sequence-based in silico approaches tap the existing data on experimentally validated protein-protein interactions (PPIs); these PPIs serve as templates from which novel interactions between pathogen and host are inferred. Such comparative approaches typically make use of local sequence alignment, which, in the absence of structural details about the interfaces mediating the template interactions, could lead to incorrect inferences, particularly when multi-domain proteins are involved.
Results
We propose leveraging the domain-domain interaction (DDI) information in PDB complexes to score and prioritize candidate PPIs between host and pathogen proteomes based on targeted sequence-level comparisons. Our method picks out a small set of human-MTB protein pairs as candidates for physical interactions, and the use of functional meta-data suggests that some of them could contribute to the in vivo molecular cross-talk between pathogen and host that regulates the course of the infection. Further, we present numerical data for Pfam domain families that highlights interaction specificity on the domain level. Not every instance of a pair of domains, for which interaction evidence has been found in a few instances (i.e. structures), is likely to functionally interact. Our sorting approach scores candidates according to how "distant" they are in sequence space from known examples of DDIs (templates). Thus, it provides a natural way to deal with the heterogeneity in domain-level interactions.
Conclusions
Our method represents a more informed application of local alignment to the sequence-based search for potential human-microbial interactions that uses available PPI data as a prior. Our approach is somewhat limited in its sensitivity by the restricted size and diversity of the template dataset, but, given the rapid accumulation of solved protein complex structures, its scope and utility are expected to keep steadily improving.
Keywords
Protein-protein interactions
Host-pathogen interactions
Domain-domain interactions
Local sequence alignment
Background
Tuberculosis (TB) continues to pose a serious global health problem [1, 2]. The widespread prevalence of latent as well as active forms of TB disease, and the emerging threat of multi/extremely drug-resistant strains of pathogenic Mycobacterium tuberculosis (MTB), the underlying causative agent, present scientific and strategic challenges [3–6]. Overcoming this menace will depend, in part, on a comprehensive understanding of the molecular crosstalk between the pathogen and its human host on the cellular level at different stages of the disease [4]. Dissecting the tug of war between the invading bacterium and the phagocytic host cell that internalizes it will require mapping out the complex web of interactions between MTB virulence factors and the host cell signaling network that is engaged during infection. These protein-protein interactions (PPIs) could, on the one hand, represent the active manipulation of the host cell machinery by the pathogen, and on the other, reveal the defensive responses mounted by the host in an attempt to clear out the invader [7, 8].
Multiple changes are known to occur in the physiology of the macrophage following phagocytosis of virulent MTB [7–9]. These include disrupted trafficking and the arrest of phagosome-lysosome fusion [5, 8], inhibition of apoptotic and autophagic pathways [10–12], perturbed mitochondrial function [13], increased rendoplasmic reticulum stress [14], enhanced lipid production [15, 16], and on a broader scale, granuloma formation [17, 18], all of which contribute to pathogen survival inside the host. Another dimension of complexity has been added by the recent observation that the bacterium might be actively rupturing the phagosomal membrane to escape into the cytosol, leading to increased toxicity and necrotic cell death [19]. This extensive remodeling on the host side stems from secreted virulence factors as well as proteins associated with the complex mycobacterial cell wall with direct access to the exterior. In addition, a contribution from cytosolic MTB proteins, released by the lysis of some bacterial cells inside the phagocyte, is also possible.
Low throughput experimental studies have so far uncovered and characterized around 40 binary protein-protein interactions between MTB and human, and these have helped shed some light on the pathophysiology of the disease [20]. A recent attempt to expand this interaction network harnessed the yeast two-hybrid assay (Y2H) to map out, on the genome-wide scale, interactions between a large set of human ORFs and a filtered set of MTB ORFs having possible involvement in the infection process [21]. This experimental study found evidence for ~ 50 novel possible interactions in vitro, and detailed follow-up investigation of one novel interaction, between EsxH and the host ESCRT complex, suggested a role for this interaction in vivo in disrupting endosomal trafficking which in turn promotes bacterial survival. One limitation of such a high-throughput screening approach is that, possibility of false detections (false positives/negatives) cannot be ruled out. Estimates suggest that Y2H has a sensitivity of only about 20% [22], and, as admitted in [21], several known interactions could not be detected by their high-throughput experimental screen. These results taken together suggest that there is still scope, and a need, for more studies that can map out other as-yet unknown human-MTB interactions and contribute to a more complete picture of the host-pathogen interactome. Computational methods can complement and aid experimental approaches by helping to predict, or prioritize, potential interactions which could guide wet lab studies. Indeed, bioinformatic, or in silico, prediction of human-microbial PPIs has emerged as an active area of research in recent years [23, 24].
Several computational approaches to predicting PPIs, both within and between species, are based on the use of sequence information of the participating proteins [23–27]. These approaches are computationally efficient, requiring only the use of heuristic methods for sequence alignment, and are amenable to automation, which make sequence-based methods suitable for making large scale predictions on the whole-genome level. In contrast, structure-based approaches involve homology modeling based on known complex structures, possibly followed by molecular dynamics simulations, and are computatonally intensive in general [28, 29]. Thus, sequence based methods can serve as a preliminary step to narrow down the space of all possible host-pathogen protein pairs to a more manageable number and help prioritize candidate interactions, which could subsequently be analyzed in more detail through structure-based modeling and/or empirical validation. This paper proposes an improved sequence-based methodology to identify a small set of plausible PPIs between host and microbe proteins, starting from the much larger set of possible pairings encompassing the full proteomes of the two species in question.
Sequence-based methods, in general, harness the "universe" of experimentally known PPIs, both within and across genomes, which serve as templates to search against [
25
–
27
,
30
]. To ascertain whether a query pair of proteins (A, B) might interact, each protein is compared to all the proteins occurring in the template set. If the template dataset contains an interacting pair A'-B' such that A' and B' are closely related to A and B respectively, then the template interaction is "carried over", and a candidate interaction is proposed to occur between A and B. This idea is schematically depicted in Fig.
1
. Several methods have been proposed in the past based on the above logic, and they differ in the exact details of the way the similarity between proteins is assessed on the sequence level. Nonetheless, they all are based on some version of local sequence alignment, e.g. using BLAST, for detecting homology relationships between proteins [
25
–
27
,
31
–
35
].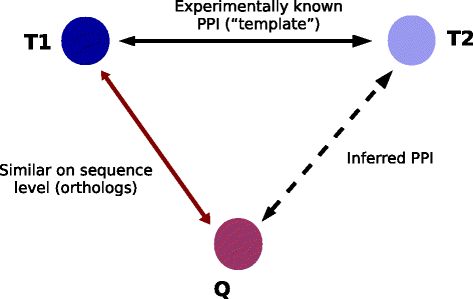 BLAST is an example of heuristic local alignment [
36
], and essentially looks for regions of sequence similarity in the query and template proteins which could be embedded within longer full-length protein sequences, and represent a conserved functional domain, say. While this is well suited to uncovering evolutionarily conserved functions between proteins that can be quite dissimilar overall, local alignment-based search comes with a potential caveat when applied to the problem of interaction prediction, especially with multi-domain proteins. To see this, one can imagine a situation such as the one depicted in Fig.
2
. The query protein M shares a conserved region (e.g. a functional domain) with the protein T that participates in a template PPI, following from local alignment-based search. However, the part of T actually involved in the template PPI is distinct from the aligned region, and may correspond to a different domain. As a consequence, labeling M as being similar to T based on the E-value or percentage identity of the aligned stretch might lead to spurious prediction of a candidate interaction between M and H,
if
information about the details of the interaction (i.e. the specific regions involved in the interaction interface) is not taken into account. Given that resolved crystal structures are available for only a small fraction of the PPIs known to date [
37
], this somewhat "blind" approach could lead to false inferences, considering that the human, and even MTB, proteome includes a significant proportion of multi-domain proteins (Additional file
1
: Figure S1).

On the other hand, imposing stringent filters on the coverage of the template sequence in the alignment in order to avoid the above caveat might turn out to be too restrictive. This constraint could cause potential interactions to be missed out, if the query and template proteins happen to share a highly conserved region that is sufficient for the template interaction to occur.
Such pitfalls underscore the need to incorporate additional information about the structural interface actually mediating the template interaction into sequence-based search for viable PPI candidates, which can improve the quality of the predictions. Assuming that functional domains are independently folding modular units of protein structure and mediate inter-protein interactions, restricting the template PPIs to the subset for which structural information is available provides a more targeted approach to search for potential PPIs. We propose leveraging the structurally resolved protein complexes deposited in the Protein Data Bank (PDB), and using their interacting portions (domains) instead of the full length protein sequences as templates in a local alignment-based search for viable human-MTB PPIs. Combined with other sources of information such as functional annotation, cellular localization and cell type-specific gene expression data [38], such an approach has the potential to suggest novel, high-confidence candidates for in vivo interactions, which could contribute to filling the gaps in our understanding of the disease process.
Discussion
Genome-based computational methods have been employed for several years now to help reconstruct the protein interactome underlying the functional landscape in a number of organisms [25–27, 30]. More recently, attention has been turned to the problem of predicting PPIs between pathogenic microbes and the human host towards gaining a better understanding of infectious diseases [23, 24]. Comparative methods based on local sequence alignment [31–34] are bound to yield a significant proportion of false positives, or negatives, unless structural (domain-level) details about the template interactions are also properly taken into account. However, structural information is currently available for only a small proportion of the experimentally validated PPIs [37]. This restricts the size of the template dataset to work with, and is the price to be paid for improved specificity of local alignment-based search.
We have demonstrated how the structurally resolved complexes in the PDB [41, 42] can be tapped to suggest potential interactions between host and pathogen proteins, and applied it to the specific case of M. tuberculosis. Our targeted approach may be viewed as setting an upper bound on the performance of any comparative sequence-based method for identifying PPI candidates that relies purely on sequence alignment. We have proposed reducing the occurrence of false positives (esp. in the case of multi-domain proteins) and negatives, and increasing specificity, by prioritizing the candidate interactions on the basis of their domain-level sequence similarity with the template proteins. On the other hand, since our approach is extrapolatory in nature, only those candidate protein pairs which share similar subsequences with the template interactors get high scores. Thus, the number of high-scoring predictions that can be made, i.e. the sensitivity of the method, is limited by the size and diversity of the template dataset used. (We note, for instance, that our prioritized list does not include any of the ~ 40 PPIs between MTB and human that are experimentally known so far [20].) However, as the number of resolved crystal structures deposited in the PDB continues to grow at an ever increasing pace, we expect the scope and utility of our methodology to also improve with time, and it has the potential to provide an efficient and cost-effective alternative to experimental high-throughput screens for interactome mapping [21, 22].
Some earlier studies have also proposed the use of domain-level interaction information to screen for potential PPIs, but those approaches essentially treat all members of a domain family on the same footing, disregarding the differences in interaction ability among them [32, 33, 66–69]. Thus, all occurrences of a pair of domains that could potentially interact are weighted equally. However, not every instance of a pair of domains is likely to engage in a functional interaction [58]. This anticipated heterogeneity provides the rationale for our scoring scheme to sort the candidate protein pairs. Determining whether a functional interaction can occur between a pair of protein sequences is, of course, a difficult question, and requires extensive biochemical characterization which is beyond the scope of the present study. We have adopted a pragmatic approach and searched for proteins in the human/MTB proteomes which are "close enough" in sequence space to known functional interactions retrieved from the PDB. In a sense, the score can be regarded as a proxy for the likelihood that an interaction will occur between the two candidate proteins, although we emphasize again that low score does not by itself imply non-interaction - improved specificity comes at the cost of limited sensitivity.
The candidate interactions could have been prioritized in other ways, besides the one we have adopted. For example, the joint similarity metric could be calculated based on only those positions in the sequence alignment that correspond to the directly interacting residues in the template complex (as was done in [
70
], for example). This of course implicitly assumes that the interfacial residues mediating a domain-domain interaction in different protein structures all line up when the corresponding sequences are aligned, and thus, only these residues would be relevant for making comparisons. We tested this assumption on examples of interacting domains which have multiple instances of occurrence in iPfam/3DID. Sequence alignment of the corresponding domain sequences suggests that the interacting residues do not always align, and there can be considerable scatter. This is illustrated for the particular case of the Plectin/S10 domain (PF03501) in Fig.
9
. The interfacial residues (extracted from different PDB structures) mediating its interaction with the KH domain (PF07650) are highlighted in yellow in the multiple sequence alignment, and it is evident that restricting the comparison to only those positions which align with the interacting residues in the template, is likely to result in fairly meaningless inferences. We have based our comparisons on the full domain sequences, because the overall three-dimensional structure of the domain and spatial arrangement of its residues – which decides the nature of the active site and energetics of inter-protein interactions - is after all an emergent 'collective' property of the polypeptide chain, arising from the overall physico-chemical composition of its entire sequence.

Finally, we note that the potential relevance of the high-scoring leads picked out by our sequence-based search could be further assessed by integration with other sources of contextual information besides Gene Ontology, such as large scale gene expression changes and knowledge about the host interactome. For example, several methods have been recently developed to infer the causal upstream regulators (e.g. DNA-binding transcription factors) that might underlie changes in the transcriptional profile at various stages of the infection [71–73]. With the aid of curated large scale signaling networks [74], it might be possible to discover novel links between such alterations in regulatory activity and some of the computationally predicted host targets of pathogen proteins. Such an integrative analysis, which will be reported elsewhere, could suggest novel hypotheses regarding the molecular pathways that shape the temporal course and eventual outcome of the disease.
Conclusions
Our analysis of local sequence alignment applied to host-pathogen PPI prediction highlights the possibility of drawing spurious inferences (or missing out on potential interactions), if structural details about the template interactions are not available/not taken into account. We have proposed making use of the structurally resolved complexes in the Protein Data Bank for more targeted search for novel PPI candidates between human and MTB proteins. The use of domain-domain interaction information reduces the chances of false positives/negatives from local sequence alignment-based PPI prediction. Our knowledge-based approach, which looks for similar sequences in the vicinity of known DDI templates, acknowledges the inherent diversity within domain families and DDI interaction specificity, for which we have provided different lines of supporting data. Although we have illustrated our methodology with the specific case study of M. tuberculosis, it is of general applicability, and should provide a useful data-driven approach to predicting and prioritizing potential PPIs between any pathogenic microbe and its host that leverages the existing genomic and structural datasets available in the public domain.
Abbreviations
DDI:

Domain-domain interaction
MTB:

Mycobacterium tuberculosis
PPI:

Protein-protein interaction
RBH:

Reciprocal best hit
Declarations
Acknowledgements
Not applicable.
Funding
Department of Science and Technology, Government of India (Grant INT/RUS/RFBR/P-154).
Authors' contributions
GM and SCM conceived and designed the study, GM analyzed and interpreted the data and wrote the manuscript. Both authors read and approved the final manuscript.
Competing interests
The authors declare that they have no competing interests.
Consent for publication
Not applicable.
Ethics approval and consent to participate
Not applicable.
Open AccessThis article is distributed under the terms of the Creative Commons Attribution 4.0 International License (http://creativecommons.org/licenses/by/4.0/), which permits unrestricted use, distribution, and reproduction in any medium, provided you give appropriate credit to the original author(s) and the source, provide a link to the Creative Commons license, and indicate if changes were made. The Creative Commons Public Domain Dedication waiver (http://creativecommons.org/publicdomain/zero/1.0/) applies to the data made available in this article, unless otherwise stated.
Authors' Affiliations
(1)
National Centre for Cell Science, Pune, India
(2)
Indian Institute of Science Education and Research, Pune, India