Research article

Open Access
A quality metric for homology modeling: the H-factor
BMC Bioinformatics
2011
12:48
Received: 3 August 2010
Accepted: 4 February 2011
Published: 4 February 2011
Abstract
Background
The analysis of protein structures provides fundamental insight into most biochemical functions and consequently into the cause and possible treatment of diseases. As the structures of most known proteins cannot be solved experimentally for technical or sometimes simply for time constraints, in silico protein structure prediction is expected to step in and generate a more complete picture of the protein structure universe. Molecular modeling of protein structures is a fast growing field and tremendous works have been done since the publication of the very first model. The growth of modeling techniques and more specifically of those that rely on the existing experimental knowledge of protein structures is intimately linked to the developments of high resolution, experimental techniques such as NMR, X-ray crystallography and electron microscopy. This strong connection between experimental and in silico methods is however not devoid of criticisms and concerns among modelers as well as among experimentalists.
Results
In this paper, we focus on homology-modeling and more specifically, we review how it is perceived by the structural biology community and what can be done to impress on the experimentalists that it can be a valuable resource to them. We review the common practices and provide a set of guidelines for building better models. For that purpose, we introduce the H-factor, a new indicator for assessing the quality of homology models, mimicking the R-factor in X-ray crystallography. The methods for computing the H-factor is fully described and validated on a series of test cases.
Keywords
Nuclear Magnetic Resonance
Protein Data Bank
Homology Modeling
Nuclear Magnetic Resonance Spectroscopy
Nuclear Magnetic Resonance Structure
Background
Introduction
Since 1958, when Kendrew et al reported the first atomic-level resolution of a protein structure (myoglobin), the structural biology field dramatically expanded with the development of new tools and methods to gain access into atomic details of a protein or a nucleic acid [1]. This opened a completely new world of knowledge and understanding to the scientific community, as the analysis of protein structures provides fundamental insight into most biochemical functions and consequently into the cause and treatment of diseases. Structural biology is now recognized as a fundamental step in our quest to understanding life at the molecular level.
Finding the structures of all proteins is currently a bottleneck for genomics studies. In this matter, the Protein Structure Initiative (PSI) aims at the determination of the three-dimensional (3D) structure of approximately 100,000 structures in 10 years. However, the protein sequence databank (UniProt/TrEMBL) is growing at a much faster rate, with more than 10 millions sequences available to date (March 2010). At the same time point, the Protein Data Bank (PDB) includes 64,100 structures, out of which only approximately 4300 are "unique" at chain level (i.e. once we remove "redundant" proteins whose sequences have more than 95% sequence identity with another protein in the PDB). It should be noted that these structures only represent a biased sample of the protein universe. For example, the PDB includes only 220 unique membrane proteins which is very little since membrane proteins constitute around 20-30% of most proteomes [2]. Noteworthy, the human genome has ~21,000 protein-encoding genes for a proteome of ~1,000,000 proteins when combining the complexity induced by alternative slicing events [3]. In addition, due to experimental limitations, the vast majority of the solved structures are below the 50 KDa threshold excluding numerous larger proteins. Large proteins however represent a significant fraction of the proteins present in an organism; for instance, proteins found in yeast Saccharomyces cerevisiae have five hundred amino acid residues on average and their lengths can reach two thousand eight hundred residues [4]. The structure of these large proteins, as well as of even larger assembly can be solved by electron microscopy at a somewhat low-resolution. While this field is expanding very fast and a growing number of structures solved at atomic-level resolution have been reported [5, 6], its impact with respect to the size of the protein sequence databank remains limited. Many more protein structures have been solved by either X-ray crystallography or nuclear magnetic resonance (NMR). It remains however that most proteins are out-of-reach because of technical difficulties. There is clearly a huge gap between the world of known structures and the universe of known protein sequences. Structural genomic projects are unable to keep up with newly discovered genes.
One way to work around this problem is to use computational methods to predict proteins structures. In silico protein structure prediction techniques can be divided into two categories: the ab-initio folding methods and homology modeling. In this paper we focus on the latter. We note that both approaches have been shown to yield astounding results, as shown in the successive CASP contests [7]. However, they do require caution: while predicting the structure of a protein is an intellectual challenge that requires solving many practical issues, it is often considered as an art in essence.
The growth rate of structures deposited in the PDB is slowing down since 2004, along with the number of new superfamilies or folds discovered [8, 9]. One possible explanation is that many proteins still evade the structural biology pipelines at this time because of the technical difficulties described above. In 1992 Chothia hypothesized that the number of protein folds in nature is probably finite and around 1,000 [9, 10]. The latest analysis of the PDB and of the structural classification of proteins (SCOP) showed that we have not yet reached a plateau (currently estimated to be around 1,500) [8]. The current rate at which proteins are added in the PDB is far too slow to match with the number of new protein sequences discovered every year. The situation is however not so negative. There is a definite hope that the current content of the PDB will allow us to predict reliably the correct scaffold of more than 70% of the whole proteome using in silico methods [11]. This is the rationale for using homology modeling to complement experimental techniques.
Homology modeling predicts the structure of a protein by inference from a homologous protein whose structure is known (see Figure
1
for a schematic illustration of the technique). Its success rests on (i) the existence of a homologue with known structure, (ii) our ability to detect this homologue, and (iii) the quality of the model building process once the homologue is detected. Steps (i) and (ii) have greatly benefited from the different genomics projects: with the additional structures generated by the structural genomics projects, sampling of the protein structure space is becoming finer, improving the chance that a structural homologue exists for any given protein sequence. With the parallel increase in the number of sequences available in genomic databases and the development of meta-servers to analyze and query sequence databases, there has been significant improvement in the detection of homology [
12
]. In the recent CASP experiments, targets with sequence identity of 6% to their templates were included in the Homology Modeling category [
13
–
15
]. There is hope that in the near future homology modeling will reach its ultimate goal: the generation of model protein structures as accurate as those determined by high-resolution experimental studies.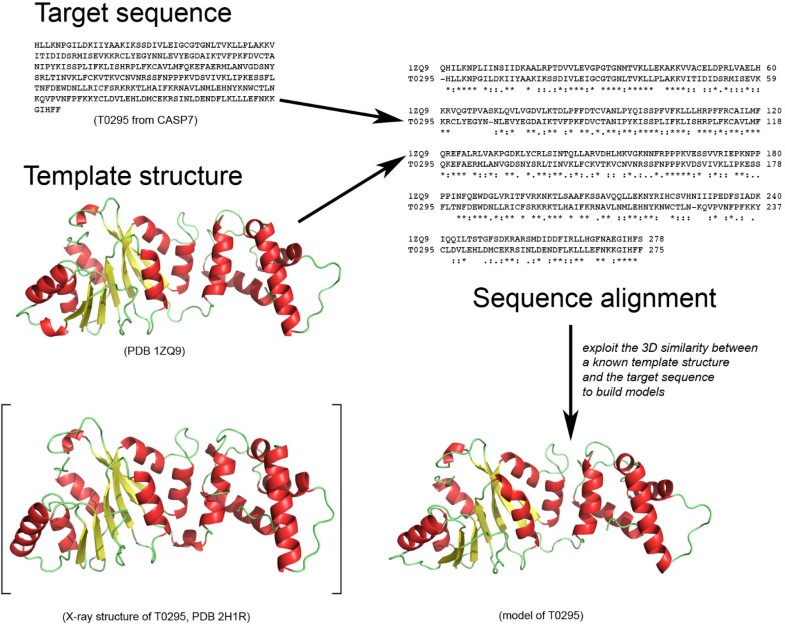 Biologists unanimously consider X-ray crystallography as the prime source of structural information on proteins and the "gold standard" in term of accuracy: they base their confidence on its long list of published successes. The vast majority of structures deposited in the PDB were determined by X-ray crystallography and 14 Nobel prizes in Chemistry and Medicine have been awarded to crystallographers [16] (For recent reviews, see Kleywegt and Jones, 2002 [17]; Wlodawer et al, 2007 [16]; Brown and Ramaswamy, 2007 [18]; Ilari and Savino, 2008 [19]). Homology modeling on its own however is not devoid of successes. The very first published homology model in 1969 was the small protein α-lactalbumin, which was modeled on the basis of the structure of hen egg white lysozyme as a template [20] with the two proteins sharing 39% sequence identity. When the structure of α-lactalbumin was later solved by X-ray crystallography [21], the model turned out to be essentially correct [22]. Since then, homology modeling has continuously extended its field of applications, including designing mutants to test hypotheses about protein functions, identification of active sites, drug design, protein-protein docking, facilitating molecular replacement in X-ray structure determination, refining models based on NMR constraints (for recent reviews of homology modeling applications, see [23–25]). Despite these successes, homology modeling is not yet a well-established alternative or complement to experimental structural biology. It remains the focus of many criticisms often coming from the structural biologists themselves as they often consider a protein model to be unreliable, not being based on experimental data. The question arises as to what needs to be done to give homology modeling its credentials.
In this paper, we focus on homology modeling and more specifically, we review how the structural biology community perceives it and what can be done to impress on the experimentalists that it can be a valuable resource to them. It is organized as follows. The next section reviews the differences and similarities between homology modeling and high-resolution experimental structural biology. In particular, we illustrate steps in the homology modeling procedure that are putative source of errors. Our goal is to provide a useful step-by step handbook for non-specialists in order to help building better model.
The following section introduces the H-factor, a new indicator for assessing the quality of homology models. The H-factor is designed to check how well a family of homology models reflects the data that were used to generate those models, in the spirit of the R-factors in X-ray crystallography. The results section that follows validates the H-factor on a series of test cases. We conclude the paper with a discussion on what remains to be done to make homology modeling a prime technique for the biologists.
Homology Modeling versus Experimental Structural Biology
This section reviews briefly the quality of protein structure models obtained either using high-resolution experimental techniques or homology modeling. Our hope is to identify common good practices as well as safeguards from which we can derive a validation tool for the latter. We start with the concept of a structural model and its meaning in the two communities of experimental and computational structural biologists. We then highlight the pros and cons of X-ray crystallography and NMR spectroscopy. An overview of the different steps involved in homology modeling follows, with emphasis on sources of errors and how they can be checked. Ultimately our goal is not to rank these methods but rather we hope to show that they all provide valuable and often complementary information, as long as the proper safeguards are applied.
Methods
Computing the H-factor
where the sum is computed over all positions in the sequence alignment between the target and template, N is the length of the sequence alignment, p is the secondary structure prediction of the target at position i (values for p are 'H' for helix, 'S' for strands, and 'C' otherwise), c(i) is the confidence factor reported by psipred (integer value, from 1 to 10) for the secondary structure prediction at position i and s is the secondary structure type observed at position i in the template structure reported by stride. The offset coefficients a and b are set to 1.3 and 0.9, respectively, to ensure that score (1) has values between 0 and 10.
where N is the length of the sequence alignment.
n is the number of models. The offset coefficients a and b are chosen such that average RMS values of 0.1 and 7 Å correspond to scores of 1 and 10, respectively; the corresponding values are a = 1.3 and b = 0.87.
m is the number of functional domains identified in the target sequence, MA d is the structural fragment extracted from the average structure MA corresponding to the domain d, n is the number of domains homologous to domain d found in PDB structures, and Dd,i is the i-th possible structure of the domain homologous to d. The offset coefficients a and b have been chosen such that average RMS values of 0.1 and 7 Å correspond to scores of 1 and 10, respectively; the corresponding values are a = 1.3 and b = 0.87. This usually enforces that score (4) is between 0 and 10. Note that if this procedure does not find an equivalent domain for a fragment, the fragment is ignored; if no domains are found for all fragments, score ( 4 ) is ignored.
The H-factor computation is accessible online at http://koehllab.genomecenter.ucdavis.edu/toolkit/h-factor with a simplified operating manual (Cf. additional files). The source code is available upon request.
Testing of the H-factor on CASP targets
Target proteins that have been submitted to CASP in the homology modeling category are perfect tests for the H-factor measure presented here. The web site for the Protein Structure Prediction Centre that hosts all information about the CASP experiments
http://predictioncenter.gc.ucdavis.edu
also includes a database of all the models that have been submitted in the successive CASP with the corresponding experimental structures. This database of CASP models contains models that can be ranked from being very accurate to being completely wrong. It is therefore ideally suited to benchmark modeling techniques and to develop and test validation methods. We have chosen three targets from the recent CASP7 experiments: T0287, T0375 and T0295 that have been identified as homology modelling targets by the CASP organizers (see table
1
for details). The first target (T0295) was considered "easy", while the second and third target (T0287 and T0375) were more difficult cases for homology modeling. Fold recognition techniques initially identified one template for T0287 and T0295, and six potential template structures for T0375. The top templates were then selected according to the CASP7 analyses of every possible template for each target. We aligned the sequence of the target with its template(s) using ClustalW [
87
], with the Gonnet250 matrix to define the substitution score and default settings for gap penalties (Cf. additional files
1
,
2
). For the first two targets, this corresponds to a simple pairwise alignment, while for T0375, ClustalW provides a multiple sequence alignment over the target sequence and the six possible template sequences. We used MODELLER 9v5 [
36
], with the "automodel" settings to generate 20 models for each of the three targets. As the H-factor focuses only on the Cα-backbone, we did not attempt to improve the prediction of the sidechains. In addition, we did not perform any energy minimization of the final model and it still remains unclear if energy minimization improves models generated by homology modeling [
88
].
Table 1
Test set based on CASP targets.
Test case (CASP ID)

Template(s) (resolution (Å))

%sequence identity between template and target

Coverage

Type of sequence alignment

Loop segments of 3 or more residues

T0295

1ZQ9 (1.90)

46

1-275

(100%)

pairwise

80-86; 163-166; 179-

182; 225-228; 271-275

T0375

2DCN (2.25); 1RKD (1.84); 1V1A (2.10);

1VM7 (2.15); 2AFB (2.05); 2FV7 (2.10)

17

1-296

(100%)

multiple

33-37; 75-78; 100-103

T0287

1V55 (1.90)

16

1-199

(100%)

pairwise

33-37; 75-78; 100-103;

166-170; 197-199
Conclusions
Homology modeling is slowly building up a record of success and can help structural biologists in many aspects. Models can serve as a bootstrap structure for both NMR and X-ray crystallography and thus help saving a huge amount of time. In X-ray crystallography for instance, many derivative dataset are often needed to solve the phase problem. Alternatively, an accurate bootstrap would be extremely handy for molecular replacement. The same applies for NMR. Protein modeling is also crucial for fitting low resolution electron microscopy maps or building accurate models using structural restraints gathered with small-angle X-ray scattering (SAXS) experiments. Models can be used at different level of details according to their accuracy. In the absence of experimental structures, they serve as starting points for modeling experiments, such as molecular dynamics studies, docking experiments and structure-based drug design. For instance, models of membrane proteins such as G-protein-coupled receptor (GPCR) are extensively used, as few structures are available for this protein family [96].
In this study, we proposed a modeling etiquette that hopefully will help make good use of models. We introduced the H-factor, a new indicator that assesses the quality of models generated by homology modeling, mimicking the R-factor in X-ray crystallography. The H-factor is able to detect backbone anomalies as well as give a feedback on the biological relevance of models. The H-factor evaluates the quality of a protein model within the context in which it is modelled and we believe it is an essential tool that needs to be used in addition to the other validation tools available.
Declarations
Acknowledgements
The National Institutes of Health (NIH), the National Research Foundation of Korea and the Kyungpook National University supported the research presented in this paper. We thank Mrs. Marie Vallet for technical assistance and for setting up the H-factor web tool and Dr. Xinwei Shi for technical assistance and helpful discussions. We thank the anonymous reviewers for their insightful comments that have helped improved our manuscript.
Authors' Affiliations
(1)
Computer Science Department, Room 4337, Genome Center, GBSF University of California Davis, Davis, USA
(2)
School of Applied Biosciences, Kyungpook National University (KNU), Daegu, Republic of Korea
Copyright
© di Luccio and Koehl; licensee BioMed Central Ltd. 2011
This article is published under license to BioMed Central Ltd. This is an Open Access article distributed under the terms of the Creative Commons Attribution License (http://creativecommons.org/licenses/by/2.0), which permits unrestricted use, distribution, and reproduction in any medium, provided the original work is properly cited.