Methodology article

Open Access
KRLMM: an adaptive genotype calling method for common and low frequency variants
BMC Bioinformatics
2014
15:158
Received: 24 February 2014
Accepted: 19 May 2014
Published: 23 May 2014
Abstract
Background
SNP genotyping microarrays have revolutionized the study of complex disease. The current range of commercially available genotyping products contain extensive catalogues of low frequency and rare variants. Existing SNP calling algorithms have difficulty dealing with these low frequency variants, as the underlying models rely on each genotype having a reasonable number of observations to ensure accurate clustering.
Results
Here we develop KRLMM, a new method for converting raw intensities into genotype calls that aims to overcome this issue. Our method is unique in that it applies careful between sample normalization and allows a variable number of clusters k (1, 2 or 3) for each SNP, where k is predicted using the available data. We compare our method to four genotyping algorithms (GenCall, GenoSNP, Illuminus and OptiCall) on several Illumina data sets that include samples from the HapMap project where the true genotypes are known in advance. All methods were found to have high overall accuracy (> 98%), with KRLMM consistently amongst the best. At low minor allele frequency, the KRLMM, OptiCall and GenoSNP algorithms were observed to be consistently more accurate than GenCall and Illuminus on our test data.
Conclusions
Methods that tailor their approach to calling low frequency variants by either varying the number of clusters (KRLMM) or using information from other SNPs (OptiCall and GenoSNP) offer improved accuracy over methods that do not (GenCall and Illuminus). The KRLMM algorithm is implemented in the open-source crlmm package distributed via the Bioconductor project (http://www.bioconductor.org).
Keywords
GenotypingClusteringMicroarray data analysis
Background
Microarray technology has revolutionized the study of the genetics of complex disease, with large-scale case-control studies completed in the past 7 years [1, 2] uncovering many thousands of new susceptibility loci for a wide range of autoimmune, mental and cardiovascular disorders and cancers [3]. These discoveries were made possible by the pioneering work of the HapMap project [4] in cataloguing genetic variation in multiple human populations. This collection has recently been expanded upon by the 1000 genomes project [5] which has enhanced the catalogue of low frequency and rare variation (defined as polymorphism with a minor allele frequency (MAF) of 0.5%–5% and < 0.5% respectively). Single-nucleotide polymorphism (SNP) microarrays with increased coverage of low frequency and rare variants are available from both major manufacturer's Affymetrix and Illumina. Previous comparisons of genotyping methods have shown that many popular algorithms have reduced call accuracy for these SNPs [6–8]. Optimal analysis of this new content will therefore depend on calling algorithms that are capable of making sensible calls even when there are few observations, as is the case for genotypes involving the minor allele.
Illumina SNP microarrays are currently the most widely used array-based platform in both large- and small-scale genetic studies. Illumina's largest BeadChips contain between 2.5 million and 4.3 million SNPs (Table
1
) and process multiple samples in parallel (currently 4, 8, 12 or 24 per BeadChip). The Infinium II chemistry used on this platform differentially labels allele A and allele B with red and green dye respectively [
9
,
10
]. A number of algorithms are available for processing the raw signal of paired allele intensities into discrete genotype calls (AA, AB, BB) for each SNP in each sample. Current methods include: GenCall [
11
], Illumina's proprietary method implemented in the GenomeStudio software; GenoSNP [
12
]; Illuminus [
13
]; CRLMM [
14
–
16
]; Birdseed [
17
] and BeagleCall [
18
]. Three new methods have been proposed recently to meet the challenge of calling low frequency/rare variants on the Illumina platform (M
3
[
7
], zCall [
19
] and OptiCall [
8
]).
Table 1
Summary of the Illumina data sets analyzed
| Platform | # SNPs per | Data set for | MAF | # HapMap |
| --- | --- | --- | --- | --- |
| | sample | SNP selection | | samples |
| Omni1-Quad | ∼ 1.1 million | HapMap | > 5% | 267 (88:44:45:90:0) |
| Omni2.5-Quad | ∼ 2.5 million | 1000 genomes | > 2.5% | 171 (0:43:45:0:83) |
| Omni5-Quad | ∼ 4.3 million | 1000 genomes | > 1% | 341 (172:44:40:85:0) |
In this paper, we introduce KRLMM, a new genotype calling method for Illumina BeadArray data that takes a novel approach to that of other methods by allowing a variable number of clusters (k=1, 2 or 3) to be fitted to the between sample normalized intensity data. We analyze datasets from a number of platforms and highlight the benefit of careful signal adjustment between samples to optimize calling accuracy. We compare this approach to four existing algorithms (GenCall, GenoSNP, Illuminus, and OptiCall) by analyzing data sets with increasing coverage of low frequency/rare variants, and compare the performance of these methods in terms of accuracy at varying minor allele frequency. KRLMM is shown to perform favourably in most comparisons, particularly at low MAF.
Results and discussion
For performance comparison, concordance between the genotype calls made by each method and the independent calls obtained from the HapMap database were used to calculate accuracy. Figure
6
shows the accuracy of each method for the 3 data sets listed in Table
1
for autosomal SNPs at varying drop rates. Overall differences between the five methods are modest, with most delivering accuracy above 98%. KRLMM has the best or equal best performance amongst the methods compared, while GenCall tends to have lower to intermediate accuracy.The performance of OptiCall varies the most between data sets: in the Omni5-Quad data set (Figure
6
C) it is marginally worse than all other methods; in the Omni1-Quad data set (Figure
6
A) it is more accurate than GenCall, but less accurate then the other methods (KRLMM, GenoSNP and Illuminus) while in the Omni2.5-Quad data set (Figure
6
B) its accuracy is comparable to the other methods. Given OptiCall's hybrid approach between GenoSNP and Illuminus, this inconsistent behaviour was surprising, with performance on par with these two methods expected. Although overall differences in accuracy between the methods are modest, given the large size of the respective data sets, differences as small as 0.5% will translate to thousands of additional correct genotype calls per sample. For example, the difference between KRLMM and GenCall in Figure
6
A at a drop rate of 2% equates to an average of 7,103 additional correct calls per sample. In Figure
6
C at the same drop rate (2%), the difference in accuracy between KRLMM and OptiCall equates to an average of 6,217 additional correct calls per sample.We next stratify accuracy by MAF and concentrate on common SNPs (those with MAF > 5%, Figure
7
). Ignoring the overall differences in accuracy that are consistent with the results seen in Figure
6
, we see that the performance of different methods varies by MAF. For the majority of methods, accuracy increases gradually with MAF, consistent with the idea that the clustering problem becomes easier as the number of observations in the clusters involving the minor allele increases. OptiCall is an exception to this trend, giving less accurate calls for common SNPs than Illuminus; this is especially pronounced for the Omni1-Quad (Figure
7
A and
7
D) and Omni5-Quad chips (Figure
7
C and
7
F). This highlights the reason for the poorer overall performance of OptiCall relative to Illuminus and GenoSNP for these chips (Figure
6
A and
6
C). The accuracy is only marginally worse (
∼
1%) for OptiCall compared to other methods, however given the ease at which SNPs with higher MAF can be called by other algorithms, it may suggest the presence of a minor bug in the version of the software we used (version 0.6.2). Differences between the methods are consistent as the number of low confidence calls removed increases from 1% (Figure
7
, A-C) to 5% (Figure
7
, D-F).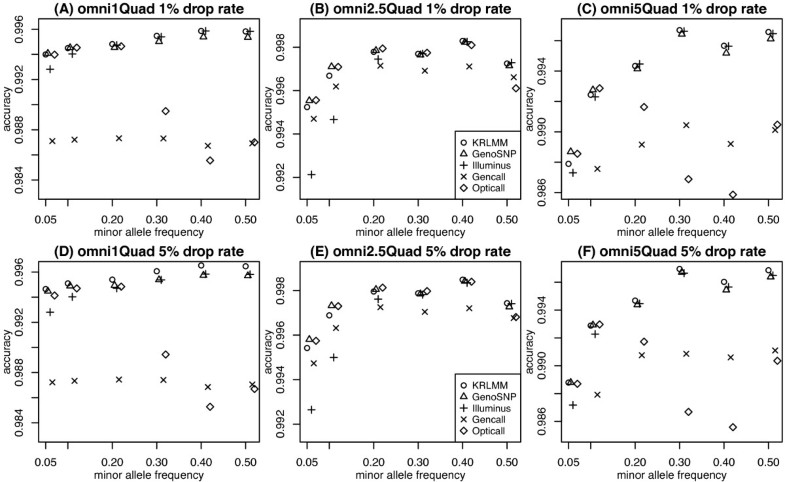 We next zoom in and focus on the ability of different genotyping methods to call low frequency content (SNPs with MAF < 5%). Accuracy was stratified to look at calls involving either the major allele only or the minor allele. This is a key comparison, as methods with a systematically higher error rate for calls involving the minor allele will pay a negligible price in terms of overall accuracy since there are so few of them. Figure
8
plots results by major (panels A-C) and minor (panels D-F) allele for each method at a drop rate of 1%. For calls of the major allele, all methods show comparable accuracy (Figure
8
, A-C). GenCall is slightly less accurate for the Omni1-Quad platform (Figure
8
A), but this can be attributed to use of an older version of GenCall (GSGT v 1.1.9 for Omni1-Quad versus GSGT v1.6.3 for Omni2.5-Quad and v1.8.4 for Omni5-Quad). For minor allele calls (Figure
8
, D-F), Illuminus is generally slightly less accurate, followed by GenCall in the Omni1-Quad and Omni5-Quad data sets (Figure
8
D and
8
F). KRLMM performs comparably to OptiCall and GenoSNP across the board for both the major and minor allele calls. In particular for the low frequency content (MAF 0.01) on the Omni5-Quad platform (Figure
8
F), KRLMM, GenoSNP and OptiCall all have accuracy above 0.70, whereas GenCall and Illuminus are below this level (0.686 and 0.624 respectively). As previously noted, the performance of Illuminus improves as more samples are available [
6
], with higher accuracy achieved on both the Omni1-Quad (267 samples) and Omni5-Quad (341 samples) compared to the Omni2.5-Quad data set (171 samples). This highlights the difficulty faced by methods that model 3 clusters for every SNP using only the data at hand. Clusters with no or few observations, as occurs at low MAF, are more likely to be erroneously called. As sample size increases, there is more data to support these minor clusters, which improves the accuracy of Illuminus to a level comparable to that of other methods. The accuracy of OptiCall is on par with GenoSNP as expected, since OptiCall makes use of priors obtained from other SNPs, thereby overcoming the major limitation of Illuminus.To explore situations where the adaptive approach of KRLMM is beneficial, we examined SNPs where KRLMM is in perfect agreement with the calls from the HapMap database and the other methods make varying numbers of mistakes. Figure
9
shows 3 examples that exemplify the main categories observed: SNPs with fewer than 3 clusters (top and middle rows), SNPs with less well separated clusters (bottom row, as compared to Figure
1
A and
1
D), or SNPs with signal that is skewed towards one of the homozygous clusters (middle and bottom rows). The first situation will benefit from KRLMM's adaptive approach to clustering, while the presence of shifted signal shows the utility of SNP-specific clustering over the more global approaches of GenoSNP and OptiCall that cannot accommodate skewed cluster positions.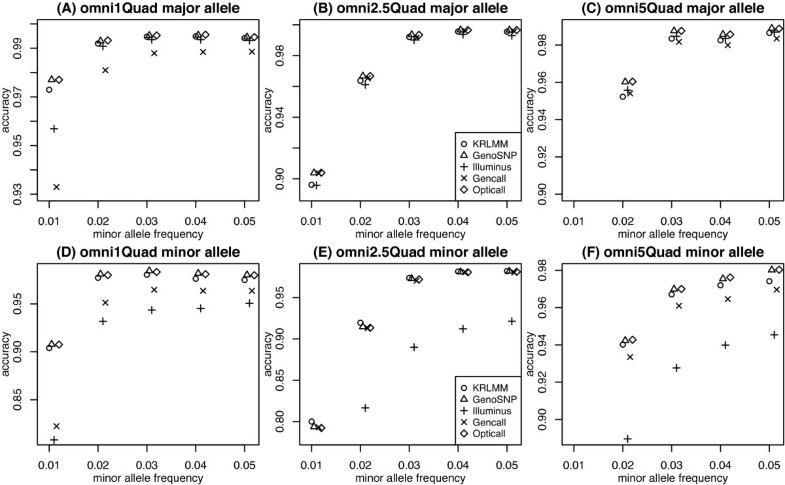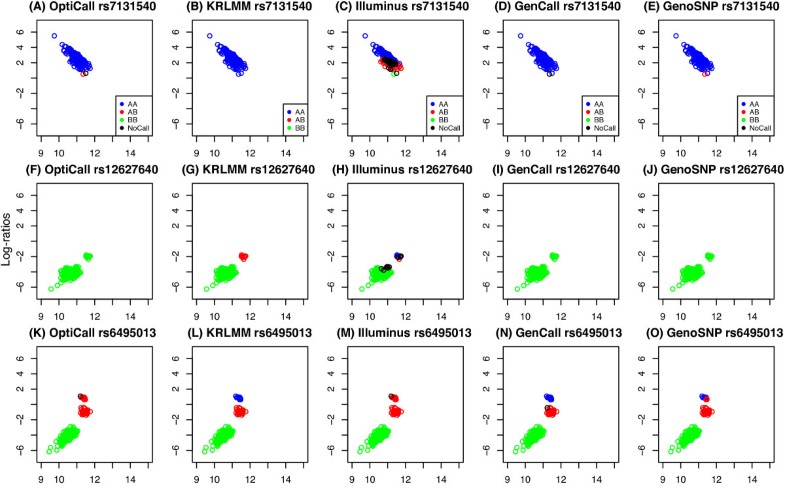 Conclusion
Overall, the KRLMM algorithm marginally outperforms the vendor's own alternative (GenCall) in terms of accuracy, even at low minor allele frequencies. For low frequency variants, our results show the merit of approaches that use the signal from other SNPs either directly in their models (OptiCall, GenoSNP) or indirectly to help choose the appropriate number of clusters (KRLMM) to give more accurate calls. Such approaches offer modest improvements over GenCall and Illuminus that do not have a tailored approach for dealing with SNPs with low MAF.
The KRLMM method uses k-means clustering of the log-ratios obtained after between sample quantile normalization of the raw intensities and logistic regression to determine the number of clusters to fit to each SNP. It is the only algorithm to date that allows flexibility in the number of clusters. Although the data we have used to benchmark our approach (generated in-house at Illumina) is known to be of very high quality, we are still able to detect small performance differences between our method and the vendor provided alternative. These performance differences are expected to be more pronounced in disease association studies, where samples are collected over an extended period and will be subject to additional sources of variation. The benefit of KRLMM's between sample normalization is anticipated to deliver additional performance gains in such settings.
The KRLMM method requires a small subset of training data (i.e. 10,000 SNPs with known k). Although this information was obtained from HapMap data in our case, the regression coefficients could just as easily be estimated using calls from another method if such data were more readily available, as may be the case for platforms from other species. Support for newer Illumina platforms can be easily added and future extensions of the method to handle data from the two-color Axiom platform from Affymetrix are also conceivable. Another adaptation would be to allow k > 3 so that KRLMM could be used on cancer samples where gains and losses in the genome introduce copy number variation.
Future comparisons of the performance of different genotyping algorithms on data from a genome-wide association study (GWAS) or suitable non HapMap control data set, such as the large collection of reference samples in Wang et al. (2011) [25] would also be instructive. Previous work has demonstrated that the choice of method can influence GWAS results obtained from the Affymetrix platform [26]. This important extension will determine whether the same holds true for studies that use Illumina SNP arrays. Publications on this platform to date predominantly rely on calls from the GenCall or Illuminus algorithms. This will be of particular interest at the rare or low frequency end of the minor allele spectrum, especially when it comes to any significant associations detected or missed by particular genotyping methods. Access to a suitable reference GWAS data set where raw data for both cases and controls is available will be the key to such a comparison.
Abbreviations
GWAS:

Genome-wide association study
KRLMM:

The new genotype calling algorithm described in this article
MAF:

Minor allele frequency
SNP:

Single-nucleotide polymorphism.
Declarations
Acknowledgements
We thank Gordon Smyth for advice on regression analysis. This research was supported by NHMRC Project grant 1050661 (RL, MR), Victorian State Government Operational Infrastructure Support, Australian Government NHMRC IRIISS and NIH grant R01GM083084 (RI).
Authors' Affiliations
(1)
Molecular Medicine Division, The Walter and Eliza Hall Institute of Medical Research, Parkville, Australia
(2)
Cancer Genomics Research Laboratory, SAIC-Frederick, Inc., NCI-Frederick, Frederick, USA
(3)
Department of Biostatistics and Computational Biology, Dana-Farber Cancer Institute, CLSB 11007, Boston, USA
(4)
Department of Mathematics and Statistics, The University of Melbourne, Parkville, Australia
(5)
Department of Medical Biology, The University of Melbourne, Parkville, Australia
Copyright
© Liu et al.; licensee BioMed Central Ltd. 2014
This article is published under license to BioMed Central Ltd. This is an Open Access article distributed under the terms of the Creative Commons Attribution License (http://creativecommons.org/licenses/by/4.0), which permits unrestricted use, distribution, and reproduction in any medium, provided the original work is properly credited. The Creative Commons Public Domain Dedication waiver (http://creativecommons.org/publicdomain/zero/1.0/) applies to the data made available in this article, unless otherwise stated.