Research article
Open Access
Detection of non-coding RNAs on the basis of predicted secondary structure formation free energy change
BMC Bioinformatics
2006
7:173
Received: 30 November 2005
Accepted: 27 March 2006
Published: 27 March 2006
Abstract
Background
Non-coding RNAs (ncRNAs) have a multitude of roles in the cell, many of which remain to be discovered. However, it is difficult to detect novel ncRNAs in biochemical screens. To advance biological knowledge, computational methods that can accurately detect ncRNAs in sequenced genomes are therefore desirable. The increasing number of genomic sequences provides a rich dataset for computational comparative sequence analysis and detection of novel ncRNAs.
Results
Here, Dynalign, a program for predicting secondary structures common to two RNA sequences on the basis of minimizing folding free energy change, is utilized as a computational ncRNA detection tool. The Dynalign-computed optimal total free energy change, which scores the structural alignment and the free energy change of folding into a common structure for two RNA sequences, is shown to be an effective measure for distinguishing ncRNA from randomized sequences. To make the classification as a ncRNA, the total free energy change of an input sequence pair can either be compared with the total free energy changes of a set of control sequence pairs, or be used in combination with sequence length and nucleotide frequencies as input to a classification support vector machine. The latter method is much faster, but slightly less sensitive at a given specificity. Additionally, the classification support vector machine method is shown to be sensitive and specific on genomic ncRNA screens of two different Escherichia coli and Salmonella typhi genome alignments, in which many ncRNAs are known. The Dynalign computational experiments are also compared with two other ncRNA detection programs, RNAz and QRNA.
Conclusion
The Dynalign-based support vector machine method is more sensitive for known ncRNAs in the test genomic screens than RNAz and QRNA. Additionally, both Dynalign-based methods are more sensitive than RNAz and QRNA at low sequence pair identities. Dynalign can be used as a comparable or more accurate tool than RNAz or QRNA in genomic screens, especially for low-identity regions. Dynalign provides a method for discovering ncRNAs in sequenced genomes that other methods may not identify. Significant improvements in Dynalign runtime have also been achieved.
Keywords
Support Vector MachineReceiver Operating Characteristic CurveSupport Vector Machine ClassifierSequence PairGlobal Alignment
Background
RNA plays many important biological roles other than as a transient carrier of amino acid sequence information. It catalyzes peptide bond formation [1, 2], participates in protein localization [3], serves in immunity [4], catalyzes intron splicing and RNA degradation [5], serves in dosage compensation [6], is an essential subunit in telomerase [7], guides RNA modification [8, 9], controls development [10, 11], and has an abundance of other regulatory functions [12–14].
Non-coding RNAs (ncRNAs) are transcripts that have function without being translated to protein. The number of known ncRNAs is growing quickly [15–17], and their significance had been severely underestimated in classic models of cellular processes [18]. It is desirable to develop high-throughput methods for discovery of novel ncRNAs for greater biological understanding and for discovering candidate drug targets.
However, novel ncRNAs are difficult to detect in conventional biochemical screens [19]: they are frequently short [18, 20], often not polyadenylated [19], and might only be expressed under specific cellular conditions [20–22]. Experimental screens have found many ncRNAs [23, 24], but have demonstrated that no single screen is capable of discovering all known ncRNAs for an organism. A more effective approach, demonstrated in previous studies [25–30], may be to first detect ncRNA candidates computationally, then verify them biochemically. Considering the number of available whole genome sequences [31–37], this approach can be applied to a large and diverse dataset, and has massive potential for novel ncRNA discovery.
The effectiveness of a computational ncRNA detection/classification method is determined by measuring its sensitivity and specificity on a test set of known ncRNAs and negative sequences. Sensitivity and specificity are defined as:
where true positives are ncRNAs that are detected by the method, true negatives are sequences that are not ncRNA and are not classified as ncRNA by the method, false positives are sequences that are not ncRNA, but are classified as ncRNA by the method, and false negatives are ncRNAs that are missed by the method.
Generally, there is a tradeoff between sensitivity and specificity – tailoring a computational method to increase one measurement may decrease the other. Throughout this paper, receiver operating characteristic (ROC) curves are used to visually express the quality of a ncRNA classification method by plotting sensitivity as a function of the false positive rate (1 – specificity), providing a complete description of all possible sensitivity/specificity tradeoffs. It should be noted that in a whole genome screen, high specificity is more essential than high sensitivity due to the large ratio of non-ncRNA sequence to ncRNA sequence. Low specificity results in an overwhelming number of false positives, swamping the number of true positives, and increasing the difficulty, time, and cost of a biochemical verification screen.
It has been proposed that ncRNAs may form secondary structures that are more stable than would be expected from non-ncRNA sequences of the same nucleotide or dinucleotide composition [38–41]. This hypothesis has been controversial; it has been suggested that it is not true, or at least that the stability difference is not statistically significant enough to be a sensitive and specific criterion for classifying sequences as ncRNA [19] (also claimed on the basis of a small set of tRNA in [42]). However, the program RNAz was recently reported [43] to use folding free energy changes of single sequences, combined with a structure conservation index (SCI) determined from a fixed, multiple sequence alignment, to effectively detect ncRNA. The SCI is the ratio of the consensus secondary structure free energy change (which also includes terms rewarding mutations evidencing structure conservation) determined by RNAalifold [44] to the average folding free energy change for each sequence determined alone. This indicates that incorporating secondary structure conservation into a model based on folding free energy change improves the quality of prediction.
Here, the effectiveness of the program Dynalign [45, 46] as a tool for detection of ncRNA on the basis of predicted folding free energy change is investigated. Dynalign is a dynamic programming algorithm for simultaneously computing the lowest free energy common secondary structure and the structural alignment for two sequences. In brief, Dynalign minimizes ΔGtotal:
ΔG°total = ΔG°1 + ΔG°2 + (number of gaps in alignment) × ΔG°gap penalty [eq. 3]
where ΔG°1 and ΔG°2 are the predicted folding free energy changes of secondary structures of sequence 1 and sequence 2, respectively, and ΔG°gap penalty is a penalty applied for each gap in the alignment. Only conserved helices, i.e. those that appear in both sequences, are predicted. The conformational free energy changes are predicted using an empirical nearest neighbor model [47–49] and ΔG°gap penalty was empirically determined by maximizing structure prediction accuracy [45]. Dynalign predicts secondary structure with significantly greater accuracy than single sequence structure prediction methods because of the additional information contained in the structural alignment [45, 46]. It requires no sequence identity between the two sequences to perform well because there are no energy terms (equation 3) that address sequence identity. Therefore, Dynalign is robust for cases in which extensive covariation of base-paired nucleotides exists as a result of sequence evolution.
Dynalign is initially implemented in this paper as a computational ncRNA classifier by using it to compute the ΔG°total of an input sequence pair, then comparing that value to the mean of ΔG°totals of control sequence pairs generated specifically for that input pair. If the ΔG°total of the input sequence pair is sufficiently lower than the mean ΔG°total of the set of controls, the input sequences are classified as ncRNA. The z score is used to quantify this difference, defined as:
z = (x - μ)/σ [eq. 4]
where x is the ΔG°total of the input sequence pair, and μ and σ are the mean and standard deviation of the ΔG°totals of sequence pairs in the control set, respectively. Therefore, the z score is just the number of standard deviations that the ΔG°total of the input sequence pair is above or below the mean of its set of controls.
It should be noted that the definition of z score implies that the control set values follow a normal distribution, but it has been noted that the distribution of ΔG°s for single sequences is actually extreme value with skew towards lower folding free energies [19]. Tests (data not shown) suggest that the distributions of ΔG°totals of sequence pairs in control sets are also skewed towards lower free energies. However, the z score is an effective measure for classification and has been used in this manner elsewhere [19, 41, 43, 44].
This approach is tested on a large database of known 5S rRNA and tRNA sequences and artificially generated negatives, demonstrating that the z score based on the ΔG°total can be used as a sensitive and specific classification measure. These results are also compared to RNAstructure [49], a dynamic programming algorithm for single sequence secondary structure prediction by free energy minimization. Also, a support vector machine (SVM) is implemented to speed the classification process by training an SVM classifier that does not require a control set for an input sequence pair.
Additionally, the capability to use Dynalign as an effective genomic ncRNA screening tool is illustrated with a whole genome screen on a crude alignment of the Escherichia coli and Salmonella typhi genomes [31, 32], which contain a significant number of known ncRNAs. Many methods have been employed for genomic screens for ncRNAs of specific families [50–58]; benchmarks and discussion in this paper are focused on the premise of using Dynalign as a general genomic screening tool for diverse, novel ncRNAs.
The above tests are benchmarked against two leading ncRNA prediction programs, QRNA [59] (version 2.0.2c) and RNAz [43] (version 0.1.1). RNAz uses a regression SVM to compute a z score for each sequence in a multiple sequence alignment, then uses the mean of those z scores and the SCI as input to a classification SVM. While structure predictions by Dynalign and RNAz are based on calculating the most stable secondary structure using experimentally determined thermodynamic parameters, QRNA uses a fully probabilistic covariance analysis approach that compares scores of three models – ncRNA, open reading frame, or other (null hypothesis) – for a pair of sequences.
Unlike Dynalign, which optimizes its own structural alignment, both QRNA and RNAz require a fixed sequence alignment as input. It is shown here that at low pairwise sequence identity, the Dynalign approach outperforms the fixed alignment approach. Additionally, Dynalign is shown to be a more sensitive ncRNA finder on whole genome screen tests.
Conclusion
It has been shown that the ΔG°total calculated by Dynalign can be used as an effective parameter for detecting ncRNAs. Also, because Dynalign predicts a secondary structure common to two sequences, it is possible to incorporate additional structure-based parameters into the classification model. A recent benchmark of various structural alignment programs [66] reports that Dynalign structural alignments are among the best at reflecting conserved secondary structure, becoming the best at sequence identities below 50%. The potential of Dynalign as a ncRNA detection tool can be yet further explored. For example, it would be interesting to see if methods could be improved if strictly probabilistic or evolution-based scores [72] were added as input to the Dynalign/LIBSVM classifier. Additionally, considering that all testing here was based on only two ncRNA families, it would also be interesting to test how well the Dynalign/LIBSVM classifier would perform if the training set were made more diverse, or if the SVM was optimized further. The LIBSVM input data set for all possible pairwise alignments of 5S rRNA, tRNA, and negative sequences generated from them are presented in Additional File 6 in "Additional Files" for such purposes.
The advantages of using Dynalign over existing ncRNA detection methods are that it is more sensitive at most specificities and that it produces higher quality predictions at low sequence identities. The latter is important, since the number of conserved low-identity regions in some genomes of interest may be high. For example, Figure
17
illustrates a distribution of percent identities of a human-mouse BLASTZ genome alignment [
73
] broken down into 50 nucleotide non-overlapping windows. 25% of the alignment is in the below 50% identity region where the Dynalign
z
score method outperforms RNAz. Additionally, Table
4
seems to indicate that the Dynalign/LIBSVM classification method is more consistent across varying percent identities than the other two programs.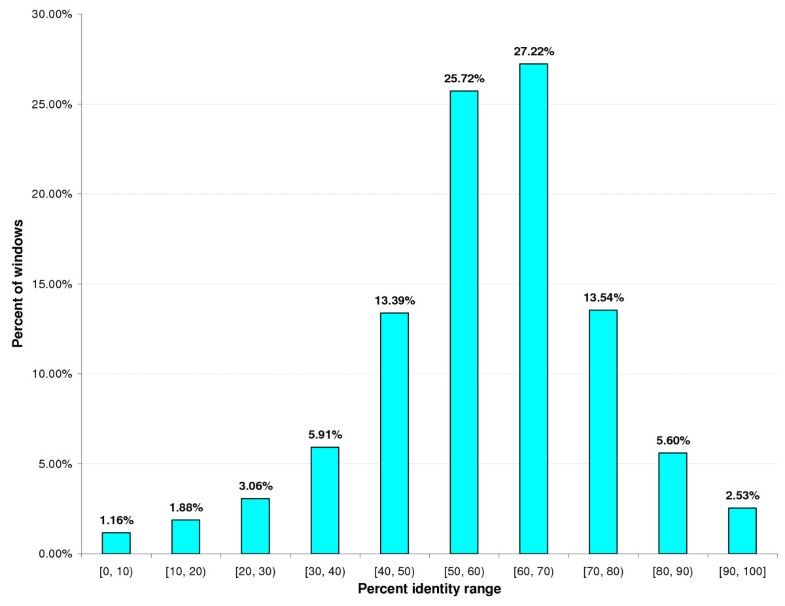 The disadvantages to Dynalign as a ncRNA detection method are that the number of input sequences is currently limited to two, the algorithm does not allow pseudoknots (a common limitation for secondary structure prediction algorithms), and that the runtime is longer than that of many other ncRNA classification programs, especially in the case of explicitly running controls for each input sequence pair; however, optimizations resulting in significant decreases in Dynalign runtime have been achieved as shown in Table 3. While control generation can be circumvented by using a classification SVM, the quality of prediction of such a method (as implemented and benchmarked here) appears to drop slightly. However, this simple classification SVM approach, which does not directly incorporate a z score into the classification model, is still more sensitive for known ncRNAs in a whole genome screen than RNAz or QRNA. It may be possible to improve the quality of classification by using a regression model to determine the z score separately from the classification SVM step, which is a strategy successfully employed by RNAz, except that in this case the z score would be based on the ΔG°totals of sequence pairs instead of single sequences, increasing the complexity of the regression model.
The FOLDALIGN program [62, 74] is closely related to Dynalign and can also be used for ncRNA detection. FOLDALIGN also uses a dynamic programming algorithm to find the secondary structure common to two, unaligned sequences and the sequence alignment that facilitates the structure. FOLDALIGN should therefore share the same advantages and disadvantages that Dynalign has for ncRNA detection at low sequence identity. FOLDALIGN maximizes a score that includes a subset of the free energy change nearest neighbor parameters [47–49] and terms that score sequence similarity [58]. A scanning version of FOLDALIGN has been reported [62] that takes long sequences as input, but limits the length of structural motifs to a parameter, λ, and so does not require that the sequence be broken into windows.
Because it is fast, prediction from single sequences (such as using RNAstructure [48]) could be used as a rapid pre-filtering step to eliminate a large number of genomic sequence when doing a whole genome screen using these methods. For example, Figures 2 and 7 indicate that at 36% specificity, the sensitivity of prediction is approximately 99% for 5S rRNA and tRNA tests using RNAstructure. Assuming these numbers are indicative of performance on all ncRNA families, we could use single sequence prediction to quickly eliminate 36% of the negatives in a whole genome screen without sacrificing an overwhelming majority of the real ncRNA. Then, the reduced amount of sequence could be screened with the more time-consuming approach of prediction from sequence pairs, thus speeding up the overall screen.
The Dynalign ncRNA detection method that we have outlined is computationally costly, but feasible for analysis of long genomes. For example, we estimate that a Dynalign/LIBSVM screen (using 150-nucleotide-long scanning windows, step size 75) of the human-mouse whole genome alignment regions below 50% sequence identity in Figure 17, which contain approximately 563 million alignment columns (this includes the reverse complements of each window), would require approximately 1.4 CPU years after single sequence pre-filtering, or approximately 100 days of wall time on a reasonably sized 50-CPU computation cluster. Additionally, other pre-filtering methods could be employed to eliminate repetitive and other sequences prior to the Dynalign computation.
Methods
Local and global Dynalign implementations
The original Dynalign algorithm performs global alignments of the two sequences, i.e. gaps are penalized at the ends of the alignments by applying the ΔG°gap penalty term for each gap when calculating the value of ΔG°total. To facilitate calculations for ncRNA discovery, a local alignment option was programmed. In the local alignment Dynalign, the per nucleotide gap penalty (ΔG°gap penalty) is not applied to gaps at either end of either sequence in the alignment. Because the energy function (equation 3) contains no terms for sequence matching, this allows the local Dynalign to find optimal structural alignments with any portion of each sequence.
Generation of global alignments and calculation of percent identities
To generate global alignments of two sequences, the EMBOSS (version 2.9.0) [75] Stretcher global alignment tool (with default parameters) was used. All percent identities are calculated as follows:
Construction of test set for benchmark of Dynalign z score classification method on known ncRNA sequence pairs
The sequence pair test set was constructed by randomly drawing and pairing real sequences from a pool of 309 known 5S rRNAs from the 5S ribosomal RNA database [48, 76] and 482 known tRNAs from the Sprinzl database [48, 77] (two tRNAs were not allowed because they contained an "X" (unknown) nucleotide that did not permit a dinucleotide shuffle to be done). This resulted in 755 real 5S rRNA and 896 real tRNA sequence pairs, whose distribution of percent identities was consistent with the distribution of percent identities of every possible pairwise alignment of the pools of all 5S rRNA and tRNA.
To test specificity, for each real sequence pair, a negative sequence pair was created by globally aligning the real pair, randomly shuffling the alignment columns (without regard for gap placement or local conservation), then removing the gaps. Prior to input to RNAz and QRNA, the shuffled sequences were globally re-aligned. The resulting test set contained 3,302 sequence pairs total.
It should be noted that two other methods for generating negative sequence pairs from real sequence pairs were additionally tried. The first was the "sre_shuffle" command line option in QRNA, which shuffles columns in an alignment while preserving gap position. Columns in the alignment are separated into three categories: nucleotide aligned to nucleotide, gap in sequence 1 aligned to nucleotide in sequence 2, and gap in sequence 2 aligned to a nucleotide in sequence 1; each column is shuffled only with other columns in its category. The second was the "SHUFFLEALN.PL" program [44] by Washietl et al, which, in the case of a pairwise sequence alignment as input, preserves gap position in the same fashion, but also preserves local conservation. Just as in QRNA's "sre_shuffle," alignment columns are divided into categories and each column is only shuffled with other columns in its category, but the nucleotide-aligned-to-nucleotide category is further subdivided into two categories – columns where the nucleotides are the same, i.e. conserved, and columns where nucleotides are different. However, benchmarks of the Dynalign z score classification method, RNAz, and QRNA showed that specificity for each program was sufficiently similar regardless of the method for generating negatives (data not shown), so for all tests a columnwise shuffle of a global alignment (without regard for gap placement or local conservation) was used to generate negative sequence pairs from real sequence pairs.
Generation of controls for z score determination
Three methods were used for generating control sets for sequence pairs (only the Altschul-Erikson shuffle is used for generating control sets for single sequences):
(1)

A columnwise shuffle (without regard for gap placement or local conservation) of a global alignment of the original sequence pair.

(2)

Separately generating each sequence in the control pair by sampling from a first-order Markov chain as described in [41] without regard for alignment; for each sequence in the original pair, the nucleotide and dinucleotide frequencies are calculated, the first nucleotide in the control sequence is selected by sampling from the nucleotide frequencies of the original, then for the remainder of the sequence, each following nucleotide is sampled from the dinucleotide frequencies of the original, given that the first nucleotide is known. The dinucleotide frequencies of a sequence generated by this method would approach the dinucleotide frequencies of the original sequence in the limit of infinite length; however, since the lengths must be finite, the dinucleotide frequencies of the control are only approximately similar to the original sequence.

(3)

The Altschul-Erikson dinucleotide shuffle [65] (implemented in Python by P. Clote, [78]) of each sequence in the original pair separately, which exactly preserves their nucleotide and dinucleotide frequencies, except that the shuffled sequence has the same first and last nucleotide as the original sequence.
All ΔG°totals in these trials were computed using the "global alignment" mode of Dynalign for both the input sequence pairs and the controls.
Construction of ROC curves
To construct ROC curves for the Dynalign z score classification method, the z score cutoff was incremented from -11 to 3 in steps of 0.01 to generate test set sensitivity/specificity pairs ranging from 100% specificity to 100% sensitivity, then sensitivity was plotted as a function of the false positive rate (1 – specificity). Where the SVM probability (P value) was used as the classification cutoff, whether for RNAz or the Dynalign/LIBSVM classifier, the same was done, except P was incremented from 0 to 1 in steps of 0.001.
Testing of QRNA and RNAz
QRNA (version 2.0.2c) [59] and RNAz (version 0.1.1) [43] require a pre-aligned sequence pair as input. RNAz can take a multiple sequence alignment as input, but here was only tested on sequence pairs. For benchmarks on test sets of known ncRNAs and negatives, this input was prepared by performing a global alignment of the two sequences. Whenever negative sequence pairs are produced from real sequence pairs by a columnwise shuffle of a global alignment, gaps are removed after the shuffle, and the sequences are globally re-aligned again to mimic the alignment that would be expected if these sequences were to appear in an actual ncRNA screen.
For whole genome screen tests, the genomic alignment windows used for input to the two programs were taken directly from the MUMmer or WuBLASTn alignment.
Training and testing of the Dynalign/LIBSVM classifier
The LIBSVM [69] implementation of a support vector machine was employed for the Dynalign/SVM classifier method. The binary classifier SVM with a radial basis function (RBF) kernel was used. All LIBSVM classifier models were trained with command line parameters -b 1 -c 32 -w-1 5 -g 6.10352e-05 (the values were empirically determined), where -b 1 indicates that the model is trained to calculate probabilities of binary classification, -c specifies the value (C = 25) of the penalty parameter of the error term, -w-1 5 specifies that the penalty of misclassifying negative sequence pairs as real sequence pair (i.e. misclassifying those labelled "-1" as those labelled "1") is 5 times the penalty specified by -c (this has the effect of reducing false positives), and -g specifies the value of γ in the RBF (γ = 2-14). Classification was done with the -b 1 parameter to output probabilities (P values), allowing for variation of the cutoff P value for classification and for construction of ROC curves. Input to LIBSVM was the Dynalign-computed ΔG°total, length of shorter sequence of the sequence pair, A, U, and C frequencies of sequence 1, and A, U, and C frequencies of sequence 2. Prior to input to LIBSVM, values for each parameter were scaled to the range [-1, 1]. The ranges for each parameter across the datasets is follows: ΔG°total was from -1868 to 0 (units of 10*kcal/mol); length of shorter sequence was from 50 to 150 nucleotides; frequencies of A, U, and C in sequence 1 were from 0.0701754 to 0.518519, from 0.0701754 to 0.518519, and from 0.0638298 to 0.42953, respectively; frequencies of A, U, and C in sequence 2 were from 0.0588235 to 0.623377, from 0.0588235 to 0.623377, and from 0.0402685 to 0.436364, respectively.
To train the SVM classifier, a training set containing every possible sequence pairing (not including pairing of sequences to themselves) was prepared from a pool of 309 known 5S rRNAs [48, 76] and 479 known tRNAs [48, 77] (two tRNAs that contained an "X" nucleotide and three tRNAs with three-way multibranch loops instead of the canonical four-way multibranch loops were removed from the Sprinzl database pool prior to this). This resulted in 47,586 5S rRNA and 114,481 tRNA sequence pairs. Two negative sequence pairs for each real sequence pair were generated: one by columnwise shuffle of a global sequence alignment, one by Altschul-Erikson shuffle of each sequence separately. This was intended to reduce the false positive rate by training the SVM classifier on a more diverse set of negative sequence pairs. The Dynalign ΔG°total (using the "local alignment" Dynalign mode and parameter M = 8) and the other SVM input data were computed for every sequence pair in the resulting training set of 486,201 data points. The free energies and sequence characteristics for each pair in the entire set are provided as Additional File 6 in the "Additional Files" section for reference, formatted for input to LIBSVM.
However, this set was unnecessarily large and biased towards tRNA, so for final SVM model training, only every 5th 5S rRNA and every 12th tRNA sequence pair were kept, producing a training set of a more realistic size of 9,517 5S rRNA and 9,540 tRNA sequence pairs, with 19,034 and 19,080 negative sequence pairs generated from them, for a training set size of 57,171 data points. All of the remaining 5S rRNA and one-half (every 2nd sequence pair, taken so that tRNA would not be over-represented) of the remaining tRNA sequence pairs were used to construct a test set for benchmarks of the Dynalign/LIBSVM classifier, RNAz, and QRNA.
Moreover, an additional 2,364 data points were added to the training set, which were calculated from alignments of sequences in the pool of 309 5S rRNA and 479 tRNA to themselves, with two negative sequence pairs generated from each real sequence pair as before (i.e. all of these 2,364 data points had 100% identity). This addition to the training set was done in order to train the Dynalign/LIBSVM classifier to more accurately classify high-identity genomic windows, of which there was a very large number in the whole genome screen (e.g. 21% of the genomic windows in the MUMmer whole genome screen method have identity above 98%, which does not reflect the distribution of percent identities in the original training set). Thus, the final training set size was 59,535 data points.
The result of the training is a LIBSVM model file that used by LIBSVM for classification and probability estimation. The model file is supplied as Additional File 7, although it should be noted that it will only work correctly on data scaled as described above.
Sources of genomic data
All whole genome screens were conducted using the complete 4,639,675-nucleotide genome of Escherichia coli K-12 MG1655 [RefSeq NC_000913] and the complete 4,809,037-nucleotide main chromosome of Salmonella enterica serovar Typhi (Salmonella typhi) strain CT18 [RefSeq NC_003198].
For E. coli, the lists and genomic coordinates of 4,237 known open reading frames (ORFs) and 156 known ncRNAs were obtained from the NCBI Entrez Genome Project database [79]. The intergenic region size is 587,347 nucleotides.
For S. typhi, the lists and genomic coordinates of 4,594 known ORFs and 110 known ncRNAs were obtained from The Wellcome Trust Sanger Institute S. typhi database [80]. The intergenic region size is 604,213 nucleotides.
Intergenic region alignment with WuBLASTn
To prepare genomic windows for a ncRNA screen of E. coli and S. typhi using WuBLASTn, intergenic regions of E. coli were constructed by taking the entire genome and removing all nucleotides in the 4,237 known ORFs, resulting in 587,347 nucleotides total. Each resulting segment was used as a WuBLASTn (version 2.0 [70], using default parameters) query against the entire S. typhi main chromosome. To maximize coverage, none of the resulting alignment blocks were filtered, except to throw out all those where the block length was less than 50 alignment columns. Alignment blocks length 50 to 150 (inclusive) were used as genomic windows directly; blocks with length greater than 150 were scanned with windows of size 150 alignment columns, step size 75. This resulted in 45,202 total genomic windows for the WuBLASTn ncRNA genomic screen. Reverse complements of sequences in each window were also scanned, resulting in 90,404 windows total as input to the Dynalign/LIBSVM classifier, RNAz, and QRNA, containing 10,265,161 alignment columns.
Whole genome alignment with MUMmer
To prepare genomic windows for a ncRNA screen of E. coli and S. typhi using MUMmer, a whole genome alignment was generated using MUMmer 3.15 [71] with parameters -b 1600 -c 10 to increase genomic coverage (all other parameters were left at default values). All alignment columns containing nucleotides in known ORFs of either genome were removed from the resulting alignment blocks. The resulting alignment blocks were scanned with windows of size 150 alignment columns, step size 75, to generate windows for the genomic screen; because unlike WuBLASTn, the MUMmer whole genome alignment contains long stretches of gaps in some regions, some windows had to be dropped because one sequence in the window was aligned to only gaps for the other sequence. Additionally, windows containing a sequence less than 50 nucleotides in length were also dropped. After taking the reverse complement of each window, a total of 15,214 windows were input to the Dynalign/LIBSVM classifier, RNAz, and QRNA, containing 2,216,188 alignment columns.
Availability and requirements
Project name: Dynalign

Project home page: http://rna.urmc.rochester.edu/dynalign.html

Operating system(s): Platform independent

Programming language: C++

Other requirements: none

License: GNU GPL

Any restrictions to use by non-academics: none
Abbreviations
5S rRNA:

5S subunit ribosomal RNA
AE:

the Altschul-Erikson dinucleotide sequence shuffle method
columnwise:

the columnwise sequence pair shuffle method
dinuc:

the sampling from first-order Markov chain sequence shuffle method
ncRNA:

non-coding RNA
ORF:

open reading frame
PPV:

positive predictive value
RBF:

radial basis function
ROC:

receiver operating characteristic
SCI:

structure conservation index
SVM:

support vector machine
tRNA:

transport RNA
Declarations
Acknowledgements
The authors thank Michael Zuker for suggesting the change in M parameter implementation and Douglas H. Turner and Peter Clote for helpful discussions. Computer time was made available by the IBM SUR (Shared University Research) program, located in the Computational Biology and Bioinformatics Laboratory in CASCI (the Center for Advancing the Study of CyberInfrastructure) at Rochester Institute of Technology.
Authors' Affiliations
(1)
Department of Biochemistry & Biophysics, University of Rochester Medical Center, Rochester, USA
(2)
Department of Biostatistics & Computational Biology, University of Rochester Medical Center, Rochester, USA
(3)
Center for Pediatric Biomedical Research, University of Rochester Medical Center, Rochester, USA
Copyright
© Uzilov et al; licensee BioMed Central Ltd. 2006
This article is published under license to BioMed Central Ltd. This is an Open Access article distributed under the terms of the Creative Commons Attribution License (http://creativecommons.org/licenses/by/2.0), which permits unrestricted use, distribution, and reproduction in any medium, provided the original work is properly cited.