Research article

Open Access
Meta-analysis discovery of tissue-specific DNA sequence motifs from mammalian gene expression data
BMC Bioinformatics
2006
7:229
Received: 27 October 2005
Accepted: 27 April 2006
Published: 27 April 2006
Abstract
Background
A key step in the regulation of gene expression is the sequence-specific binding of transcription factors (TFs) to their DNA recognition sites. However, elucidating TF binding site (TFBS) motifs in higher eukaryotes has been challenging, even when employing cross-species sequence conservation. We hypothesized that for human and mouse, many orthologous genes expressed in a similarly tissue-specific manner in both human and mouse gene expression data, are likely to be co-regulated by orthologous TFs that bind to DNA sequence motifs present within noncoding sequence conserved between these genomes.
Results
We performed automated motif searching and merging across four different motif finding algorithms, followed by filtering of the resulting motifs for those that contain blocks of information content. Applying this motif finding strategy to conserved noncoding regions surrounding co-expressed tissue-specific human genes allowed us to discover both previously known, and many novel candidate, regulatory DNA motifs in all 18 tissue-specific expression clusters that we examined. For previously known TFBS motifs, we observed that if a TF was expressed in the specified tissue of interest, then in most cases we identified a motif that matched its TRANSFAC motif; conversely, of all those discovered motifs that matched TRANSFAC motifs, most of the corresponding TF transcripts were expressed in the tissue(s) corresponding to the expression cluster for which the motif was found.
Conclusion
Our results indicate that the integration of the results from multiple motif finding tools identifies and ranks highly more known and novel motifs than does the use of just one of these tools. In addition, we believe that our simultaneous enrichment strategies helped to identify likely human cis regulatory elements. A number of the discovered motifs may correspond to novel binding site motifs for as yet uncharacterized tissue-specific TFs. We expect this strategy to be useful for identifying motifs in other metazoan genomes.
Keywords
Additional Data FileMotif FinderPosition Weight MatrixMatched RandomsMotif Search
Background
A key step in the regulation of gene expression is the sequence-specific binding of TFs to their DNA recognition sites. Since transcription factor binding sites (TFBSs) are usually short (~5–15 basepairs (bp)) and a typical sequence-specific TF binds to sites that are similar to each other, a number of computational approaches have been developed to attempt to identify these sequences in silico [1]. We shall refer to a given sequence that a TF binds to as a 'word', and a collection of words that a given TF binds as a 'motif'. Various computational motif finders have been developed to search among an input set of sequences in order to identify over-represented DNA motifs and have been based upon a range of algorithmic approaches, such as Gibbs sampling [2], expectation maximization [3, 4], and word enumeration [5–9].
At its core, motif finding is essentially a signal-to-noise problem. It has been estimated that in humans about 3% of intergenic regions are regulatory elements, whereas about 15% of intergenic regions are regulatory elements in the yeast Saccharomyces cerevisiae [10]. Motif finding in metazoans has also been significantly more challenging than in prokaryotes or yeast because TFBSs in metazoan genomes can be found far away from the promoter regions [1], and because the noncoding regions are typically extremely lengthy.
Additional filters have been applied to mammalian input sequences in attempts to further increase the over-representation of particular motifs within a given input set of sequences. Examination of physically enriched genomic regions, such as from microarray-based readout of chromatin immunoprecipitation (ChIP-chip, or in vivo genome-wide location analysis) allows the identification of regions of a genome that are bound in vivo by a particular TF, and thus also allows the identification of TFBS motifs [11, 12], although these experiments have several limitations [13]. Of note, phylogenetic footprinting has been successful in enriching for TFBS motif matches in mammalian noncoding regions known to contain TFBSs, surrounding similarly expressed genes [1, 14, 15].
In addition to searching for motif matches within conserved sequence, one can perform a de novo motif search within conserved sequence [16] or for conserved motifs [17, 18]. For example, Xie et al. examined promoter regions and 3' UTRs in the human, mouse, rat, and dog genomes for over-represented, conserved motifs [18]. For known regulatory motifs, they filtered TRANSFAC [19] motifs to identify those with a high motif conservation score, over the four mammalian genomes examined, relative to comparable random motifs. In order to identify novel motifs, they exhaustively enumerated all motifs 6–18 bp in length, and filtered for those with high motif conservation scores. A key issue in considering this approach is that the use of the motif conservation score relies upon the assumption that the position of a motif occurrence has been highly conserved in mammalian genomes. However, TFBSs may shuffle through evolution, such that their positions in aligned sequence are not conserved, despite the motif occurrence remaining functional [20]. Indeed, it is unclear how one should score for motif conservation to account for this phenomenon.
Here, we hypothesized that many orthologous genes expressed in a similarly tissue-specific manner in human and mouse, are likely to be co-regulated by orthologous TFs through similar cis regulatory regions. Therefore, we chose to perform de novo motif searches within human promoter regions that are conserved with the mouse genome and that are upstream of genes whose mouse orthologs exhibit tissue-specific gene expression that is highly correlated to that of their human counterparts.
In order to automate the motif searches, we developed a software package, termed MultiFinder (shown schematically in Figure
1
), that performs automated motif searching using four different profile-based motif finders, including AlignACE [
21
,
22
], MDscan [
23
], BioProspector [
24
] and MEME [
4
]. We anticipated that using all four of these motif finders might allow the user to combine the strengths of their different algorithms. This approach has been suggested in the context of methods for aligning noncoding sequences [
25
], as well as in the context of gene-finding programs [
26
]. Since the scoring functions from these motif finders are not directly comparable, MultiFinder allows the user to select any combination of the four motif finders and any combination of five scoring functions. Another motif analysis suite, Toucan [
27
], utilizes MotifSampler, a Gibbs sampling strategy, to search for motifs within conserved noncoding sequence [
27
], whereas MultiFinder uses a combination of motif finding programs. Another recently developed integrated system, termed RgS-Miner [
28
], selects motifs by the over-representation of motif pairs [
28
], whereas MultiFinder scores individual discovered motifs by a user-specified scoring function.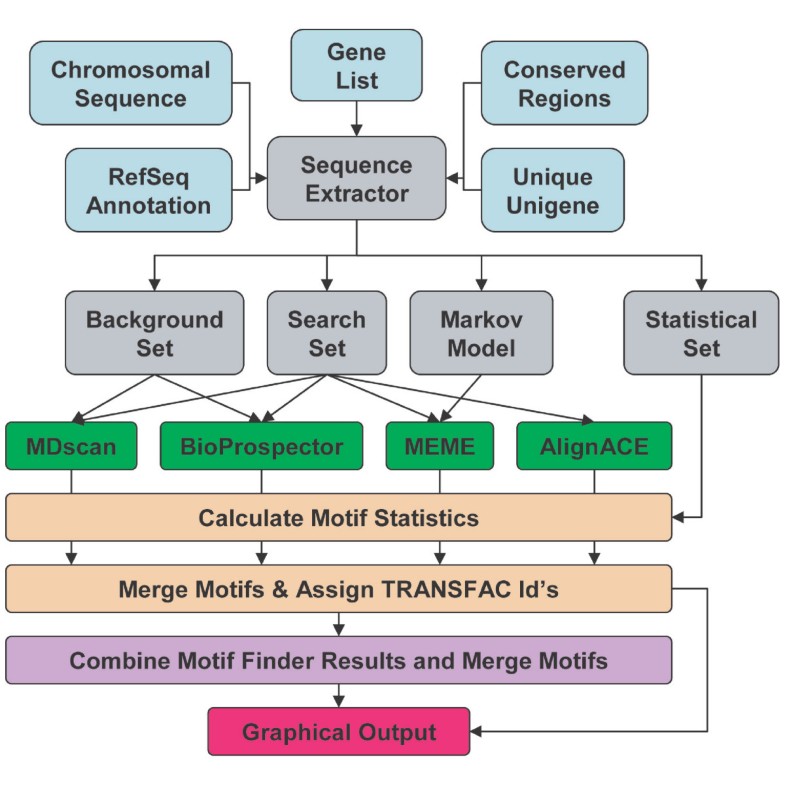 As input for MultiFinder, we used conserved regions from the alignment of the human and mouse genomes as available from the UCSC Bioinformatics website [29, 30]. After motif searching, the results from each motif finder are merged and the motifs are ranked according to the user-specified scoring function. In an attempt to further enrich for mammalian regulatory motifs, we also applied a filter aimed at eliminating motifs that might score well by the various common motif-scoring metrics, but whose information content distribution does not resemble that of typical TFBS motifs.
We have applied MultiFinder successfully to yeast ChIP-chip data [11] and to a set of mammalian genes expressed in skeletal muscle [15]. MultiFinder has also been applied to conserved sequence from the alignment of Drosophila melanogaster and Drosophila pseudoobscura (data not shown). Applying MultiFinder to conserved noncoding regions surrounding co-expressed tissue-specific human and mouse genes [31, 32] allowed us to discover both previously known and many novel candidate regulatory DNA motifs in all 18 tissue-specific expression clusters that we examined.
Conclusion
In this study, we searched within sequence conserved in alignment of the human and mouse genomes. As more mammalian genome sequences become available, we will be able to further enrich for likely regulatory regions by limiting our motif searches to those regions that are conserved across all the mammalian genomes. As long as species- or lineage-specific biological processes are not being explored, we can expect this strategy in general to be helpful. In addition, as more gene expression profiling experiments are performed and deposited in public databases, a greater range of tissue types can be examined for shared expression patterns across multiple species. Moreover, it would be very useful to develop an algorithm for considering conservation of a motif occurrence, while allowing the occurrence to be rearranged in the aligned genomic sequences.
Recently Tompa and colleagues organized a motif finding competition, in which the performance of 13 different motif finders was compared using a variety of real and synthetic sequence sets covering a range of genomes [33]. A caveat for interpreting the results of this competition is that each motif finder was allowed to select only one 'best' predicted motif for each input sequence set. Nevertheless, a major conclusion from this comparison was that no single motif finder consistently outperformed the others. Moreover, the results indicate that a pairwise combination of motif finders can result in improvement over the use of a single motif finder, although the choice of motif finders is important [33]. In that study, the combination of AlignACE and MEME resulted in only marginal improvement; unfortunately MDscan and BioProspector were not included in this comparison. Our results also indicate that the integration of the results from these four motif finding tools identifies and ranks highly more known and novels than does the use of just one these tools. Although it is possible that only a subset of these four motif finders may be sufficient to gain this improvement, or that some other combination of multiple motif finders may be optimal, it was not our goal to identify such an ideal combination. In addition, we found that the incorporation of our 'block filter' tended to eliminate motifs that in some cases scored well in terms of group specificity, but whose information content distribution does not resemble that of most known TFBS motifs.
It would also be of interest to examine motifs in more than just the 1 kb of upstream sequences for particular gene expression clusters. Despite our various strategies for enriching for likely similar regulatory regions, our comparison of motif finding in 1 kb versus 2 kb versus 5 kb of upstream sequence for the a set of skeletal muscle genes indicates that there is still much improvement that remains to be made in identifying even the known TFBS motifs with high confidence. Since TFBSs are often spatially clustered into cis regulatory modules that regulate gene expression in a temporal and tissue-specific manner [1], analysis of both the known and novel discovered motifs using a tool such ModuleFinder [35] may allow not only the identification of candidate cis regulatory modules but also the assignment of even higher confidence to those novel motifs that are found to significantly co-occur with known TFBS motifs [54]. In addition to performing de novo motif searches on conserved noncoding sequence, one can also further restrict motif searches to known or suspected regulatory regions. For example, searching for motifs within a set of known or predicted CRMs [56] may be a particularly powerful way to increase the likelihood of discovering motifs that are important for specifying the particular gene expression pattern of interest.
Implementation
MultiFinder is a command line program written in Perl using the ActiveState 5.8.0 distribution. The XML::Writer and IO::File modules were used in addition to the standard Perl modules. MultiFinder consists of six source modules and two scripts. The two scripts are SequenceExtractor.pl and MultiFinder.pl. These scripts extract sequence and find motifs respectively. On an Athlon MP 2000+ CPU running at 1.6 GHz with 2 Gb RAM, SequenceExtractor takes nearly 5 minutes to extract the conserved regions and background files and to generate a fifth-order Markov model for the 1000 bp upstream regions of 30 genes belonging to the test set and 8000 genes belonging to the background. MultiFinder takes 23:57 hours to perform a search of 36 sequences with 6870 total base pairs of sequence using all four motif finders at all widths between 6 and 18 bp.
List of abbreviations used
TF:

transcription factor
BS:

binding site
TFBS:

transcription factor binding site
ChIP:

chromatin immunoprecipitation
PWM:

position weight matrix.
Declarations
Acknowledgements
The authors thank John Hogenesch, Andrew Su, Anthony Philippakis, Mark Umbarger, and John Hayden for helpful discussion, Mike Berger for critical reading of the manuscript, and Federico De Masi for beta-testing of software installation. We thank an anonymous reviewer for helpful comments. This work was funded in part by a PhRMA Foundation Informatics Research Starter Grant (M.L.B.), a William F. Milton Fund Award (M.L.B.), and NIH/NHGRI R01 HG002966 (M.L.B.).
Authors' Affiliations
(1)
Division of Genetics, Department of Medicine, Brigham and Women's Hospital and Harvard Medical School, Boston, USA
(2)
Department of Pathology, Brigham and Women's Hospital and Harvard Medical School, Boston, USA
(3)
Harvard-MIT Division of Health Sciences and Technology, Harvard Medical School, Boston, USA
Copyright
© Huber and Bulyk; licensee BioMed Central Ltd. 2006
This article is published under license to BioMed Central Ltd. This is an Open Access article distributed under the terms of the Creative Commons Attribution License (http://creativecommons.org/licenses/by/2.0), which permits unrestricted use, distribution, and reproduction in any medium, provided the original work is properly cited.