An integrated network visualization framework towards metabolic engineering applications
BMC Bioinformatics
2014
15:420
Received: 3 June 2014
Accepted: 11 December 2014
Published: 30 December 2014
Abstract
Background
Over the last years, several methods for the phenotype simulation of microorganisms, under specified genetic and environmental conditions have been proposed, in the context of Metabolic Engineering (ME). These methods provided insight on the functioning of microbial metabolism and played a key role in the design of genetic modifications that can lead to strains of industrial interest. On the other hand, in the context of Systems Biology research, biological network visualization has reinforced its role as a core tool in understanding biological processes. However, it has been scarcely used to foster ME related methods, in spite of the acknowledged potential.
Results
In this work, an open-source software that aims to fill the gap between ME and metabolic network visualization is proposed, in the form of a plugin to the OptFlux ME platform. The framework is based on an abstract layer, where the network is represented as a bipartite graph containing minimal information about the underlying entities and their desired relative placement. The framework provides input/output support for networks specified in standard formats, such as XGMML, SBGN or SBML, providing a connection to genome-scale metabolic models. An user-interface makes it possible to edit, manipulate and query nodes in the network, providing tools to visualize diverse effects, including visual filters and aspect changing (e.g. colors, shapes and sizes). These tools are particularly interesting for ME, since they allow overlaying phenotype simulation results or elementary flux modes over the networks.
Conclusions
The framework and its source code are freely available, together with documentation and other resources, being illustrated with well documented case studies.
Keywords
Metabolic network visualization
Metabolic engineering
Open-source software
Background
Within the field of Systems Biology, the analysis of different types of biological networks is an important task in understanding the underlying biological processes. For this endeavour, a mathematical framework is provided by graph theory, which has allowed to verify that a multitude of organisms share relevant properties when analysing the topology of their networks [1]. Additionally, being able to capture the network in a visual form can provide useful insights. While, in the pre-genomic era, the analysis and visualization of these networks were approached as independent computational problems, it is desirable that these two levels are well integrated [2].
Together with their regulatory [3] and signalling counterparts [4],[5], metabolic networks represent a vastly studied class of biological networks. These are typically composed of two entities: metabolites and reactions. Metabolites can be converted by the cell into building blocks or decomposed to generate energy or other compounds.
Metabolic Engineering (ME) aims to rationally pinpoint genetic changes in selected host microbes that can optimize the production of compounds of industrial interest and, thus, it heavily makes use of computational analyses of metabolic networks. However, in many cases, the static view of metabolic systems provided by these networks is insufficient, and there is the need to reconstruct genome scale metabolic models (GSMMs) [6] with simulation capabilities, which are increasingly being created given the availability of genome sequences, annotation tools and omics data.
Given the lack of kinetic information to provide for large-scale dynamical models, stoichiometric models are the most common. The information about the metabolites and reactions from the metabolic network, together with stoichiometry, are the starting points for their reconstruction [7], being mathematically represented by a set of equations that describe the chemical transformations [8].
GSMMs are often used to simulate the metabolism of the cell using constraint-based approaches, where typically a pseudo steady state is assumed [9]. Using these models and specifying environmental conditions (e.g. media), it is possible to perform the calculation of flux distributions. The most used method is Flux Balance Analysis (FBA), where a flux (e.g. a biomass flux) to maximize (or minimize) is chosen to obtain an optimal flux distribution [10].
In this work, an integration of network visualization with ME methods is proposed, which demands that many issues related with the visualization of metabolic networks must be addressed. While the scalability of the networks is successfully addressed by generic visualization packages, usually the generic layouts available produce unsatisfactory results for metabolic networks. This is mostly due to the fact that the majority of layout algorithms do not take into consideration any biological knowledge, such as cell localization or molecular functions. Another problem comes with the filtering of the networks. It is necessary to have an easy way to query the network and visually filtering it to specific sets of nodes of interest in a given context. To address these problems, a visualization tool should offer some basic features: layout algorithms, a graphical notation, integration with analysis tools by providing information about the network and an user interface to allow interaction [7].
There are a myriad of software tools for ME, able to use metabolic models to perform phenotype simulations and implement strain optimization methods, being some of the best known examples: OptFlux [11], the COBRA Toolbox [12],[13], CellNetAnalyzer [14] and FASIMU [15]. There are also several tools that perform visualization of metabolic (and other types) of biological networks. There are not, however, many examples of successful integration of these two distinct types of applications. CellDesigner [16],[17], for instance, is one of the most popular tools for editing and visualizing biochemical networks, but it lacks specific methods for constraint-based approaches and does not deal well with large-scale GSMMs.
Cytoscape [18] became a standard tool for the integrated analysis and visualization of biological networks. One of its many plugins, FluxViz [19], provides features for the visualization of flux distributions in networks. FluxViz was primarily developed for FASIMU, a software for flux-balance computation, and it uses the generated result files as input for visualization.
Another tool worth mentioning is VANTED [20], an application for the visualization and analysis of networks with related experimental data. The usefulness of this tool for ME purposes is provided by two of the available plugins, FluxMap, that allows the visualization of measured or simulated fluxes in the network, and FBASimVis for constraint-based analysis of metabolic models, with a special focus on the dynamics and visual exploration of metabolic flux data resulting from model analysis. It supports wild type and knock-out FBA simulations.
Both the COBRA toolbox and CellNetAnalyzer are based on the commercial software Matlab, and therefore are not freely available for the community. COBRA already includes some network visualization tools in the original release, but the generated maps are static built-in maps, that can be exported in a single format (SVG), optionally including overlaps with simulation results. An extension, Paint4Net [21], that allows some editing features (mainly node dragging), has been recently proposed. However, editing is limited to the models and layouts from the related BiGG database, editing options are quite limited and layouts can only be exported as images and not reused. On the other hand, CellNetAnalyzer only enables the visualization of small or medium scale biological networks. More recently, MetDraw [22], that is capable of generating layouts for large metabolic models, was published providing the means to visualize "omics" data overlaid in the network. However, it does not support editing layouts, requiring the use of an external tool for that aim, and is not integrated with any ME tool.
In the majority of these tools, biological entities/ interactions are represented as shapes/ lines, with different colours/formats standing for their classes. Although this seems a reasonable solution, the complexity of the integrated information and the range of possible interactions motivated the development of standard notations. The most successful was the Systems Biology Graphical Notation (SBGN) [23], where networks are modelled in a state-transition way. Another successful standard format is the Systems Biology Markup Language (SBML) [24], which aims at storing and exchanging biological models. Combined with the development of the SMBL Layout package, this makes up a very promising effort in network visualization as well. The full support to these standards is not guaranteed by most of the tools and this would be an advantage in the interoperability of these tools with other relevant software.
Overall, and in spite of the aforementioned tools, network visualization has been traditionally apart from ME-related methods. Some notable exceptions were already mentioned, but an effective framework, which would facilitate the agile integration of simulation results with dynamic layouts of metabolic networks, is, in the authors' point of view, still lacking. Indeed, this work focuses on the development of a visualization framework based on a well-defined abstract representation of metabolic networks, which will provide researchers with visualization tools, to be used in the context of ME projects. This has been developed as a plugin for the
OptFlux
platform, allowing its integration with other tools, building a useful tool to assist ME researchers. To highlight the main features of the tool, described in detail next, as compared to the other tools, Table
1
provides a comparative analysis of their features.
Table 1
Feature comparison of several tools for metabolic network visualization
| | OptFlux visualization plugin | CellDesigner | Cytoscape | VANTED | Paint4Net | CellNet-analyzer | Cobra toolbox |
| --- | --- | --- | --- | --- | --- | --- | --- |
| File formats/standards | | | | | | | |
| SBML | ● | ● | ● | ● | ● | ● | |
| SBGN | ● | ● | ● | | | | |
| GML | | | ● | ● | | | |
| XGMML | ● | | ● | | | | |
| KGML | ● | | ● | ● | | ● | |
| Cobra maps | ● | | | | | | ● |
| Layout algorithms | | | | | | | |
| FDL | ● | | ● | ● | ● | | |
| Hierarchical | | ● | ● | | ● | | |
| Circular | | ● | ● | ● | | | |
| Grid | | | ● | ● | | | |
| Organic | | ● | ● | | | | |
| Integration with ME | | | | | | | |
| Flux distributions | ● | | ● | ● | ● | ● | ● |
| Genetic conditions | ● | | | | | ● | |
| Elementary flux modes | ● | | | | | ● | |
| Simulation comparison | ● | | | ● | | ● | |
| Other features | | | | | | | |
| Layout generation | ● | ● | ● | ● | ● | ● | |
| Layout exportation | ● | ● | ● | ● | ● | ● | ● |
| Edition | ● | ● | ● | ● | ● | ● | |
| Multiple layouts | ● | ● | ● | | | | |
| Partial layouts | ● | ● | ● | ● | ● | ● | ● |
Implementation
Metabolism can be represented as a series of transformations of metabolites, being easy to represent as a graph. There are two main entities that will be addressed by the visualization platform: reactions and metabolites. A reaction is a chemical transformation that uses a set of metabolites as reactants and produces another set of metabolites to be used by other reactions.
For the representation, a reaction-compound network (Figure
1
A) was chosen, represented by a bipartite graph, which can be divided into two distinct sets of vertices (nodes), such that every element of a set only connects with vertices of the other set. This provides a descriptive and visually attractive representation.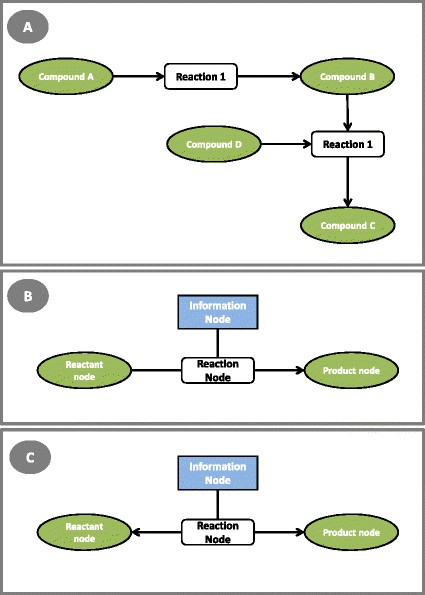 A metabolic layout can then be defined by a core list of reactions, each represented by a reaction node, a set of reactants, a set of products and a set of information nodes. The reactants and products are represented as sets of metabolite nodes, representing the compounds that are part of that specific chemical reaction. The reaction node, and the respective metabolite nodes, will be connected by edges, represented as lines with a shape defined according to the reversibility of the reaction. If the reaction is irreversible, the edges that connect reactions to the metabolites will have arrows only pointing to the products (Figure 1B), while in reversible reactions they will have arrow shapes pointing to both metabolite ends (Figure 1C). The metabolite nodes can have two distinct types: regular and currency metabolites. The ones in the latter group will be differentiated since they typically represent highly connected hubs (e.g. water, co-factors) with reduced interest in most analyses.
A metabolic layout is based on the reactions contained in the metabolic model. Since one of the goals of this work is to provide a link between the visualization and the metabolic model, a strategy must be defined to map the entities of the visualization framework with the entities of the model. It is also desirable that a layout can represent just a part of the metabolism of an organism (allowing different layouts for the same model), as well as the possibility to use the same layout on different models (e.g. different strains or model versions). Another important aspect is to make networks visually more understandable, replicating some of the nodes, a feature typically applied to currency metabolites. To comply with these features, each reaction and metabolite node will have a list of model identifiers that will provide the link between the model and the layout.
The two main tasks of the software are to build these layouts from external sources (being able to export them as well), and to visually represent them. This leads to a two-layer architecture (Figure
2
), where the first implements the capabilities to read and write metabolic layouts, while the other, the visualization layer, handles the visualization and edition of the metabolic layout. The main features of each are given below:
Visualization layer: provides all the functionalities related with the visualization and edition of a layout, including automatic layouts, creation and edition of layouts, visual filters and operations to change the aspect of the network (colours, shapes, etc.).

Input and output layer: implements several tools that provide network creation and exportation capabilities for a multitude of file formats. It has the objective of reading networks in specific file formats and building the metabolic layout, used by the visualization layer. At the same time, it also provides the possibility to export those layouts into some of those formats.
The strategy adopted in the development of the framework had the goal of creating a tool that can be used independently, but at the same time build it in a way such that the integration with an ME tool (
OptFlux
in this case) was facilitated. This brings to light the importance of the MVC (model-view-controller) design pattern, not only in the development of the framework, but also in the integration with
OptFlux
, that also follows this principle. Indeed,
OptFlux
is built on top of
AIBench
(
http://www.aibench.org/
), a software development framework developed by researchers from the University of Vigo in Spain. Building applications over
AIBench
facilitates the creation of applications composed of units of work with high coherence that can easily be combined and reused, by incorporating three main object types:
operations
,
datatypes
and datatype
views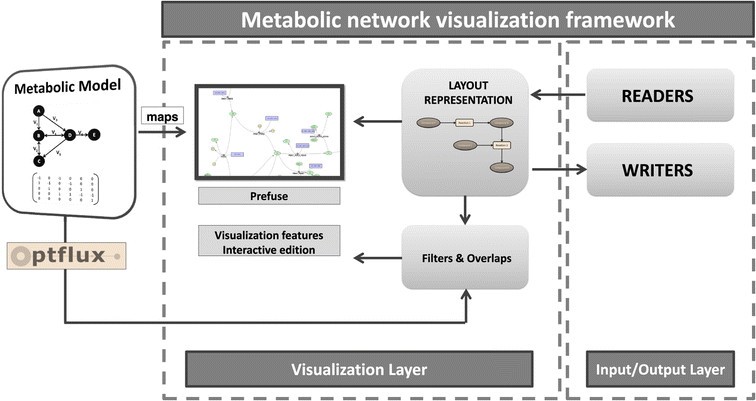 .
The basis of the implementation of the operations in OptFlux, is a core library implementing relevant ME methods and algorithms, including phenotype simulation methods (e.g. FBA, parsimonious FBA, MOMA and ROOM), strain optimization algorithms and with many other features. It also contains all data structures and methods used to represent metabolic models, and reading/writing files in different formats. OptFlux's plugin-based architecture facilitates the development of additional features. The visualization plugin is such an example, which provides a direct connection between the metabolic model, simulation and optimization methods used in OptFlux, and the metabolic layout defined in the visualization core framework.
The entire visualization framework was developed in Java. The visualization of the graph is done using the prefuse package (http://prefuse.org/), the CD-SBML is read using JSBML [25], SBGN-ML files are read using libSBGN [26] and the exportation of the layouts as images (SVG and PDF formats) is performed using Batik Java SVG Toolkit (http://xmlgraphics.apache.org/batik/) and VectorGraphics2D (http://trac.erichseifert.de/vectorgraphics2d/).
Conclusions
In this work, a metabolic network visualization framework was presented, which has the ability to load networks from a variety of formats and display them using a dynamic layout. It provides features for the straightforward creation and editing of these layouts, as well as exportation capabilities. On top of this, it is possible to overlay the network with visual changes, a functionality that allows, for instance, visualizing fluxes in a phenotype simulation, identifying the genetic conditions imposed in a simulation, addressing the comparison of two simulation results, analysing results from strain optimization methods or visualizing the set of elementary modes in a model.
The framework was integrated with OptFlux, a ME framework, by the development of a plugin. This allows ME researchers to use the visualization directly from within OptFlux, and use a series of operations that will allow loading and exporting layouts with a user-friendly interface.
This framework presents itself as a useful tool that can help researchers involved in ME projects to have a way of easily addressing the visualization of the metabolic networks they are studying. The ability to dynamically visualize phenotype simulations is an important asset. The combination of visualization with simulation and optimization processes will help researchers to achieve knowledge about the structure and functioning of organisms of interest that was not available before.
While a number of features are planned, an interesting line of future work is the development of tools that allow importing other types of omics data (e.g. gene expression or metabolomics), providing its integrated visualization with GSMMs. The general-purpose nature of the core layer of the visualization framework allows the easy development of such tools, providing a good basis for the extension of the proposed software also in other directions.
Availability and requirements
The described plugin is included in the base distribution of OptFlux that can be downloaded and installed from the homepage given below. The site also includes documentation for the plugin in the form of a wiki.
More details:
- Software name: OptFlux - software for metabolic engineering

- Project home page: http://www.optflux.org

- Specific wiki page for the plug-in (with help): http://darwin.di.uminho.pt/optfluxwiki/index.php/OptFlux3:METAVIZ

- Operating system(s): Platform independent

- Programming languages: Java

- Other requirements: Java JRE 1.7.x (for MacOS the installation of Java SDK 7 is recommended), GLPK or CPLEX

- License: GNU-GPL, version 3
Abbreviations
CD-SBML:

CellDesigner SBML
EFM:

Elementary Flux Mode
FBA:

Flux Balance Analysis
FDL:

Force Directed Layout
GSSM:

Scale metabolic model
GUI:

Graphical User Interface
KEGG:

Kyoto Encyclopedia of Genes and Genomes
KGML:

Markup Language
ME:

Metabolic Engineering
MOMA:

Minimization of Metabolic Adjustment
MVC:

Model-View-Controller
ROOM:

Regulatory On/Off Minimization of metabolic flux changes
SBGN:

Systems Biology Graphical Notation
SBML:

Systems Biology Markup Language
XGMML:

eXtensible Graph Markup and Modeling Language
Declarations
Acknowledgments
This work is partially funded by ERDF - European Regional Development Fund through the COMPETE Programme (operational programme for competitiveness) and by National Funds through the FCT (Portuguese Foundation for Science and Technology) within project ref. COMPETE FCOMP-01-0124-FEDER-015079 and the FCT Strategic Project PEst-OE/EQB/LA0023/2013. The work of PV is funded by PhD grant ref. SFRH/BDE/51442/2011.
Authors' Affiliations
(1)
Centre of Biological Engineering (CEB), School of Engineering, University of Minho, Campus de Gualtar, Braga, Portugal
(2)
SilicoLife, Lda, Braga, Portugal
Copyright
© Noronha et al.; licensee BioMed Central. 2014
This article is published under license to BioMed Central Ltd. This is an Open Access article distributed under the terms of the Creative Commons Attribution License (http://creativecommons.org/licenses/by/4.0), which permits unrestricted use, distribution, and reproduction in any medium, provided the original work is properly credited. The Creative Commons Public Domain Dedication waiver (http://creativecommons.org/publicdomain/zero/1.0/) applies to the data made available in this article, unless otherwise stated.