Methodology article

Open Access
DECODE: an integrated differential co-expression and differential expression analysis of gene expression data
BMC Bioinformatics
2015
16:182
Received: 13 October 2014
Accepted: 22 April 2015
Published: 31 May 2015
Abstract
Background
Both differential expression (DE) and differential co-expression (DC) analyses are appreciated as useful tools in understanding gene regulation related to complex diseases. The performance of integrating DE and DC, however, remains unexplored.
Results
In this study, we proposed a novel analytical approach called DECODE (Differential Co-expression and Differential Expression) to integrate DC and DE analyses of gene expression data. DECODE allows one to study the combined features of DC and DE of each transcript between two conditions. By incorporating information of the dependency between DC and DE variables, two optimal thresholds for defining substantial change in expression and co-expression are systematically defined for each gene based on chi-square maximization. By using these thresholds, genes can be categorized into four groups with either high or low DC and DE characteristics. In this study, DECODE was applied to a large breast cancer microarray data set consisted of two thousand tumor samples. By identifying genes with high DE and high DC, we demonstrated that DECODE could improve the detection of some functional gene sets such as those related to immune system, metastasis, lipid and glucose metabolism. Further investigation on the identified genes and the associated functional pathways would provide an additional level of understanding of complex disease mechanism.
Conclusions
By complementing the recent DC and the traditional DE analyses, DECODE is a valuable methodology for investigating biological functions of genes exhibiting disease-associated DE and DC combined characteristics, which may not be easily revealed through DC or DE approach alone.
DECODE is available at the Comprehensive R Archive Network (CRAN): http://cran.r-project.org/web/packages/decode/index.html.
Keywords
Gene OntologyDifferential Expression AnalysisBreast Cancer DataGene PartitionThreshold Candidate
Background
The identification of complex gene connections and interactions that contribute to the function of living cells is one of the main challenges in functional genomics and system biology. Gene expression profiles provide rich functional information for the study of gene inter-relationships. An early key approach in analyzing gene expression data was based on differential expression (DE). DE analysis has been widely used in many gene expression studies, in which the main task is to identify genes that showed different expression levels across different conditions [1-3]. The motivation is that the differentially expressed genes may have roles in the given phenotypes or conditions, and hence the studying of these genes may reveal the underlying biological mechanisms. In particular, DE analysis is a widely adopted approach that has been successfully applied in cancer research [4-6]. The analysis is useful in prioritising genes that may be dysregulated in cancer. It is popularly used in some challenging problems such as in identifying cancer-specific biomarkers for distinguishing patients and normal subjects, and in identifying potential candidate genes that response to drug treatment and environmental toxins, which will provide illuminative insight on better diagnosis and treatment of diseases at molecular level [4,5,7,8].
However, DE analysis considers each gene individually and their potential interactions are ignored. Biomolecules such as genes, RNAs and proteins do not act alone; they coordinate as functional modules in biological processes and signalling pathways. They also physically aggregate to form nano-machineries such as ribosomes, chaperone and spliceosome to carry out specific functions in the cells [9]. Genes participate in same biological process tend to have similar expression pattern as demonstrated by numerous genome-wide expression studies [10-15]. Furthermore, evidence from previous studies showed that activating a metabolic pathway by small increasing expressions of many genes can be more substantial than a significant over-expression of an individual gene [16,17]. To address the gene independence model in DE analysis, approaches based on gene co-expression, gene sets, and gene clustering have been emerged. They were utilized to explore patterns of RNA expression, and hence intrinsic gene interactions [10-12,18-25].
Extending the gene co-expression concept, the analysis of differential co-expression (DC) has gained much attention in recent years [26-29]. It aims to gain insights into altered regulatory mechanisms between classes, such as disease and healthy controls, by studying their difference in gene co-expression patterns. The analysis is based on the rationale that co-regulated genes tend to share similar expression patterns. As complement to DE analysis, DC analysis is useful in identifying disease genes that may not show significant changes in expressional levels. One possible biological explanation is that given a disease gene, mutations in its coding region or post-translational modifications such as methylation, ubiquitination, and glycosylation, can impair its interactions with other gene counterparts without alternating expression level [26,30].
Evidence from previous studies showed that both DE and DC analyses are useful in identifying functionally important genes. From an informatics perspective, we questioned if relationship exists between these two types of information. Conceptually, if the two approaches extract independent information, we can simply deploy them separately and obtain distinct pieces of information (i.e. two statistically independent gene lists). On the other hand, if they extract dependent information, from a biological perspective, we seek for biological reasons such as cellular functions correspond to such dependency. Furthermore, we evaluated whether combining DE and DC criteria would improve the selection of functional relevant genes. The integrated DE and DC information may provide new opportunities for dissecting complex disease mechanism.
The benefit of integrating DC and DE approaches has been demonstrated by the study of Hudson et al. that compared two groups of cattle with or without a known mutation on the transcriptional regulator, namely the myostatin [31]. While no significant difference in myostatin mRNA levels was found between the two groups, myostatin was ranked the most important among 920 transcriptional regulators according to a scoring function that incorporates DC, DE, and expression level. After detailed examination of the scoring system of Hudson et al., we concerned that the differential co-expression term was squared in the score in which the reason was unclear. Moreover, the DE genes were selected using a rather conservative statistical criterion, such that only 85 out of 11,057 genes were identified to be significant.
When integrating DE and DC approaches, one challenging problem is to define appropriate thresholds for selecting high DE genes and high DC gene pairs. Applying over-stringent thresholds may filter out many useful genes and gene pairs; whereas over-relaxing thresholds may lead to high false positivity. This problem is more apparent in DC analysis. Consider an expression data of m genes, the number of unique gene pairs is m(m − 1)/2. Such huge number of gene pairs makes most multiple testing procedures powerless [32]. As a result, DC gene-pair selection methods were usually based on ad hoc criteria, such as by considering the highest n% of gene pairs [27] or by using pre-defined constant thresholds [33].
In this study, we have developed a novel DECODE (Differential Co-expression and Differential Expression) analytical approach that coherently integrates DC and DE aspects. In particular, DECODE aims to improve the identification of functional gene sets or pathways that may be missed out by DC or DE criterion alone. We systematically defined DC and DE thresholds based on the dependency pattern between DE and DC variables. The functional relevance of the identified genes was also evaluated.
Methods
DECODE consists of four steps: (1) calculating differential expression (DE), (2) calculating differential co-expression (DC), (3) selecting thresholds to define high or low values of DC and DE variables based on chi-square maximization, and statistically evaluating partitions divided by the thresholds, (4) comparing functional relevance of genes categorized into the partitions of high DC, high DE, or both. Figure
1
illustrates the overview of the analytical framework. Details are described in the following sections.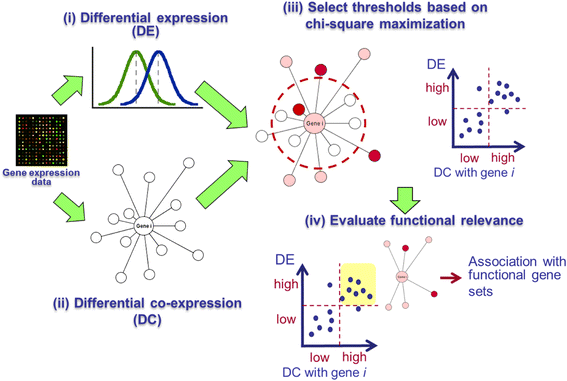 Conclusions
We presented a novel method named DECODE as a mean to integrate the DC and DE analysis. DECODE provides an analytic framework for studying different DC and DE characteristics of the genes. By incorporating dependency between DC and DE, high or low values of the DC and DE variables are systematically defined by selecting optimal thresholds that maximize the chi-square value. In using the optimal thresholds, genes can be divided into partitions with different DC and DE characteristics. The statistical significance of a gene partition can further be evaluated by residual test. Noteworthy, since the identified gene partitions at this stage are not constrained or depended on any predefined functional modules or pathways, they provide the opportunities for the discovery of novel disease related genes.
DECODE is useful for investigating whether the functional information of an identified gene partition using the combining DC and DE criteria is higher than that using individual DC or DE criteria alone. In other words, it may generate critical novel biological insights which may not be easily obtained using individual DC or DE approach. In applying DECODE to the breast cancer data, we demonstrated that it can improve the detection of some immune system, metastasis, lipid and glucose metabolism related gene sets using high DE and high DC criteria. Further investigation on the identified gene partitions and the associated functional pathways provides a more systematic understanding of complex disease mechanism, which in turn yields useful insights in the development of new therapeutic strategies for the disease. In conclusion, in complementing the DC and DE analysis, DECODE is a valuable methodology in identifying functional gene sets exhibiting certain combination of DE and DC characteristics, which serves as a new tool for future gene expression studies.
Declarations
Acknowledgements
This work was supported by the Project of Strategic Importance funding of The Hong Kong Polytechnic University [1-ZE17].
Authors' Affiliations
(1)
Department of Health Technology and Informatics, The Hong Kong Polytechnic University, Kowloon, Hong Kong
References
Kulkarni H, Goring HHH, Diego V, Cole S, Walder KR, Collier GR, et al. Association of differential gene expression with imatinib mesylate and omacetaxine mepesuccinate toxicity in lymphoblastoid cell lines. BMC Med Genomics. 2012;5.Google Scholar
McCormick KP, Willmann MR, Meyers BC. Experimental design, preprocessing, normalization and differential expression analysis of small RNA sequencing experiments. Silence. 2011;2(1):2.View ArticlePubMedPubMed CentralGoogle Scholar
Robinson MD, Oshlack A. A scaling normalization method for differential expression analysis of RNA-seq data. Genome Biol. 2010;11(3).Google Scholar
Choi CH, Choi JJ, Park YA, Lee YY, Song SY, Sung CO, et al. Identification of differentially expressed genes according to chemosensitivity in advanced ovarian serous adenocarcinomas: expression of GRIA2 predicts better survival. Br J Cancer. 2012;107(1):91–9.View ArticlePubMedPubMed CentralGoogle Scholar
Lucas SM, Heath EI. Current challenges in development of differentially expressed and prognostic prostate cancer biomarkers. Prostate cancer. 2012;2012:640968.View ArticlePubMedPubMed CentralGoogle Scholar
Trapnell C, Roberts A, Goff L, Pertea G, Kim D, Kelley DR, et al. Differential gene and transcript expression analysis of RNA-seq experiments with TopHat and Cufflinks. Nat Protoc. 2012;7(3):562–78.View ArticlePubMedPubMed CentralGoogle Scholar
Cui XQ, Churchill GA. Statistical tests for differential expression in cDNA microarray experiments. Genome Biol. 2003;4(4).Google Scholar
Macgregor PF, Squire JA. Application of microarrays to the analysis of gene expression in cancer. Clin Chem. 2002;48(8):1170–7.PubMedGoogle Scholar
Ravasz E, Somera AL, Mongru DA, Oltvai ZN, Barabasi AL. Hierarchical organization of modularity in metabolic networks. Science. 2002;297(5586):1551–5.View ArticlePubMedGoogle Scholar
Boutros PC, Okey AB. Unsupervised pattern recognition: an introduction to the whys and wherefores of clustering microarray data. Brief Bioinform. 2005;6(4):331–43.View ArticlePubMedGoogle Scholar
Do JH, Choi DK. Clustering approaches to identifying gene expression patterns from DNA microarray data. Mol Cells. 2008;25(2):279–88.PubMedGoogle Scholar
Eisen MB, Spellman PT, Brown PO, Botstein D. Cluster analysis and display of genome-wide expression patterns. Proc Natl Acad Sci U S A. 1998;95(25):14863–8.View ArticlePubMedPubMed CentralGoogle Scholar
Oliver S. Guilt-by-association goes global. Nature. 2000;403(6770):601–3.View ArticlePubMedGoogle Scholar
Segal E, Shapira M, Regev A, Pe'er D, Botstein D, Koller D, et al. Module networks: identifying regulatory modules and their condition-specific regulators from gene expression data. Nat Genet. 2003;34(2):166–76.View ArticlePubMedGoogle Scholar
Slonim DK. From patterns to pathways: gene expression data analysis comes of age. Nat Genet. 2002;32(Suppl):502–8.View ArticlePubMedGoogle Scholar
Ben-Shaul Y, Bergman H, Soreq H. Identifying subtle interrelated changes in functional gene categories using continuous measures of gene expression. Bioinformatics. 2005;21(7):1129–37.View ArticlePubMedGoogle Scholar
Mootha VK, Lindgren CM, Eriksson KF, Subramanian A, Sihag S, Lehar J, et al. PGC-1 alpha-responsive genes involved in oxidative phosphorylation are coordinately downregulated in human diabetes. Nat Genet. 2003;34(3):267–73.View ArticlePubMedGoogle Scholar
Ackermann M, Strimmer K. A general modular framework for gene set enrichment analysis. BMC Bioinformatics. 2009;10:47.View ArticlePubMedPubMed CentralGoogle Scholar
Goeman JJ, Buhlmann P. Analyzing gene expression data in terms of gene sets: methodological issues. Bioinformatics. 2007;23(8):980–7.View ArticlePubMedGoogle Scholar
Huang DW, Sherman BT, Lempicki RA. Systematic and integrative analysis of large gene lists using DAVID bioinformatics resources. Nat Protoc. 2009;4(1):44–57.View ArticleGoogle Scholar
Minguez P, Dopazo J. Assessing the biological significance of gene expression signatures and co-expression modules by studying their network properties. PLoS One. 2011;6(3).Google Scholar
Nam D, Kim SY. Gene-set approach for expression pattern analysis. Brief Bioinform. 2008;9(3):189–97.View ArticlePubMedGoogle Scholar
Ruan JH, Dean AK, Zhang WX. A general co-expression network-based approach to gene expression analysis: comparison and applications. BMC Syst Biol. 2010;4.Google Scholar
Subramanian A, Tamayo P, Mootha VK, Mukherjee S, Ebert BL, Gillette MA, et al. Gene set enrichment analysis: a knowledge-based approach for interpreting genome-wide expression profiles. Proc Natl Acad Sci U S A. 2005;102(43):15545–50.View ArticlePubMedPubMed CentralGoogle Scholar
Wei W, Hou J, Alder O, Ye X, Lee S, Cullum R, et al. Genome-wide microRNA and messenger RNA profiling in rodent liver development implicates mir302b and mir20a in repressing transforming growth factor-beta signaling. Hepatology. 2013;57(6):2491–501.View ArticlePubMedGoogle Scholar
Anglani R, Creanza TM, Liuzzi VC, Piepoli A, Panza A, Andriulli A, et al. Loss of connectivity in cancer co-expression networks. PLoS One. 2014;9(1):e87075.View ArticlePubMedPubMed CentralGoogle Scholar
Choi JK, Yu US, Yoo OJ, Kim S. Differential coexpression analysis using microarray data and its application to human cancer. Bioinformatics. 2005;21(24):4348–55.View ArticlePubMedGoogle Scholar
Choi Y, Kendziorski C. Statistical methods for gene set co-expression analysis. Bioinformatics. 2009;25(21):2780–6.View ArticlePubMedPubMed CentralGoogle Scholar
Watson M. CoXpress: differential co-expression in gene expression data. BMC Bioinformatics. 2006;7.Google Scholar
de la Fuente A. From 'differential expression' to 'differential networking' - identification of dysfunctional regulatory networks in diseases. Trends Genet. 2010;26(7):326–33.View ArticlePubMedGoogle Scholar
Hudson NJ, Reverter A, Dalrymple BP. A differential wiring analysis of expression data correctly identifies the gene containing the causal mutation. Plos Comput Biol. 2009;5(5).Google Scholar
Hu R, Qiu X, Glazko G, Klebanov L, Yakovlev A. Detecting intergene correlation changes in microarray analysis: a new approach to gene selection. BMC Bioinformatics. 2009;10:20.View ArticlePubMedPubMed CentralGoogle Scholar
Mentzen WI, Floris M, de la Fuente A. Dissecting the dynamics of dysregulation of cellular processes in mouse mammary gland tumor. BMC Genomics. 2009;10:601.View ArticlePubMedPubMed CentralGoogle Scholar
Smyth GK. Linear models and empirical bayes methods for assessing differential expression in microarray experiments. Stat Appl Genet Mol Biol. 2004;3:Article3.PubMedGoogle Scholar
Bockmayr M, Klauschen F, Gyorffy B, Denkert C, Budczies J. New network topology approaches reveal differential correlation patterns in breast cancer. BMC Syst Biol. 2013;7.Google Scholar
Cho SB, Kim J, Kim JH. Identifying set-wise differential co-expression in gene expression microarray data. BMC Bioinformatics. 2009;10.Google Scholar
Mo WJ, Fu XP, Han XT, Yang GY, Zhang JG, Guo FH, et al. A stochastic model for identifying differential gene pair co-expression patterns in prostate cancer progression. BMC Genomics. 2009;10.Google Scholar
Yu H, Lin CC, Li YY, Zhao ZM. Dynamic protein interaction modules in human hepatocellular carcinoma progression. BMC Syst Biol. 2013;7.Google Scholar
Gayen AK. The frequency distribution of the product–moment correlation coefficient in random samples of any size drawn from non-normal universes. Biometrika (Biometrika Trust). 1951;38(1/2):219–47.View ArticleGoogle Scholar
Sachs L. Applied statistics, a handbook of techniques, 2nd Edition. Percept Motor Skill. 1985;60(3):1011.Google Scholar
Ching JY, Wong AKC, Chan KCC. Class-dependent discretization for inductive learning from continuous and mixed-mode data. Ieee T Pattern Anal. 1995;17(7):641–51.View ArticleGoogle Scholar
Bonferroni CE. Teoria statistica delle classi e calcolo delle probabilità. Pubblicazioni del R Istituto Superiore di Scienze Economiche e Commerciali di Firenze. 1936;8:3–62.Google Scholar
Benjamini Y, Hochberg Y. Controlling the false discovery rate - a practical and powerful approach to multiple testing. J Roy Stat Soc B Met. 1995;57(1):289–300.Google Scholar
Agresti A. An introduction to categorical data analysis. New York: Wiley; 1996.Google Scholar
Ashburner M, Ball CA, Blake JA, Botstein D, Butler H, Cherry JM, et al. Gene ontology: tool for the unification of biology. The Gene Ontology Consortium. Nat Genet. 2000;25(1):25–9.View ArticlePubMedPubMed CentralGoogle Scholar
Dolinski K, Botstein D. Automating the construction of gene ontologies. Nat Biotechnol. 2013;31(1):34–5.View ArticlePubMedGoogle Scholar
Croft D, O'Kelly G, Wu GM, Haw R, Gillespie M, Matthews L, et al. Reactome: a database of reactions, pathways and biological processes. Nucleic Acids Res. 2011;39:D691–7.View ArticlePubMedGoogle Scholar
Kanehisa M, Goto S, Sato Y, Furumichi M, Tanabe M. KEGG for integration and interpretation of large-scale molecular data sets. Nucleic Acids Res. 2012;40(D1):D109–14.View ArticlePubMedGoogle Scholar
Ogata H, Goto S, Sato K, Fujibuchi W, Bono H, Kanehisa M. KEGG: Kyoto Encyclopedia of Genes and Genomes. Nucleic Acids Res. 1999;27(1):29–34.View ArticlePubMedPubMed CentralGoogle Scholar
Fisher RA. On the interpretation of χ2 from contingency tables, and the calculation of P. J Roy Statist Soc. 1922;85:87–94.View ArticleGoogle Scholar
Suresh K, Chandrashekara S. Sample size estimation and power analysis for clinical research studies. J Hum Reprod Sci. 2012;5(1):7–13.View ArticlePubMedPubMed CentralGoogle Scholar
Zar JH. Biostatistical analysis. 5th ed. Englewood Cliffs: Prentice Hall; 2010. p. 393.Google Scholar
Curtis C, Shah SP, Chin SF, Turashvili G, Rueda OM, Dunning MJ, et al. The genomic and transcriptomic architecture of 2,000 breast tumours reveals novel subgroups. Nature. 2012;486(7403):346–52.PubMedPubMed CentralGoogle Scholar
Hervas-Stubbs S, Perez-Gracia JL, Rouzaut A, Sanmamed MF, Le Bon A, Melero I. Direct effects of type I interferons on cells of the immune system. Clin Cancer Res. 2011;17(9):2619–27.View ArticlePubMedGoogle Scholar
Fuertes MB, Woo SR, Burnett B, Fu YX, Gajewski TF. Type I interferon response and innate immune sensing of cancer. Trends Immunol. 2013;34(2):67–73.View ArticlePubMedGoogle Scholar
Slaney CY, Moller A, Hertzog PJ, Parker BS. The role of Type I interferons in immunoregulation of breast cancer metastasis to the bone. Oncoimmunology. 2013;2(1):e22339.View ArticlePubMedPubMed CentralGoogle Scholar
Bendas G, Borsig L. Cancer cell adhesion and metastasis: selectins, integrins, and the inhibitory potential of heparins. Int J Cell Biol. 2012;2012:676731.View ArticlePubMedPubMed CentralGoogle Scholar
Baenke F, Peck B, Miess H, Schulze A. Hooked on fat: the role of lipid synthesis in cancer metabolism and tumour development. Dis Model Mech. 2013;6(6):1353–63.View ArticlePubMedPubMed CentralGoogle Scholar
Carracedo A, Cantley LC, Pandolfi PP. Cancer metabolism: fatty acid oxidation in the limelight. Nat Rev Cancer. 2013;13(4):227–32.View ArticlePubMedPubMed CentralGoogle Scholar
Koppenol WH, Bounds PL, Dang CV. Otto Warburg's contributions to current concepts of cancer metabolism. Nat Rev Cancer. 2011;11(5):325–37.View ArticlePubMedGoogle Scholar
Duan ZJ, Gao B, Xu W, Xiong SD. Identification of TRIM22 as a RING finger E3 ubiquitin ligase. Biochem Bioph Res Co. 2008;374(3):502–6.View ArticleGoogle Scholar
Barr SD, Smiley JR, Bushman FD. The interferon response inhibits HIV particle production by induction of TRIM22. PLoS Pathog. 2008;4(2), e1000007.View ArticlePubMedPubMed CentralGoogle Scholar
Singh R, Gaiha G, Werner L, McKim K, Mlisana K, Luban J, et al. Association of TRIM22 with the type 1 interferon response and viral control during primary HIV-1 infection. J Virol. 2011;85(1):208–16.View ArticlePubMedGoogle Scholar
Singh R, Patel V, Mureithi MW, Naranbhai V, Ramsuran D, Tulsi S, et al. TRIM5alpha and TRIM22 are differentially regulated according to HIV-1 infection phase and compartment. J Virol. 2014;88(8):4291–303.View ArticlePubMedPubMed CentralGoogle Scholar
Tissot C, Mechti N. Molecular-cloning of a New interferon-induced factor that represses human-immunodeficiency-virus type-1 long terminal repeat expression. J Biol Chem. 1995;270(25):14891–8.View ArticlePubMedGoogle Scholar
Obad S, Brunnstrom H, Vallon-Christersson J, Borg A, Drott K, Gullberg U. Staf50 is a novel p53 target gene conferring reduced clonogenic growth of leukemic U-937 cells. Oncogene. 2004;23(23):4050–9.View ArticlePubMedGoogle Scholar
Pau Ni IB, Zakaria Z, Muhammad R, Abdullah N, Ibrahim N, Aina Emran N, et al. Gene expression patterns distinguish breast carcinomas from normal breast tissues: the Malaysian context. Pathol Res Pract. 2010;206(4):223–8.View ArticlePubMedGoogle Scholar
Copyright
© Lui et al.; licensee BioMed Central. 2015
This is an Open Access article distributed under the terms of the Creative Commons Attribution License (http://creativecommons.org/licenses/by/4.0), which permits unrestricted use, distribution, and reproduction in any medium, provided the original work is properly credited. The Creative Commons Public Domain Dedication waiver (http://creativecommons.org/publicdomain/zero/1.0/) applies to the data made available in this article, unless otherwise stated.