Methodology article

Open Access
Quantification of biological network perturbations for mechanistic insight and diagnostics using two-layer causal models
BMC Bioinformatics
2014
15:238
Received: 4 April 2014
Accepted: 26 June 2014
Published: 11 July 2014
Abstract
Background
High-throughput measurement technologies such as microarrays provide complex datasets reflecting mechanisms perturbed in an experiment, typically a treatment vs. control design. Analysis of these information rich data can be guided based on a priori knowledge, such as networks or set of related proteins or genes. Among those, cause-and-effect network models are becoming increasingly popular and more than eighty such models, describing processes involved in cell proliferation, cell fate, cell stress, and inflammation have already been published. A meaningful systems toxicology approach to study the response of a cell system, or organism, exposed to bio-active substances requires a quantitative measure of dose-response at network level, to go beyond the differential expression of single genes.
Results
We developed a method that quantifies network response in an interpretable manner. It fully exploits the (signed graph) structure of cause-and-effect networks models to integrate and mine transcriptomics measurements. The presented approach also enables the extraction of network-based signatures for predicting a phenotype of interest. The obtained signatures are coherent with the underlying network perturbation and can lead to more robust predictions across independent studies. The value of the various components of our mathematically coherent approach is substantiated using several in vivo and in vitro transcriptomics datasets. As a proof-of-principle, our methodology was applied to unravel mechanisms related to the efficacy of a specific anti-inflammatory drug in patients suffering from ulcerative colitis. A plausible mechanistic explanation of the unequal efficacy of the drug is provided. Moreover, by utilizing the underlying mechanisms, an accurate and robust network-based diagnosis was built to predict the response to the treatment.
Conclusion
The presented framework efficiently integrates transcriptomics data and "cause and effect" network models to enable a mathematically coherent framework from quantitative impact assessment and data interpretation to patient stratification for diagnosis purposes.
Keywords
Systems biology
Causal network model
Transcriptomics data
Background
High-throughput measurement technologies provide comprehensive data sets to obtain insight on disease mechanisms and the biological impact of exposure to active substances, such as drugs and environmental toxicants. However, the scientific community faces an ongoing challenge to analyze and interpret these data sets and derive useful insights about the studied biological systems. The analysis of high-throughput expression data typically leads to a list of differentially expressed genes. However, this approach often fails to provide mechanistic insights into the underlying biology. During recent years, researchers addressed the complexity of such data by evaluating them in a relevant biological context [
1
], whereby genes are grouped based on a priori knowledge such as MSigDB [
2
]. Sets of genes are then used by algorithms determining their specificity (or enrichment) in a particular experiment [
3
]. Kathri
et al.
[
1
] recently reviewed and categorized them into three main successive generations: over-representation analysis (ORA), functional class scoring (FCS) and pathway topology (PT). Unlike ORA approaches that only consider differentially expressed genes, FCS approaches, such as GSEA [
2
], take into account the entire dataset without applying thresholds. The development of PT approaches was motivated by the increasing evidence that interactions between genes or proteins better describe underlying molecular mechanisms [
4
]. These approaches allowed for a better use of pathway and network collections, such as KEGG, BioCarta, MIPS [
5
], the Database of Interacting Proteins (DIP) [
6
], and the Molecular Interaction database (MINT) [
7
]. The mapping of genes onto pathway or network representations has resulted in algorithms with better specificity because they account for the topology of the pathway or network [
1
,
8
]. Nevertheless, most currently available pathway tools rely on the "forward assumption", where protein activity changes are assumed to be directly correlated with expression changes of their coding genes [
9
,
10
]. This assumption does not always hold [
11
–
13
]; furthermore calculations that are based on few genes may lack robustness. Table
1
shows some representative of methodologies relying on this assumption, and their key features.
| Reasoning | Category | Method | Qualitative | Quantitative | Use topology | Interpretability | Diagnostic Sigs | Threshold-free |
| --- | --- | --- | --- | --- | --- | --- | --- | --- |
| | ORA | Hypergometric test [15] | √ | | | | | |
| | | GSEA [2] | √ | (√) | | √ | | √ |
| | FCS | GSA [52] | √ | (√) | | | | √ |
| | | PLAGE [16] | √ | (√) | | | | √ |
| Forward | | CORG [33] | | | | √ | √ | √ |
| | | SPIA [46] | √ | | √ | | | |
| | | NetGen [17] | √ | | √ | | | √ |
| | PT | NetWalker [18] | √ | | √ | √ | | √ |
| | | SVM-based [35] | | | √ | | √ | √ |
| | ORA | RCR [21] | √ | | | | | |
| | | Modified GSA [22] | √ | √ | | | | √ |
| Backward | FCS | MARINa [20] | √ | | | | | √ |
| | | NPA [23] | √ | √ | | | | √ |
| | PT | TopoNPA | √ | √ | √ | √ | √ | √ |
In contrast, the "backward assumption" groups together the genes which have been described in the literature to be regulated by a given molecular entity, referred as to the upstream biological entity (UBE) (Figure
1
b). UBEs are as diverse as transcription factors (as in [
19
] or [
20
]), protein activities, complexes or bioactive chemical compounds. Relationships between a given UBE and its regulated genes additionally include the sign (inhibition or activation) of the regulation. Such signed gene sets are also called HYPs, standing for "Hypotheses", as described in [
21
]. Signed gene sets are leveraged by methodologies such as Reverse Causal Reasoning [
21
], modified GSA [
22
], by the network perturbation approach [
23
] (Table
1
). UBEs can be further assembled into networks (Figure
1
a), whereby an edge between two entities represents a cause-and-effect relationship, typically an activation or an inhibition. Network nodes may also include entities that are not known to regulate any genes. Thus, these network models have a two-layer structure, as shown in Figure
1
a, where the functional level (the UBEs, called the backbone, in orange) is explicitly distinguished from the transcriptional level (the genes, in black). Recently, an ensemble of more than eighty such network models that consist of cause-and-effect relationships between molecular entities and activities (e.g. kinase activation or increased protein abundance) have been published [
24
–
27
] and made available to the community for peer-review [
28
]. The description of the biological context has been manually built into the network models using prior knowledge extracted from both relevant literature and published datasets after a large-scale knowledge mining effort [
21
]. These networks describe biological processes such as cell proliferation, cell apoptosis and senescence, cell stress, and inflammation. Further biological processes can be described using cause-and-effect relationships from the OpenBEL framework [
29
]. OpenBEL is an open platform technology designed to collect cause-and-effect statements that can be further assembled into two-layer networks.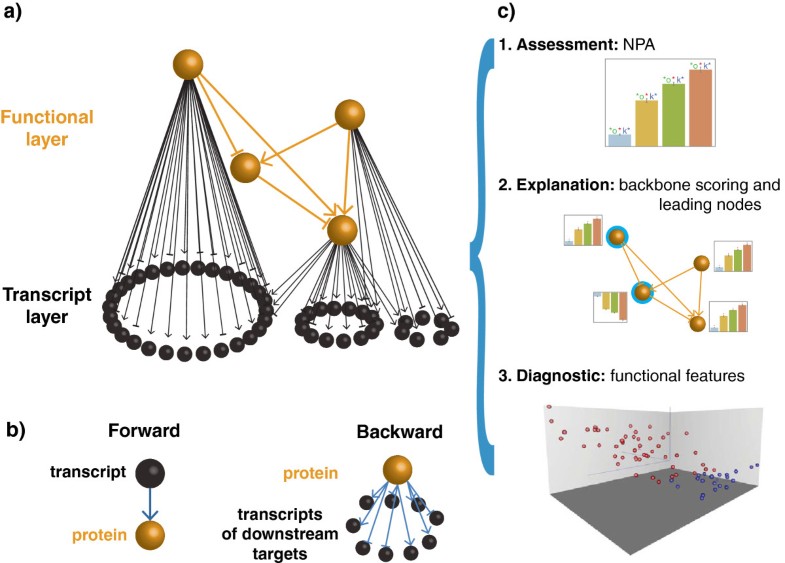 To assess qualitatively the enrichment of such networks, one could leverage the results of any (signed) gene set method testing the significance of the UBE's in the network and subsequently test the over-representation of the significant ones by a hypergeometric or binomial test. Under the backward paradigm, such a method would correspond to an ORA approach (Table 1) with the limitations discussed in [1], such as applying thresholds and ignoring inter-relationships between the entities in the network. In order to score a two-layer network, the entire network can be collapsed into a single signed gene set and an FCS approach that can handle signs (Table 1) can be applied. Martin et al.[23] followed this approach, using uniquely defined signs between entities in the network and a fixed reference node. This approach accounts only for a spanning tree of the network and disregards the rest of the topology, hence does not classify as a PT approach as such (Table 1). In a "proof-of-principle" study, using this method, we have quantified the perturbation of a given UBE based on high-throughput data [23] and showed that it correlates with independent assay endpoint. However, the applicability of the method is restricted to causally consistent networks (e.g., no negative feedback loops are allowed), and does not allow for the identification of the key drivers of the network perturbation. Identifying the key mechanisms responsible for the activation or perturbation of a network/gene set is a valuable feature of any methodology, leveraging either the forward or the backward assumption. For example, GSEA approaches extract the leading-genes of a scored gene set to serve as the basis for further interpretation. However many methods (including [23]) do not provide such a layer for interpretation (Table 1).
Gene expression data have being used to derive diagnostic signatures that inform clinicians on disease states or treatment outcomes. Majority of research has involved identifying and scoring signatures that are correlated with a disease phenotype [30, 31]. Due to the high number of genes that are measured with high signal to noise ratio and genotypic variability across individuals, gene-level signatures often lack consistency between independent studies. Signatures may also lack biological meaning and interpretability because they are often derived from machine learning approaches that do not include a priori knowledge. A number of studies have shown that network markers tend to be more robust and more accurate when pathways or protein-protein interaction networks were used as substrates to derive predictive signatures [32–38].
The objective of this research was to establish a computational methodology that can integrate gene expression data with a two-layer cause-and-effect network by using its full topology to identify, interpret and quantify the perturbation of the network in response to any treatment. The quantification of the network perturbation (and its significance) extends the concept of differential expression of single genes to the pathways or networks [8] and is of value in fields of toxicology and pharmacology [39], where dose and time response are studied. This approach goes beyond the enrichment approaches used in many pathway/network tools, which are focused on testing a non-enrichment null hypothesis [1, 22, 40]. The quantification of the network perturbation in response to a treatment enables not only a comparison across several networks, but also a comparison between several treatments on the same network [41]. First, we applied our method to datasets and networks to compare the results qualitatively and quantitatively with the expected outcomes, as well as the results obtained when using other computational approaches. Second, based on one additional dataset derived from a controlled experiment involving the cell cycle, we showed that the key drivers identified by our method are aligned with the expected biology. Third, two additional public datasets were used to quantify the xenobiotic metabolism response to smoke exposure, identify the key drivers and derive a robust smoking exposure signature. The performance of our network-based signature was compared to several recognized computational approaches. Finally, we applied our methodology to study the mechanisms underlying the unequal efficacy of an anti-inflammatory drug in patients suffering from ulcerative colitis and provide a plausible mechanistic hypothesis. Utilizing the underlying mechanisms, an accurate and robust network signature for predicting individual patient responses was generated. The signature over-performed those generated by other computational approaches.
Methods
Data
The data used in this study were either obtained from internal experiments that are described hereafter (Additional file
1
) or downloaded from the public repositories such as Gene Expression Omnibus (
http://www.ncbi.nlm.nih.gov/geo/
) or ArrayExpress (
http://www.ebi.ac.uk/arrayexpress/
) (see Table
2
). Raw RNA expression data were analyzed using the affy and gcrma packages of the Bioconductor suite of microarray analysis tools available in the R statistical environment (version 2.14.0). Robust Microarray Analysis (RMA) background correction and quantile normalization were used to generate probe set expression values. The fold-changes and their moderated t-statistics were computed using limma [
42
].
Table 2
Overview of the datasets used
| Data ID | Tissue | Treatment |
| --- | --- | --- |
| GSE7895 | Bronchial Brushing | Smokers (30), non-smokers (20), former smokers (51) |
| GSE19667 | Bronchial Brushing | Smokers (65), non-smokers (45) |
| GSE12251 & GSE1480 | Colonic biopsies | Responders (20) and non-responders (27) pre-treatment |
| GSE16879 | Colonic biopsies | Responders (8) and non-responders (16) pre-/post-treatment |
| E-MTAB-1842, GSE50254 | Rat parenchyma | Main stream smoke (8, 15, or 23 μg nicotine/l) or fresh air. 5 animals per group. |
| E-MTAB-1272 | NHBE cells | 2, 4, 6 and 8 hours after washing of CDK4/6 inhibitor. 3 samples per group. |
| E-MTAB-1311 | NRBE cells | Vehicle control or TNF α (0.1, 1, 10, 100 ng/ml) × (30 min, 2 h, 24 h). 3 samples per group |
Network models
Networks models are a representation of the relationships between the biological activities taking place in the considered cellular systems. They are based on information extracted manually from the scientific literature and encoded in the BEL syntax. BEL is a computable format for unambiguously capturing biological entities and their inter-relationships and associating them with external vocabularies and ontologies [29]. The nodes of the networks correspond to molecular biological entities (e.g., protein abundances, protein activities, chemical compounds and gene expression) and also include cellular processes (e.g., apoptosis). The network edges connect two nodes and represent the cause-and-effect relationship between the corresponding entities (e.g., the transcriptional activity of NFKB directly increases the gene expression of BCL2). Edges are directed as a consequence of their causal nature. They are additionally signed, indicating whether the changes (increase or decrease) of the connected nodes have same (→) or opposite (⊣) signs. An ensemble of more than eighty such network models are made available at [28].
In the "backward-causal" paradigm, the changes in the activities of molecular biological processes, the UBE's, can be inferred based on the changes measured for their causally "downstream" entities, in our case the differential expression of the genes causally affected by considered processes. For example, the activity of CYP1A1 is not measured but its change, between a treated and untreated condition, is reflected in the expression of the genes described to be altered by it (Figure 1a). Another example is the change in the activity of a transcription factor which is deduced from the changes in the expression of its direct targets, and not from the changes in the expression of its mRNA. This paradigm is becoming increasingly popular [21, 23, 43, 44] and among others, "backward-causal" features have been introduced recently in Ingenuity Pathway Analysis software [43]. Using RNAi experimental data, Markowetz et al. showed that upstream pathway relationships between unobserved molecular entities can be reliably deduced from downstream measurable entities [45].
This is in contrast to the "forward-causal" approach, where the activity changes of a protein is approximated by the differential expression of its corresponding transcript (see Figure 1a). The number of "downstream" of a typical UBE is between a dozen and several hundreds. Additional details can be found in the Additional file 1.
In a nutshell, our networks models are made of signed gene sets (empty or not) related by signed directed edges. By definition of the two-layer structure there are no edges between genes in the transcript layer as we assume here that relationships between genes are driven by the functional layer. An overview of network models used in this study is given in Table
3
. One can observe that the size of the functional layer (a few dozen to hundred) is small as compared to the size of the transcript layer (several thousands of genes). The network models used in this study are further discussed in Additional file
1
and are available in the Additional file
2
.
Table 3
Statistics for the networks used in this study
| | #Nodes | #Edges | #Nodes with downstream | #Genes involved |
| --- | --- | --- | --- | --- |
| TNF-IL1 α-TLR-NF κB (Hs) | 116 | 237 | 50 | 3874 |
| TNF-IL1 α-TLR-NF κB (Rn) | 116 | 237 | 50 | 3874 |
| Cell Cycle (Hs) | 127 | 240 | 57 | 8059 |
| Xenobiotic metabolism (Rn) | 31 | 49 | 20 | 2668 |
| Xenobiotic metabolism (Hs) | 34 | 53 | 21 | 2781 |
The topological network perturbation amplitude scoring: TopoNPA
Our method aims at reducing the high dimensional transcriptomics data by combining the gene expression (
l
o
g
2
)fold-changes into fewer differential backbone values (between a few dozen and two hundred). By definition of the two-layer structure, no measurements corresponding to nodes in the functional layer are available. The differential backbone values will be therefore determined by a fitting procedure that infers values that best satisfy the directional and signed relationships contained in the backbone model (Figure
1
a, orange nodes and edges), while being constrained by the experimental data (the gene
l
o
g
2
-fold-changes,
β
) (Figure
1
a, black nodes). An overview of the steps involved in the methodology is summarized in Figure
2
.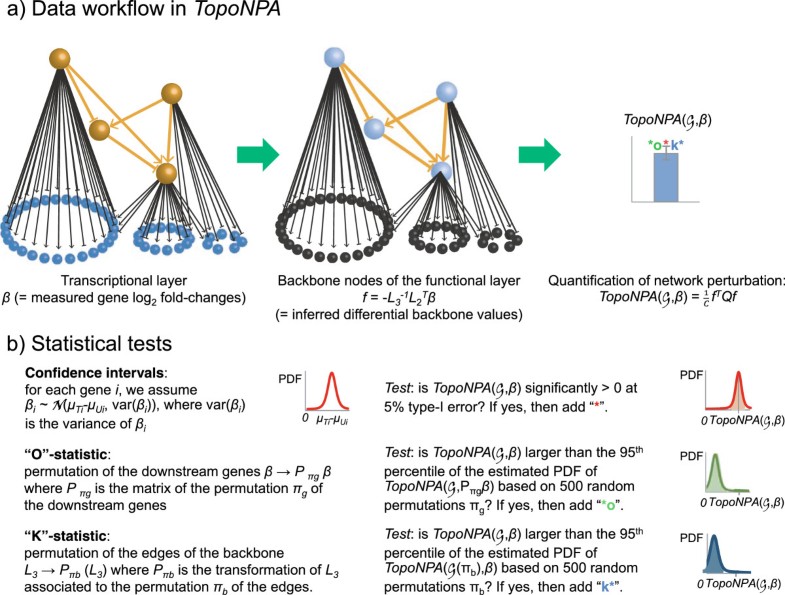 Discussion
We have presented several biological and clinical applications of TopoNPA, a novel quantitative approach that uses knowledge-based cause-and-effect biological network models describing complex processes involving thousands of genes. As an input TopoNPA requires high-throughput transcriptomics data obtained from appropriately designed and executed studies, and a network model relevant to the observed biological response. Our method provides a coherent mechanism-based framework for assessing and quantifying the resulting perturbations of the network as required in a dose-response toxicity setting. It also guides mechanistic interpretation at node-level resolution in a fully coherent way with the perturbation itself. The relevance of the mechanistic interpretation of the network perturbation has been demonstrated in two controlled in vitro studies (CDKi and TNF experiments), and applied to two in vivo studies. In addition to the quantification of the perturbation and its interpretation, our framework enables the establishment of coherent, efficient and robust diagnostic classifiers based on individual sample network perturbations. We have shown how to use the established biology of xenobiotic metabolism to stratify a human cohort of smokers and non-smokers. The full potential of this powerful approach for deriving mechanism-based interpretation and diagnosis has been further demonstrated in the context of an in-vivo study of ulcerative colitis patients, where a testable hypothesis has been proposed regarding the individual response to the drug Infliximab (see below).
Network perturbation amplitude methodology
Overall, the TopoNPA approach belongs to the class of backward PT methods (Table 1), and is threshold-free because it does not require any filtering of the gene expression data based on expression value or statistical significance. In our method, the absence of any fold-change between conditions can be as informative as high fold-changes. It provides a single framework for quantitative and qualitative evaluation of the amplitude of perturbation of a network.
It applies to two-layer cause-and-effect models without any assumption beyond the underlying undirected graph to be strongly connected. In contrast to the approach in [23], the quantification of network perturbations as a positive-definite quantity (quadratic in the β) allows for causal inconsistency, does not require the choice of a reference node, uses fully the topology of the network and avoids canceling out "destructive interference" in cumulative signed amplitudes (for example when half of the network is positive, and half is negative). Our choice was to consider an "energy" analogue quantity (Figure 1c, top panel) rather that a signed value as used by Martin et al. As a particular case, if the functional layer was made of a single node (with a self-loop), then the backbone differential value of that node would equal the NPA score in [23].
TopoNPA enables the quantification of the network response to a treatment, which is a key feature in systems toxicology. Attempts to adapt existing gene set-based methods cannot exploit fully the two-layer network structure as either the quantification or the qualitative assessment of the perturbations computed in the different studies did not match the biological expectations (Table 4).
Our framework offers the possibility to identify key contributors of the perturbation in the network using the leading nodes (Figure 1c, middle panel), which have been shown to be pertinent in the positive control experiment (CDKi experiment). This aspect is not covered in our previous methodology [23] as the network was aggregated in a single UBE structure and subsequently scored. An even deeper investigation is possible by defining a similar notion of leading genes for any (leading) node in the network. However, we believe that the gene expression is the consequence and not the driver for the biological processes of the network, and therefore this was not be systematically looked at. Furthermore, the modern view of network biology implies that the essence of biological processes does not lie in the individual behavior of genes, but rather in their collective action, which is precisely captured by the biological network models [4, 41, 94].
Network-based Signatures: constructing vs. extracting features
We have shown in two cases that our approach has led to accurate and, importantly, robust classification of individual samples. Even if our goal was not to develop a purely machine-learning algorithm, it clearly appeared that an appropriate choice of the network model led to remarkable performances in classification tasks that is over-performing other approaches and the results published by the authors of the original studies. TopoNPA enabled to build network features that leads to more robust classification results, almost independently of the learning methodology used. The key aspect for this behavior is that gene expression profiles are used to construct (as opposed to extract) new features in a surjective way by a data independent linear mapping (Figure 1c, bottom panel). As the dimension of the backbone is far lower than the dimension of the underlying gene space, it is expected that our network signatures will be robust. Additionally if the phenotype of interest is associated with the biology encoded in the functional layer of the network, the class separation is expected to align with the main variation of the differential backbone values. This behavior is apparent in the PCAs constructed on the backbone values: the inter-class variability is aligning with the main direction of variation. Additionally, the transformation seems to reduce the inter-study bias. Another benefit of this linear transformation is to move away from the so-called " p>>n problem", where there are far more variables than samples in a dataset and hence lead to more robust diagnoses. Gene-sets or network have also been leveraged in classification problems based on gene-expression data [33–35]. However the enrichment of a given gene-set and its ability to provide discriminant score rely usually on independent algorithms. Also, this aspect is not covered in our previous methodology [23].
This application revealed a promising potential for our approach in the context of personalized medicine: personalized diagnosis based on the classifier to decide the administration of the Infliximab treatment. Also, the smoking network signature derived could serve as an individual marker of smoking exposure in a clinical trial.
Network-based biological explanation and hypothesis generation
The analysis of UC patient data from responder and non-responder subjects prompted the generation of a network-level hypothesis. Based on our analysis, TNFR1A-signaling seems to be an important node in defining the difference between the responders and non-responders before and after anti-TNF treatment. This suggests that the treatment fails to fully restore normal TNF signaling in the colonic mucosa of non-responders. However, a recent study has shown that TNF-expression returned to normal at week 30 in both IFX responders and non-responders [95]. Therefore, the stimulated TNF signaling is not the only explanation for poor treatment outcome in non-responders. Our results indicate that the underlying biological mechanisms that define the treatment response to TNF blocking agents in UC patients might be related to abnormal MYD88-signaling. MYD88 has been found to be involved in IBD pathology [96, 97] and the involvement of MYD88 in response to TNF-blocking drugs has been demonstrated in studies on rheumatoid arthritis (RA) patients [98]. Our analyses further showed that MYD88 and TLR (namely TLR2-, TLR4- and TLR5-related nodes) remained important nodes to distinguish the non-responders from the responders even after treatment. A recent study by Toedter et al. showed that the genes involved in intestinal epithelial barrier defense were differentially expressed in the responder and non-responder colonic mucosa following Infliximab therapy [95]. Members of the TLR family are involved in the injury of the intestinal epithelial barrier, and their abnormal function could lead to defects in mucosal barrier defense in the non-responder population [99, 100]. The identification of a high frequency of peripheral T-regulatory cells as a predictive marker for Infliximab treatment response provides additional support for the involvement of abnormal TLR signaling [101–103]. Triptolide, an active component isolated from the Chinese herb Tripterygium wilfordii with anti-inflammatory and immunosuppressive properties, has been proposed as an alternative compound for the treatment of CD. Interestingly, the favorable effect was shown to be mediated by targeted inhibition of TLR2/TLR4 signaling in the IL10-/- CD mouse model, and in cultured colon tissue samples from CD patients [97]. Finally, Gewirtz et al., discovered that patients from a specific ethnic background with deficient TLR5 were protected from developing CD, advocating the pharmacological inhibition of the TLRs as an alternative to anti-TNF compounds to treat IBD [104]. Such an approach has already been applied for the treatment of RA, where TLR2/TLR4 antagonists have proven beneficial in treating an autoimmune disorder [105].
On-going research in our group is currently using several network models in conjunction first, to develop methods of assessing the biological impact of individual substances, or a set of substances on a biological system, as we have discussed in [41] and second to improve the performance of the backbone-based classifiers.
Conclusion
The methodology proposed in this study provides a coherent framework going beyond the work of [23] (Table 1, last two rows) to handle the two-layered structure of cause-and-effect networks (Figure 1a). Firstly, it quantifies network perturbations using differential gene expression in conjunction with the explicit network topology and tests a non-perturbation null hypothesis (Figure 2); hence it positions itself as a backward-based PT methodology (Table 1). Secondly, our methodology calculates the perturbation of the network by inferring differential values for each node of the functional layer of the network model, referred to as differential backbone values. Those quantities facilitate the biological interpretation by decomposing the amplitude of the perturbation and thereby identifying candidate key nodes of the functional layer. Thirdly, it further enables the calculation of these differential backbone values at sample level, which serves to build a knowledge-driven classification of individual patients. Such classifying signatures, which benefit from the mechanistic interpretation of the differential backbone values, can be used to classify individual patient samples. To the best of our knowledge this is the first approach that provides, in a systematic manner, the ability to fully exploit the information provided in two-layer causal models (i.e. using explicitly the full signed network topology), that serves simultaneously for quantitative perturbation assessment, biological interpretation and diagnostic signature extraction. Here we show that using our biological network models to quantify individual patient responses through a network model relevant to the phenotype of interest is a biologically meaningful, interpretable, robust and effective way of deriving network-based signatures.
As a summary, a novel network-based methodology for quantifying perturbation, interpreting data and for deriving network signature was presented. It fully exploits the specific structure of two-layer cause-and-effect network models, made of a functional layer and a transcript layer. The application of our methodology has provided insight into molecular mechanisms by capturing the perturbed network components with high specificity, and has led to robust signatures for diagnosis. The successful application of our quantitative method has clearly demonstrated the potential of TopoNPA in systems biology and systems toxicology.
Endnote
a which, for a finite set A, is isomorphic to , where N is the cardinality of A.
Declarations
Acknowledgments
The authors would like to acknowledge Hector de Leon and Nikolai V. Ivanov for reviewing the manuscript and for their useful comments, Walter Schlage for his priceless biological insights for building the network models and Selventa collaborators for the fruitful discussions over many years around the network models. The research described in this paper was supported by Philip Morris International.
Authors' Affiliations
(1)
Philip Morris International, R&D, Biological Systems Research, Neuchatel, Switzerland
Copyright
© Martin et al.; licensee BioMed Central Ltd. 2014
This article is published under license to BioMed Central Ltd. This is an Open Access article distributed under the terms of the Creative Commons Attribution License (http://creativecommons.org/licenses/by/4.0), which permits unrestricted use, distribution, and reproduction in any medium, provided the original work is properly credited. The Creative Commons Public Domain Dedication waiver (http://creativecommons.org/publicdomain/zero/1.0/) applies to the data made available in this article, unless otherwise stated.