Competitive molecular docking approach for predicting estrogen receptor subtype α agonists and antagonists
BMC Bioinformatics
2014
15(Suppl 11):S4
Published: 21 October 2014
Abstract
Background
Endocrine disrupting chemicals (EDCs) are exogenous compounds that interfere with the endocrine system of vertebrates, often through direct or indirect interactions with nuclear receptor proteins. Estrogen receptors (ERs) are particularly important protein targets and many EDCs are ER binders, capable of altering normal homeostatic transcription and signaling pathways. An estrogenic xenobiotic can bind ER as either an agonist or antagonist to increase or inhibit transcription, respectively. The receptor conformations in the complexes of ER bound with agonists and antagonists are different and dependent on interactions with co-regulator proteins that vary across tissue type. Assessment of chemical endocrine disruption potential depends not only on binding affinity to ERs, but also on changes that may alter the receptor conformation and its ability to subsequently bind DNA response elements and initiate transcription. Using both agonist and antagonist conformations of the ERα, we developed an in silico approach that can be used to differentiate agonist versus antagonist status of potential binders.
Methods
The approach combined separate molecular docking models for ER agonist and antagonist conformations. The ability of this approach to differentiate agonists and antagonists was first evaluated using true agonists and antagonists extracted from the crystal structures available in the protein data bank (PDB), and then further validated using a larger set of ligands from the literature. The usefulness of the approach was demonstrated with enrichment analysis in data sets with a large number of decoy ligands.
Results
The performance of individual agonist and antagonist docking models was found comparable to similar models in the literature. When combined in a competitive docking approach, they provided the ability to discriminate agonists from antagonists with good accuracy, as well as the ability to efficiently select true agonists and antagonists from decoys during enrichment analysis.
Conclusion
This approach enables evaluation of potential ER biological function changes caused by chemicals bound to the receptor which, in turn, allows the assessment of a chemical's endocrine disrupting potential. The approach can be used not only by regulatory authorities to perform risk assessments on potential EDCs but also by the industry in drug discovery projects to screen for potential agonists and antagonists.
Keywords
Protein Data Bank
Virtual Screening
Virtual Screening Performance
Crystallographic Ligand
Agonist Conformation
Background
The endocrine system comprises a large system of glands that secrete hormones into the circulatory system where they travel to and exert their effects in target cells throughout the organism. The system plays pivotal roles in the regulation of homeostasis, growth and development as well as in a wide range of other normal bodily functions [1]. At the site of action, hormones exert their biological effects through highly complex and integrated signaling pathways which often involve the hormone receptors. Chemicals can alter endocrine function through a variety of molecular mechanisms, some of which involves these receptors, resulting in a wide spectrum of developmental and disease outcomes [2, 3].
The terms endocrine disruptor or endocrine disrupting chemicals (EDCs) were coined in the early 1990s [4] following increasing concerns and awareness among the scientific community and public on the deleterious health effects caused by these compounds. The World Health Organization defined EDCs as "exogenous substances that alter function(s) of the endocrine system and consequently cause adverse health effects in an intact organism, or its progeny, or (sub)-populations", and potential EDCs as those chemicals that "possess the properties that might be expected to lead to endocrine disruption" [5]. A significant portion of the chemicals humans are exposed to on a daily basis are among the putative EDCs. They are found in drinking water as effluents from industry and agriculture [6, 7]. Pharmaceutical [8], pesticide [9], plasticizer [10] and natural plant compounds such as phytoestrogens [11] are among the wide range of EDC sources. EDCs span an enormous range of chemical structure classes, and have the potential to cause a wide range of adverse health effects, where the developing organism is particularly sensitive [12, 13], including stillbirths [14] and malformations of reproductive organs [8]. EDCs have also been implicated in a wide range of other adverse health effects including infertility or reduced fertility, precocious puberty, various cancers (e.g. breast [15, 16], cervical and vaginal cancers [17–19]), obesity, diabetes, cardiovascular [20, 21], and immune disorders[22], among others.
In response to growing evidence and concerns, the U.S. government moved swiftly to develop screens to detect potential EDCs, e.g. the Endocrine Disruptor Screening Program (EDSP) (http://www.epa.gov/endo/pubs/edspoverview/chronology.htm) spearheaded by the Environmental Protection Agency (EPA) [23, 24]. The Food and Drug Administration (FDA) had also developed a number of databases, including the Endocrine Disruptor Knowledge Base (EDKB) [25], in the mid-1990s, and the more recent Estrogenic Activity Database (EADB) [26] as resources for the study of EDCs. Apart from that, a new guidance document on endocrine disruption potential of drugs had also been published by the FDA to monitor EDCs in pharmaceutical products (http://www.fda.gov/downloads/drugs/guidancecomplianceregulatoryinformation/guidances/ucm369043.pdf ).
Many hormone receptors are members of the nuclear receptor superfamily which modulate various endocrine mechanisms, often through acting as transcription factors, regulating gene expression involving development, homeostasis and metabolism [
27
]. The estrogen receptors (ERs), particularly the ERα subtype, have been extensively studied with substantial evidence accumulated of altered endocrine function through binding to xenoestrogens [
3
,
26
,
28
–
31
]. The ER is a nonspecific binder that interacts with structurally diverse ligands, altering normal estrogen signaling through genomic and non-genomic pathways [
31
–
34
]. Xenoestrogens can act as agonists, partial agonists, or antagonists to ERs, altering normal gene expression levels and functions modulated by endogenous hormones [
22
]. The binding target of these xenoestrogens is the ligand binding domain (LBD) of the ERs. The LBD consists of twelve α-helices (H1-H12) and a beta-hairpin (Figure
1a
). The H12 of LBD plays the key role of a molecular switch [
35
] through adopting distinct ligand-dependent conformations crucial for receptor activation [
36
] (Figure
1b
and
1c
respectively). When bound to an agonist, the LBD adopts an active conformation: H12 rests across H3 and H11, forming a groove to accommodate co-regulator binding and facilitate downstream activation process. When bound to an antagonist, H12 is displaced from this position resulting in the distortion of this co-regulator binding groove and the inhibition of receptor activation [
37
].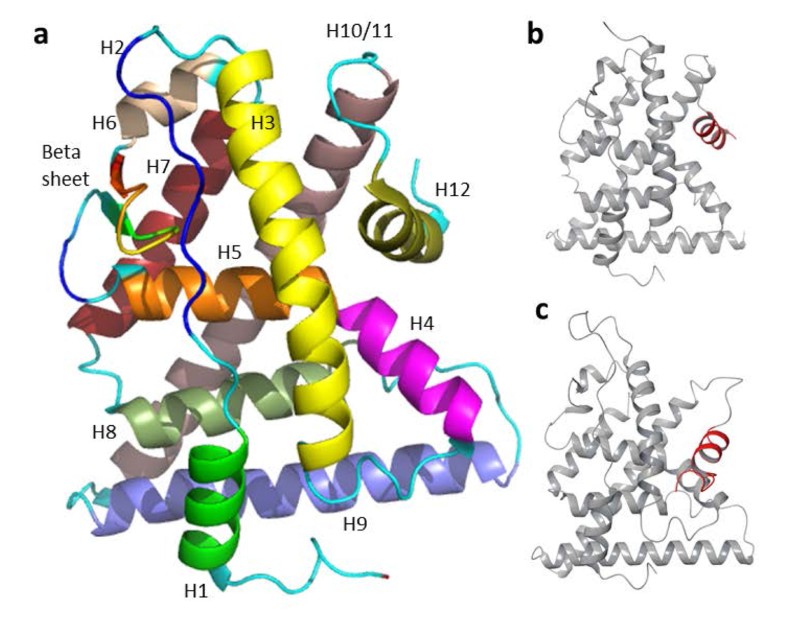 A battery of validated assays, both in vivo and high-throughput in vitro, have been developed to screen for mimics that act either as estrogens or anti-estrogens, but the cost of comprehensively testing hundreds of thousands of man-made chemicals would be formidable [38]. The timeline would also be highly protracted, given that in over a decade, barely the tip of the iceberg of the chemical universe, a few chemical classes, have been tested [38, 39]. Finally, experimental techniques thus far validated are not comprehensive, as developmental endpoints, means to detect levels of no biological effect, and mixture and metabolism effects, among other limitations, are not adequately represented. Suffice it to say that a full EDC assessment across the universe of chemicals constitutes a daunting problem, and any in silico means to reduce costs and streamline the process would be a welcome prospect [28].
Computational techniques have often been used to complement experimental studies in order to assist with data analysis as well as improve results. In this instance, rapid in silico screening can be used not only to help identify and prioritize which class of compounds to screen, but also reduce the number of compounds to be tested. Docking is one of the popular techniques commonly used for a number of purposes, e.g. ligand pose prediction, ligand binding affinity prediction as well as identifying potential actives from a library of decoys in virtual screening (VS) [40]. In the past, docking studies performed on ERs have been carried out. A number of these studies developed models for the purpose of screening for potential ligands/EDCs based on either docking alone or in combination with three-dimensional (3D)-QSAR models: Zhang et al. [41] looked at both ERα and ERβ subtypes and successfully developed QSAR and docking models using large sets of ligands from various sources for the identification of potential EDCs; also looking at both ERα and ERβ subtypes, Wolohan et al.[42] built their model based on 3D-QSAR and docking using a diverse set of 36 estrogen ligands. While they demonstrated that the CoMFA models could correctly rank-order the ligands according to their relative binding affinities, and thus could be used for screening of novel subtype-selective ligands, incorporating results from docking failed to introduce further improvement to the existing predictions. Schapira et al. [43] docked over 5000 compounds across a range of nuclear receptors including the ERs and showed that VS performed on these receptors could be used to identify hits. Finally, Huang et al. [44] assembled a database called the Directory of Useful Decoys (DUD) using 2950 ligands across 40 targets (ERs included). Varying levels of enrichment were reported for the different targets studied, amongst which the results for ER had been found to be good with significant early enrichment. The above body of work shares a common outcome: the docking results demonstrate that models have utility to differentiate potential ligands (binders) from decoys (non-binders). While these methods have been shown to be useful, they however, (1) lack the ability to distinguish agonists from antagonists, and are thus unable to obviate or reduce experimental assays for further understanding of the mechanisms of actions; and (2) do not reflect the dynamic biological processes in the body whereby ERα and ligands interact with each other, and depending on the ligand type, leads to the adoption of distinct ERα conformations.
In view of this and as part of our continued research interest in EDCs (past works include [25, 26, 28–30, 45–49]), we have developed an approach that can differentiate ligands in accordance with likelihood of activating or inhibiting or blocking the receptor (i.e. agonist or antagonist, respectively) and more closely mimics the dynamic nature of competing ligand-ERα complexes where agonists and antagonists impart different conformation changes not represented by a single rigid conformation found in prior docking models. Two separate docking models (SDMs) were employed, one based on an ERα agonist conformation crystal structure and the other based on ERα antagonist crystal structure. The competitive docking approach (CDA) uses both SDMs in that the agonist and antagonist SDMs compete in determining whether an individual ligand is assigned as an agonist or antagonist. The CDA takes into account and compares the non-covalent interactions between a specific ligand and the two separate docking models based on the respective docking scores of the docked complex and, therefore, better reflects the receptor-ligand interaction in reality whereby the more energetically favorable complex is favored. A ligand is assigned to be (in a winner take all strategy) the type, agonist or antagonist, corresponding to the most favorable docking score from the individual SDMs. We tested our models using two sets of ER ligands (one extracted from PDB crystal structures and another from the DUD [44]) and assessed the quality of our SDMs and CDA through virtual screening, using enrichment factors (EFs) as the performance metric. Results obtained showed that our CDA was able to differentiate agonists and antagonists with considerable accuracy and that the qualities of the CDA as well as its individual components (agonist and antagonist SDMs) are comparable to the work of others [44].
Results and discussion
Docking results of crystallographic ligands
The difference in the prediction accuracy can also be seen as a product of rigid protein docking. Docking a flexible ligand to a rigid receptor, as in this study, is a common practice. However, fixing protein conformation has long been seen as a limitation of docking as proteins are conformationally dynamic in reality [59, 60]. Unfortunately, allowing full protein flexibility is extremely computationally expensive and remains impractical with the current state-of-the-art [59]. Partially flexible docking i.e. allowing side chain flexibility of a few key residues in the binding pocket [59–61] is a reasonable trade-off between computational time and accuracy and can be used for improving this docking study.
Docking results of DUD ERα ligands
Table
5
gives predictions by agonist and antagonist SDMs versus truth for ligands from the DUD database containing ER binders for benchmarking. The overall results are highly reminiscent of those obtained in the crystallographic ligand set. No agonists could be differentiated from antagonist. Of 67 true agonists, 66 docked to both the agonist and antagonist ERα structures, such that no type determination could be made. The remaining agonist docked to only the antagonist ERα structure, and was thus falsely typed. A better outcome was again observed for the antagonists. Of the 39 true antagonists, 34 docked to only the antagonist ERα structure, and were correctly typed, and two were unable to dock to any of the two ERα structures, thus were predicted as non-binders, while the remaining three docked to both ERα structures such that no type determination was possible.
Table 5
SDMs predictions of DUD ER ligand set
Ligand type (truth)

Total (Predicted)

Agonist

Antagonist

Ligand type (Predicted)

Not determinable (docks to both agonist and antagonist SDMs)

66

3

69

Non-binder (docks neither agonist nor antagonist SDM)

0

2

2

Agonist (docks agonist SDM only)

0

0

0

Antagonist (docks antagonist SDM only)

1

34

35

Total (truth)

67

39
Table
6
gives predictions by CDA versus truth for the DUD ligands. The CDA again was superior in agonist prediction than the SDMs. CDA correctly predicted 70.1% (47 of 67) agonists and 92.3% (36 of 39) antagonists, as compared to SDMs: 0% and 87.2% for agonists and antagonists respectively. The overall accuracy of CDA for differentiating between agonists and antagonists was improved to 78.3%, from 32.1% of the SDMs. The improvement in typing agonists versus antagonists is similar for the DUD ligands as for the crystallographic ligands, with the majority of improvement occurring for the agonists.
Table 6
CDA predictions of DUD ER ligand set.
Ligand type (truth)

Total (Predicted)

Agonist

Antagonist

Ligand type (Predicted)

Not determinable (docks to both agonist and antagonist SDMs)

-

-

-

Non-binder (docks neither agonist nor antagonist SDM)

0

2

2

Agonist (docks agonist SDM only OR dock score for agonist SDM < antagonist SDM)

47

1

48

Antagonist (docks antagonist SDM only OR dock score for antagonist SDM < agonist SDM)

20

36

56

Total (truth)

67

39
Figure
8
compares the prediction performance of SDMs and CDA for both the crystallographic and DUD ligands. Clearly, the CDA (in red) performed consistently and significantly better than SDMs (in yellow), in all cases, highlighting the predictive accuracy improvement using CDA. While both SDMs and CDA performed comparably well in antagonist prediction, most improvement was in agonist prediction.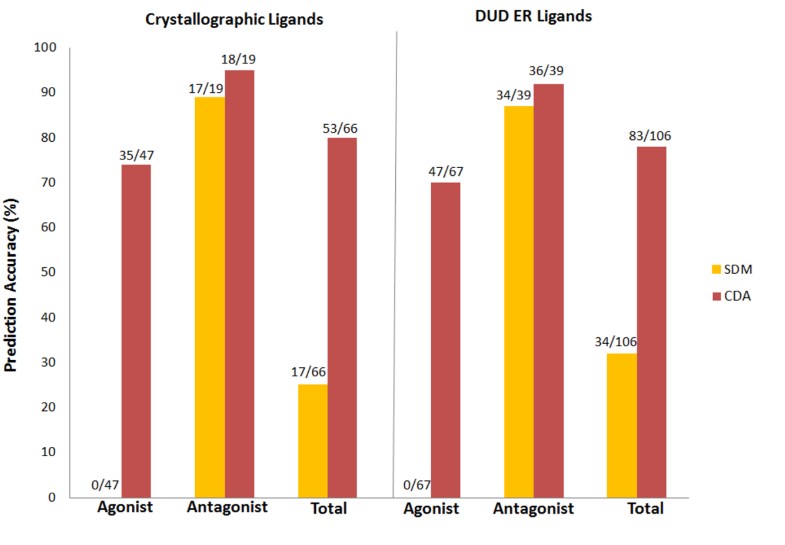 Using 199 molecular descriptors, Li et al [69] developed support vector machine, k-NN, probabilistic neural network, and C4.5 decision tree structure-activity relationship (SAR) models for predicting ER agonists based on a data set of 243 agonists and 463 non-agonists. One 5-fold cross validation was used to estimate the performance of their models: 66.3-83.8% agonist prediction accuracy and 83.8-91.1% non-agonist prediction accuracy. As a comparison, our CDA had 74.5% and 70.1% agonist prediction accuracy and 94.7% and 92.3% antagonist prediction accuracy for the crystallographic and DUD ER ligands, respectively. Though our results were similar to those from Li et al. [69], we should point out that the comparison is not a head-to-head comparison. First, majority of the non-agonists used by Li et al. are ER non-binders instead of antagonists. Therefore, more precisely, Li et al. models differentiate between ER agonists and ER non-binders - this, in comparison, is easier than differentiating the biological functions of ER binders (between agonist or antagonist), which is our objective. Second, the performance of the SAR models was estimated by only one run of 5-fold cross validation and, thus, the validation results are not robust: different division of the data set into five folds most likely have different performance. In contrast to this, our method is protein structure based and, thus, ligand set independent.
Virtual screening results
The VS calculation was done for the agonist SDM after combining 67 true agonists and 2570 decoys from DUD. The calculation was repeated for the antagonist SDM after combining 39 true antagonists and 1448 decoys from DUD. Next, the antagonist SDM result was obtained for the 67 agonists and 2570 decoys, and the agonist SDM results obtained for the 39 antagonists and 1448 decoys. Finally, the agonist SDM and antagonist SDM results for each dataset were combined with the CDA. The VS performances were analyzed using EFs plotted in Figure
9
. The agonist and antagonist SDMs had peak enrichments of about 40 and 22, respectively. A high EF of about 40 was obtained for the agonist SDM in the early stage of the screening, with a steep subsequent decrease with increasing ligands screened, indicating that most of the agonists were detected at a very early stage of screening (less than 1%). Agonist screening with the CDA, on the other hand, produced a peak EF of 24 at 2% chemicals, indicating that more agonists were screened out compared to agonist SDM. The enrichment for the antagonist SDM and CDA were generally similar in shape and magnitude, and both less than for agonists, in agreement with the results reported by Huang
et al
. [
44
] but in contrast to docking results (Tables
3
,
4
,
5
,
6
) that showed higher accuracy for antagonists.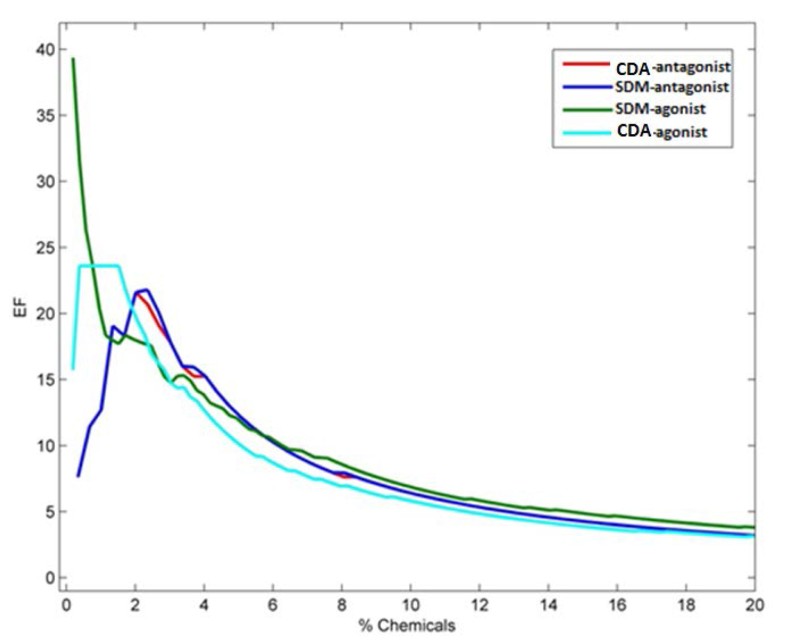 In order to evaluate the quality of the individual docking models used in the CDA, a comparison of enrichment for our SDMs and those reported by Huang
et al
. (DUD database) [
44
] was made and the results summarized in Table
7
. Results were comparable at 1% and 20% of chemicals screened. EF
max
of our agonist SDM was higher than Huang
et al
., i.e. 39.4 vs. 29.6. However, for antagonist screening, Huang
et al
. reported a much higher EF
max
of 101.6, compared to our 21.8. The calculation to obtain the remarkably high EF
max
value of 101.6 was impossible according to equation (
1
) and was not demonstrated in the published article, therefore warranting further verification.
Table 7
Comparison of enrichment factors of SDMs with literature.
Agonist

Antagonist

SDM

Huang et al.

SDM

Huang et al .

1%

20.5

19.2

12.7

12.7

2%

17.9

-

21.6

-

3%

14.8

-

17.8

-

4%

13.9

-

15.3

-

5%

12.1

-

12.2

-

20%

3.8

4.5

3.2

1.3

Max

39.4

29.6

21.8

101.6*
Differences between the EFs of SDMs and CDA shown in Figure
9
occur in early stages of < 3% of chemicals screened. Table
8
shows that in the 1% to 3% interval, CDA performed better than SDM. Although the differences were modest (one should bear in mind the promiscuity of ERs when it comes to ligand binding), the result adequately demonstrated the potential usefulness of CDA in VS.
Table 8
Comparison of enrichment factors of SDMs and CDA.
Agonist

Antagonist

SDM

CDA

SDM

CDA

1%

20.5

23.6

12.7

12.7

2%

17.9

19.3

21.6

21.6

3%

14.8

14.8

17.8

17.8

4%

13.9

12.7

15.3

15.3

5%

12.1

10.3

12.2

12.2

20%

3.8

3.1

3.2

3.2

Max

39.4

23.6

21.8

21.6
Conclusions
We have developed a competitive docking approach for performing ligand-docking in ERs. The quality of the individual components (SDMs) on which the CDA depends was evaluated and found comparable to other published models [44]. The CDA was demonstrated to provide discriminatory power to segregate agonists and antagonists at useful accuracy. It was also shown to provide comparable enrichment to the results of Huang et al. [44] in a large data set comprising true and decoy ligands. The CDA could be useful as part of an EDC screening program to identify and rank potential binders to aid setting of testing priority. The ability to distinguish agonists from antagonists could be further useful since some compounds could be tested in either an agonist or antagonist assay, but not both, reducing cost. The CDA approach is extensible to other receptor targets both to screen for potential binders and to differentiate between agonists and antagonists, and is as applicable in drug discovery as for regulatory testing purposes.
Abbreviations
3D:

three-dimensional
CDA:

competitive docking approach
EADB:

Estrogenic Activity Database
EDCs:

Endocrine disrupting chemicals
EDKB:

Endocrine Disruptor Knowledge Base
EDSP:

Endocrine Disruptor Screening Program
EF:

enrichment factor
EPA:

Environmental Protection Agency
ER:

estrogen receptor
FDA:

Food and Drug Administration
PDB:

protein data bank
SAR:

structure-activity relationship
SDM:

separate docking model
SP:

standard precision
VS:

virtual screening
XP:

extra precision.
Declarations
Acknowledgements
This research was supported in part by an appointment to the Research Participation Program at the National Center for Toxicological Research (Hui Wen Ng, Wenqian Zhang and Heng Luo) administered by the Oak Ridge Institute for Science and Education through an interagency agreement between the U.S. Department of Energy and the U.S. Food and Drug Administration. This project was partially supported by grants from the National Center for Research Resources (P20RR016460) and the National Institute of General Medical Sciences (P20GM103429) from the National Institutes of Health. The content is solely the responsibility of the authors and does not necessarily represent the official views of the Food and Drugs Administration, the National Center for Research Resources or the National Institutes of Health.
Declarations
Publication costs of this article were funded by the US government.
This article has been published as part of BMC Bioinformatics Volume 15 Supplement 11, 2014: Proceedings of the 11th Annual MCBIOS Conference. The full contents of the supplement are available online at http://www.biomedcentral.com/bmcbioinformatics/supplements/15/S11.
Authors' Affiliations
(1)
Division of Bioinformatics and Biostatistics, National Center for Toxicological Research, U.S. Food and Drug Administration, Jefferson, USA
(2)
University of Arkansas at Little Rock/University of Arkansas for Medical Sciences Bioinformatics Graduate Program, Little Rock, Arkansas, USA
Copyright
© Ng et al.; licensee BioMed Central Ltd. 2014
This article is published under license to BioMed Central Ltd. This is an Open Access article distributed under the terms of the Creative Commons Attribution License (http://creativecommons.org/licenses/by/4.0), which permits unrestricted use, distribution, and reproduction in any medium, provided the original work is properly cited. The Creative Commons Public Domain Dedication waiver (http://creativecommons.org/publicdomain/zero/1.0/) applies to the data made available in this article, unless otherwise stated.