Research article

Open Access
Comparative mapping of sequence-based and structure-based protein domains
BMC Bioinformatics
2005
6:77
Received: 03 November 2004
Accepted: 25 March 2005
Published: 25 March 2005
Abstract
Background
Protein domains have long been an ill-defined concept in biology. They are generally described as autonomous folding units with evolutionary and functional independence. Both structure-based and sequence-based domain definitions have been widely used. But whether these types of models alone can capture all essential features of domains is still an open question.
Methods
Here we provide insight on domain definitions through comparative mapping of two domain classification databases, one sequence-based (Pfam) and the other structure-based (SCOP). A mapping score is defined to indicate the significance of the mapping, and the properties of the mapping matrices are studied.
Results
The mapping results show a general agreement between the two databases, as well as many interesting areas of disagreement. In the cases of disagreement, the functional and evolutionary characteristics of the domains are examined to determine which domain definition is biologically more informative.
Keywords
Protein Data Bank
Pfam Domain
Apical Domain
Domain Definition
Pfam Family
Background
The concept of protein domains has gained increasing interest from the biology research community because of its importance in protein classification [1], protein function assignment [2], and protein engineering [3]. Protein domains are generally considered as protein fragments of common structures which may independently fold [4] or have their own functions [5]. They have also been treated as evolutionary units [6]. Protein domains function as the building blocks of proteins and are often recombined to form different proteins [5], leading to high redundancy in protein structures. Currently, a few thousand protein domains have been identified, a total much smaller than the number of proteins. Classifying proteins based on their constituent domains is therefore one of the most effective and efficient approaches to organize protein data both by structures and by evolutionary relationships. However, such a classification requires the identification of domain composition for proteins, which is by no means an easy task. The challenge lies in the ambiguity of domain definitions, as well as the lack of useful structural information about most proteins.
Two types of approaches have been widely used to assign domains: one based on the three-dimensional (3D) structures of proteins and the other based on protein sequences. Structure-based approaches define domains primarily according to the compactness and conservation of protein structural regions, generally described as globular modules. The domain annotation is best achieved through an expert's visual inspection of protein three-dimensional structures. Currently, the Protein Data Bank (PDB) [7], the primary protein structural database, contains 26,610 protein structures. A number of structure-based domain classification databases such as SCOP (Structural Classification of Proteins) [1], FSSP (Families of Structurally Similar Proteins) [8], and CATH (Class Architecture Topology Homology) [9] are constructed using the available protein structures so that proteins can be easily analyzed for the presence of domains. Among them, the SCOP database is manually curated and considered the most reliable domain classification. However, this classification covers only about 2–3% of sequenced proteins. At this time, the Swiss-Prot+TrEMBL [10] sequence databases together contain over 1.5 millon entries. The gap between the number of sequenced proteins and that of proteins with experimentally determined 3D structures is still increasing, which has greatly constrained the development of structure-based protein classification databases. Although 58% of sequences can be modeled using comparative modeling [11], the accuracy of such comparative models decreases sharply below the 30% sequence identity cutoff. An alternative classification schema assigns domains to proteins by only sequence information. Sequence-based domain databases constructed with this classification schema include Pfam [12], ProDom [13] and InterPro [14]. These databases define domains based on sequence similarity and implied evolutionary relationships. In this manuscript we focus on the Pfam database in which domain boundaries are manually assigned by experts.
Since domains are structurally and evolutionarily independent units, we may ask whether either a structure-based or sequence-based classification alone is sufficient and how well they agree. A previous study compared three structure-based classifications: SCOP, CATH and FSSP [15], and concluded that the majority of their classifications agreed. Two sequence-based domain databases were also compared [16] and discrepancies between the two databases were attributed to their different philosophies. In this paper, we strive to improve domain definitions through examining the correspondence between sequence-based domains and structure-based domains, using the domain definitions in SCOP as the representative for structure domains and those of Pfam as the representative for sequence domains. Elofsson and Sonnhammer [17] compared the Pfam and SCOP databases in 1999. According to their comparison, 70% of the SCOP domain families and 57% of the Pfam families have counterparts in the other databases. However, since then, both databases have greatly increased in size and various revisions and updates have been made. For example, the domain representation in Pfam was revised to model discontinuous domains [12]. Therefore, it is now timely and important to revisit this topic and compare the two types of domains under the new setting. Furthermore, the aim of this comparison is to some extent different from what Elofsson and Sonnhammer had. Other than examining the extent that the two databases overlap, we focus more on their differences. When inconsistencies in domain definitions occurs, we propose to determine which domain definition is biologically more meaningful by inspecting the evolution of those domains.
We directly map SCOP domains to Pfam domains based on their corresponding locations in their member sequences. The approach assigns a mapping score to the pair of domains under comparison to quantitatively represent the quality of the match.
The mapping reveals a moderate agreement among Pfam families and SCOP domain families. Five types of relationships between the two classifications are clearly indicated in the mapping results and we therefore put them into five categories. Statistical analysis and individual instances are provided for each category of mapping. In the case of disagreement in domain classification, information from past literature, such as known domain functions, is used as external validation. We also propose to examine the evolutionary history of each individual domain when disagreement occurs.
An overview of SCOP and Pfam
The SCOP [1] database is manually curated by experts. It orders all proteins with known structures, according to their evolutionary and structural relationships. The database adopts a hierarchical organization: domains are grouped into families, then superfamilies, folds and classes in the highest level of the hierarchy.
Pfam [12] contains hidden Markov model based profiles (HMM-profiles) of many common protein domains based on multiple sequence alignments. While the construction of the HMM-profiles is semi-automatic, expert knowledge contributes in the grouping of proteins, the aligning of protein sequences, and the quality control of the HMM-profiles. Although Pfam is subclassified by 'type' in 2002 as 'family', 'domain', 'repeat' and 'motif', its organization is generally considered to be flat. We hence do not differentiate the subtypes in this comparison.
The Pfam database contains two parts: one is the curated section called Pfam-A and the other is an automatically generated supplement called Pfam-B which represents small families taken from the PRODOM database that do not overlap with Pfam-A. In this study, only Pfam-A families are mapped to SCOP domain families.
Methods
Materials
All PDB protein sequences, based on PDB SEQRES records, with less than 95% identity to each other were downloaded from the ASTRAL Compendium [18, 19]. This data set contains 8259 protein chains. Pfam 14.0 was downloaded from http://pfam.wustl.edu/. Only Pfam-A families were used for the comparison. This version contains 7459 Pfam-A families and corresponding HMM-profiles. The HMMER package, version 2.3.2, was used to compare PDB protein sequences to Pfam-A HMM-profiles. The Pfam 'trusted cutoff' was used to determine whether a Pfam domain matches a PDB chain. The SCOP domain definitions were from the SCOP parsable files version 1.65. Because the SCOP parsable files are based on the PDB ATOM records, the ATOM records were mapped to PDB SEQRES records using the RAF mapping provided by ASTRAL before the comparison.
We propose to map the Pfam-A families to SCOP domain families based on their locations in member sequences. Each Pfam-A family or SCOP domain family is treated as a set of member protein sequences. A mapping between a Pfam family and a SCOP domain family is defined as follows: (1) they have at least one member protein sequence in common; (2) their locations in the common protein sequences overlap; and (3) their mapping score is larger than the pre-set threshold
m
. For each PDB protein sequence, a comparison was then made for the overlaps and differences in the SCOP domain families and the Pfam families. The process of mapping is illustrated with Figure
1
.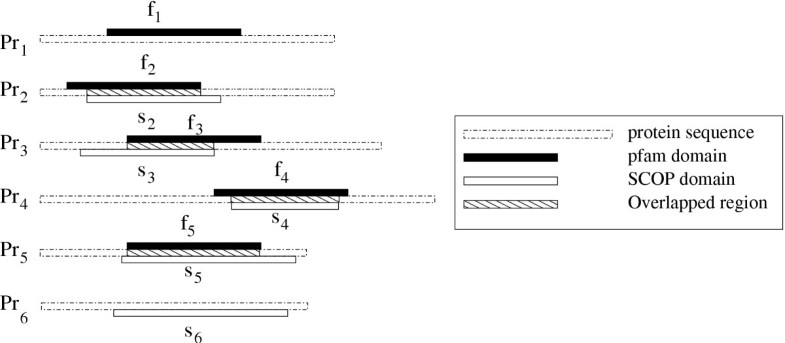 Mapping matrix
Ideally, if a SCOP domain family and a Pfam family are defined at the same location over the same set of protein chains, then they map exactly to each other. However, in most cases, the mapping is not exact, i.e. they only partially overlap at individual member protein sequences or their member sequences are not all the same. In order to measure the extent of overlap, a mapping score is assigned to each pair of SCOP domain families and Pfam families. Intuitively, if the SCOP domain family and the Pfam family have more members in common and their corresponding protein sequence segments overlap more, then they are more likely to be mapped to each other. However, this mapping criteria favors those domains whose frequencies are high. Since we use only PDB protein chains in the comparative mapping, this data set may be biased towards those proteins of interests to biologists or whose structures are easier to resolve. For both domain models, we observe a power law distribution of domain frequency, where a few domains occurs in a large number of protein sequences and many domains occur in very few protein sequences. To account for the frequencies of domains, the mapping score is normalized by the average frequency of the two domains under comparison. Let s i denotes the i-th protein domain in SCOP and f j the j-th protein domain in Pfam. The mapping score M(s i , f j ) is defined as
where
P
represents the set of PDB protein chains with both domain
s
i
and domain
f
j
;
p
k
is the
k
th protein chain in the set;
overlap
(
,

) is the length of the overlapped segment on
p
k
; and
length
(
) is the length of
s
i
on
p
k
.
freq
(
s
i
) and
freq
(
f
j
) represent the frequencies of the
i
th SCOP domain and
j
th Pfam family, respectively. The factor

is to counteract the influence of frequency differences between protein domains. Here
min
(
length
(
),
length
(

)) is used as the denominator because we want to distinguish the cases where two domains overlap in a small part of their coverage and where one domain is completely covered by the other domain, as shown in Figure
2
.

Properties of the mapping matrix
The mapping scores for all SCOP and Pfam domain pairs form a matrix M. The matrix representation of the mapping has some nice properties. First consider mapping the SCOP domain s i to all possible Pfam domains. We look at the i-th row of M. The number of nonzeros,

, in the row indicates how many Pfam domains that the SCOP domain s i could possibly map to. Among the possible mapping, the most likely Pfam domain

that the SCOP domain s i will map to is
Note that the number of nonzeros, s i maps to many Pfam domains. However, sometimes, two domains overlap very insignificantly, say only a few amino acid residues. To eliminate the insignificant mapping, we set a threshold, m, and require mapping to satisfy M ij ≥ m.
Next consider mapping the Pfam domain f j to all possible SCOP domains. We look at the j-th column of M. The number of nonzeros,

, in the column indicates how many SCOP domains could be mapped to. The most likely SCOP domain

that f j will map to is
The threshold m is again used to reduce insignificant mapping.
Conclusion
In this paper, we discuss the comparative mapping of structure-based domains to sequence-based domains in order to address the question of how each of these models individually captures the evolutionary, structural and functional features of protein domains. The ultimate purpose of our comparative mapping is to provide insight into protein domain definitions.
Using domain definitions from SCOP and Pfam, we mapped the two types of domain definitions to each other using their location information for each domain instance. Mapping results reveal a general agreement between the two types of domain definitions. To further analyze the problem, we introduce several subcategories (one/many SCOP domain to one/many Pfam domain, and vice versa), and provide detailed studies of the mapping using examples from each category.
In the subcategory of one SCOP to/from one Pfam mapping, often the mapping is not perfect: the two domains only partially overlap. Analysis shows that around 62% of the cases of one-to-one mapping agree on 90% or more of their coverage. The differences are usually in the domain boundaries. This result suggests that evolutionary history of the mapped region versus the unmapped region may be examined to see how those unmapped portions are evolutionarily related to the mapped region.
In many cases, a SCOP domain family is mapped to a series of repeats of a Pfam family. These Pfam families, such as LRR, are more likely domain components without the properties of structural domains. Therefore, we would suggest Pfam remove those families. The mapping results could also be used to infer classification for SCOP domain families that do not belong to the true classes (classes larger than 7). For example, in the cases that a set of SCOP domains are mapped to one Pfam family, structural and functional relationships are suggested among the set of SCOP domains. This information may be useful for the assignment of SCOP domains to true SCOP classes. On the other hand, the Pfam database employs a flat organization and fails to indicate the relationship between Pfam families. Although Pfam introduced clans to reflect the relationship between different families, the building of clans needs input from experts and as a result, there only 15 clans in Pfam release 14.0. Our comparison of the mapping results with the Pfam clans showed that members of a clan usually correspond to a SCOP family or a SCOP superfamily.
Therefore, the comparative mapping results may be used to help Pfam generate the clans. Perhaps most interesting, several sharp disagreements between SCOP domain families and Pfam families have been discovered, and studied in some detail. Further examination of those domain families using phylogenetic analysis would be beneficial. We have proposed using evolutionary correlation between domains to measure the fitness of the domain classification. Clearly, further studies on these sharp differences are necessary and future research may be targeted in this area.
Declarations
Acknowledgements
This work was funded in part by grants from the US Department of Energy, Office of Biological Energy Research and Office of Office of Laboratory Policy and Infrastructure, through an LBNL LDRD, under contract No. DE-AC03-76SF00098. JMC was supported by NIH grant 1-P50-GM62412. We thank Hui Xiong and Xiaofeng He for helpful discussions.
Authors' Affiliations
(1)
Physical Biosciences Division, Lawrence Berkeley National Laboratory, Berkeley, USA
(2)
Computational Research Division, Lawrence Berkeley National Laboratory, Berkeley, USA
(3)
School of Information Sciences and Technology, The Pennsylvania State University, USA
Copyright
© Zhang et al; licensee BioMed Central Ltd. 2005
This article is published under license to BioMed Central Ltd. This is an Open Access article distributed under the terms of the Creative Commons Attribution License (http://creativecommons.org/licenses/by/2.0), which permits unrestricted use, distribution, and reproduction in any medium, provided the original work is properly cited.