Research article
Open Access
Wavelet-based identification of DNA focal genomic aberrations from single nucleotide polymorphism arrays
BMC Bioinformatics
2011
12:146
Received: 13 October 2010
Accepted: 11 May 2011
Published: 11 May 2011
Abstract
Background
Copy number aberrations (CNAs) are an important molecular signature in cancer initiation, development, and progression. However, these aberrations span a wide range of chromosomes, making it hard to distinguish cancer related genes from other genes that are not closely related to cancer but are located in broadly aberrant regions. With the current availability of high-resolution data sets such as single nucleotide polymorphism (SNP) microarrays, it has become an important issue to develop a computational method to detect driving genes related to cancer development located in the focal regions of CNAs.
Results
In this study, we introduce a novel method referred to as the wavelet-based identification of focal genomic aberrations (WIFA). The use of the wavelet analysis, because it is a multi-resolution approach, makes it possible to effectively identify focal genomic aberrations in broadly aberrant regions. The proposed method integrates multiple cancer samples so that it enables the detection of the consistent aberrations across multiple samples. We then apply this method to glioblastoma multiforme and lung cancer data sets from the SNP microarray platform. Through this process, we confirm the ability to detect previously known cancer related genes from both cancer types with high accuracy. Also, the application of this approach to a lung cancer data set identifies focal amplification regions that contain known oncogenes, though these regions are not reported using a recent CNAs detecting algorithm GISTIC: SMAD7 (chr18q21.1) and FGF10 (chr5p12).
Conclusions
Our results suggest that WIFA can be used to reveal cancer related genes in various cancer data sets.
Keywords
Wavelet CoefficientCancer Related GeneSingle Nucleotide Polymorphism ArrayCopy Number AberrationCircular Binary Segmentation
Background
With the recent advances of cancer studies at a molecular level, DNA copy number aberrations (CNAs) have been studied as important causes and consequences in the initiation, development, and progression of cancer. To date, many researchers have focused on the detection of chromosomal regions having amplifications and deletions using arrays of comparative genomic hybridization (CGH) data sets. These studies have generated valuable observations about cancer metastasis [1–7]. For example, it is now known that many oncogenes and tumor suppressor genes are located in regions of amplifications and deletions, and that chromosome regions with aberrations can be used to distinguish between cancer types. Also, new cancer related genes have been discovered. These advances have been accelerated by the development of computational methods and software [8–14]; segmentation and denoising methods such as circular binary segmentation (CBS) [8], wavelets [9], and the Gaussian-based likelihood approach (GLAD) [10] have been developed in order to identify true aberrations from background noise in a single sample. And with the accumulation of copy number aberration data sets, it has become increasingly important to find concordant aberrations in multiple samples. Thus, algorithms such as the minimum common region (MCRs) [15] and significance testing for aberrant copy number (STAC) [16] have been developed to address this issue.
However, even though each method can identify aberrant regions, these regions are not concordant between the different methods. As one possible explanation for this lack of concordance, Beroukhim et al. (2007) [17] assumed that many aberrations randomly occur, though most methods do not explicitly consider the background rate of random aberrations. For instance, most locations of chr7 and chr10 are amplified and deleted, respectively, in short-term survival patients of glioblastoma multiforme (GBM) [18], though only a few of their genes are known oncogenes and tumor suppressors in GBM. As such, if random aberrations are not considered, most chr7 and chr10 genes will be regarded as relevant. Hence, an important issue is to distinguish cancer driving genes, i.e., genes involved in cancer development, from broad chromosomal aberrations. Fortunately, the amount of aberrations of driving genes has been observed to be larger than in their neighboring genes, and these aberrations are likely to occur consistently across multiple cancer patients. A few algorithms, such as the genomic identification of significant targets in cancer (GISTIC) [17], have been developed in attempts to incorporate these issues and are used to detect focal aberrations. Note that the term "focal aberrations" is used here to refer to relatively short, but consistently aberrant, regions in multiple samples. The use of GISTIC revealed that these focal aberrations contain many cancer related genes. In a comparison of GISTIC to MCR [15], via three independent data sets, GISTIC consistently identified more cancer related genes than MCR. In GISTIC, it first selects copy number aberration regions by applying a segmentation method to each sample, and then sums the amount of aberrations from the multiple samples. Then, differences between the aberrations and their neighbors are computed using a peel-off method. However, GISTIC has an inherent weakness: differences between neighbors in individual samples may cancel out since it summates log2 ratios in all aberrant samples first. The important difference between GISTIC and our proposed approach is that we first consider the differences between neighbors in an individual sample, before identifying focal regions in multiple samples. In this study, we propose a novel algorithm, referred to as the wavelet-based identification of focal genomic aberrations (WIFA), to address the following issues: (i) distinguish signals from noise among probes having high aberrations, (ii) detect focal aberrations by considering the differences between aberrations and their neighbors, as well as the amount of aberrations, and (iii) consider the consistency of aberrations in multiple samples.
Wavelet analysis is a mathematical technique for representing data. Wavelets can be used to remove noise from observed data (contaminated by noise) while preserving important features of true data; this process is called wavelet denoising. In this study, we use a variant of the translation-invariant level dependent wavelet denoising method in [19] to obtain translation-invariant approximations of the smooth (low-frequency) part of true data y LOW , and of the local (high-frequency) behavior of true data y HIGH , from the observed data y. In brief, y LOW is based on the averages of the neighboring values of y, and y HIGH is based on the differences of neighboring values of y, followed by thresholding. Thresholding is only performed in y HIGH since it is likely that noise would be more pronounced in the high-frequency content. After obtaining y HIGH via the wavelet analysis, we obtain

for each sample by adjusting some obvious artifacts in y HIGH , and then cluster continuous focal aberrations across multiple samples. By applying this approach to GBM and lung cancer data sets, we are able to find previously known cancer related genes in the focal aberrations. In addition, a similar procedure based on y LOW enables us to detect broad regions of chromosomal aberrations.
The difficulty of assessing the performance in detecting focal aberrations is that the true answer is often not known, since regions containing cancer related genes still need to be revealed. Hence, we compare genes identified by our approach to known cancer genes obtained from GISTIC [17]. Based on this comparison, in addition to confirming regions identified by GISTIC, we are able to find new regions not previously identified by GISTIC; literature shows that these new regions contain known oncogenes. In addition, WIFA is compared to STAC and MCR, outperforming these two methods both in the simulation and GBM data. The source code for WIFA is available at http://www.gcancer.org/wifa/WIFA.html.
Results
Broad and focal aberrations in glioblastoma
We applied our approach to 154 GBM tumor samples [
17
]. After testing different values of
C
,
L
, and
M
(cf. Methods section), we selected
C
= 1.94,
L
= 9, and
M
= 12. Our experimental results for different values of M are shown below (experiments for different values of
C
and
L
are not shown). Since
J
total
:=
⌈
log 2(
n
total
)
⌉
= 17, where
n
total
is the number of total probes in the data set,
L
= 9 for this data set roughly indicates that we average the log2 ratios of

probes in the 100K SNP array to obtain
y
LOW
. In order to identify broad aberrations, we apply the LOW transform and calculate the
q
-values of

. Here, amplifications and deletions in the size of a chromosome arm are considered broad aberrations, with a threshold
q
-value of 0.01. As shown in Additional File
1(a)
and
1(b)
, chr7, 8q, 17q, 19p, and 20 are amplified, and chr6q, 9p, 10, 13, 14, and 22 are deleted in the size of a chromosome arm. Next, using the HIGH transform, our model is able to detect clusters with focal aberrations; we used
d
= 100 KB to construct clusters. Since EGFR, MDM2, PDGFRA, MDM4, CDK4, MET, CDKN2A, PTEN, RB1, CDK6, and MYC have been reported as important GBM related genes [
34
], we investigate whether the clusters contain these genes. In addition, we investigate the effect of different
M
values for detecting focal aberrations. We use
M
values ≥ 9 since
M
can have values from
L
, as described in the Methods section. The number of probes with nonzero values in

is the largest when
M
= 9; Figure
4(a)
shows that 71 statistically significant clusters are generated for this value. In these clusters, seven GBM related genes are ranked as the top seven clusters. As
M
increases, the number of clusters and the number of nonzero probes in

decreases. Indeed, in Figure
4(g)
only two clusters are generated when
M
= 15. In the range
M
= 10-12, eight or nine GBM genes are located in the highly ranked clusters; this observation shows that our method highly ranks clusters containing important GBM genes regardless of the
M
value. However, if we consider the size of the chromosomal region containing the identified focal aberrations, there is a preferred choice for
M
value. When
M
= 9, among all 71 clusters spanning 436 MB, the top seven clusters contained seven GBM genes. On the other hand, when
M
= 12, 19 clusters spanning 26 MB included nine GBM genes in the top nine clusters. Hence, we use
M
= 12 for further analysis. As shown in Figure
4(b)
, these nine clusters contain nine previously identified GBM related genes [
34
], including EGFR, MDM2, PDFGFA, MDM4, CDK4, MET (amplifications), CDKN2A, PTEN, and RB1 (deletions); however, MDM4 and RB1 lie slightly out of the detected region. These nine genes were also detected by GISTIC. In addition to these nine genes, aberrations of CDK6 and MYC have also been reported in multiple GBM studies [
34
]. However, using this GBM data set, aberrations of these two genes were detected neither by our method nor by the GISTIC method. The above results indicate that our method highly ranks most of the important GBM genes and reports only a small number of false positive positions--although there is a possibility that these false positive regions may include previously unreported GBM genes.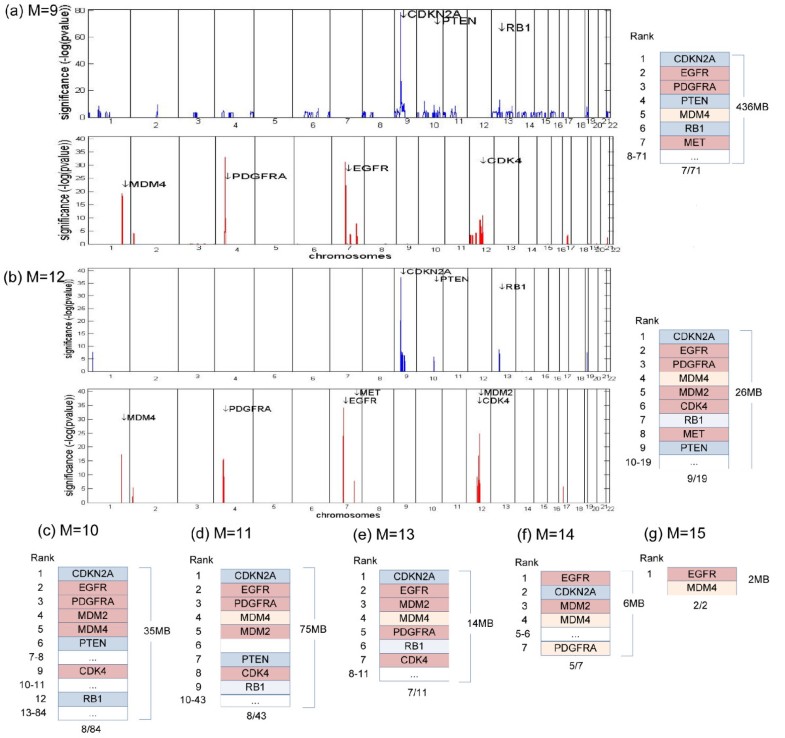 Table
1
shows the positions of clusters in chromosomes, ranked according to the cluster scores when
M
= 12. WIFA identified ten additional regions (other than the above nine genes). Two regions include known cancer related genes (MYCN [
35
] and IGFBPL1 [
36
]), though the remaining eight regions do not contain any cancer related genes; Additional File
2
contains the gene symbols for all clusters. In contrast, GISTIC identified 17 additional regions. In these regions, five known cancer related genes are included, one of which is MYCN. The remaining 12 regions do not contain any cancer related genes. Hence, both methods contain regions that may require further analysis, or they might just be falsely detected regions. Let us now revisit Figure
3
in order to illustrate the use of the HIGH transform to detect focal aberrations in GBM data [
17
]. Figure
3(a)
presents the SNP array data of 154 patients at positions from 52,767 to 55,790 KB in chr7. In this region, DNA amplification seems apparent in multiple patients. Figure
3(b)
then gives the HIGH analysis for the corresponding region. Note that the cluster from 54,145 to 55,790 KB ranks 2nd in Table
1
and contains EGFR.
Table 1
Clusters with focal aberrations in GBM.
| Score | P cluster | Cytoband | Start (KB) | End (KB) | # of PA | Gene Symbol§ |
| --- | --- | --- | --- | --- | --- | --- |
| -363 | 0 | 9p21.3,p22.1 | 19,639 | 24,327 | 42 | CDKN2A |
| 266 | 0 | 7p11.2 | 54,145 | 55,790 | 25 | EGFR |
| 101 | 0 | 4q12 | 52,600 | 55,926 | 9 | PDGFRA |
| 66 | 0 | 1q32.1 | 200,858 | 202,110 | 5 | MDM4† |
| 60 | 0 | 12q15 | 67,074 | 68,482 | 6 | MDM2 |
| 36 | 0.015 | 12q13.3,q14.1 | 55,820 | 57,257 | 4 | CDK4 |
| -35 | 0 | 13q14.2 | 46,386 | 47,510 | 3 | RB1† |
| 23 | 0.067 | 7q31.2 | 115,813 | 116,895 | 2 | MET |
| -18 | 0 | 10q23.2,q23.31 | 88,974 | 89,943 | 3 | PTEN |
| -16 | 0 | 19q13.2,q13.31 | 46,084 | 48,423 | 3 | |
| -15 | 0 | 9p21.1 | 32,101 | 32,432 | 3 | |
| 8 | 0.001 | 17q22 | 47,672 | 49,744 | 2 | |
| -7 | 0.034 | 1p33 | 50,351 | 50,689 | 2 | |
| 6 | 0 | 2p24.3 | 15,746 | 16,670 | 2 | MYCN |
| -4 | 0 | 9p13.1 | 38,288 | 39,006 | 3 | IGFBPL1 |
| 2 | 0.005 | 14q31.3 | 84,913 | 86,323 | 2 | |
| -2 | 0 | 9p12 | 40,722 | 41,675 | 3 | |
| -0.5 | 0 | 3p14.2 | 60,046 | 60,153 | 2 | |
| -0.2 | 0.033 | 14q21.2,q21.3 | 42,887 | 43,214 | 2 | |
We also applied the proposed method to a GBM data set obtained by Kotliarov et al.[20]. We used the same parameter values for C, L, M, and d as for the previous GBM data, since both are generated using the same SNP array platform. The HIGH analysis for this GBM data generates eight clusters; among these clusters, one focal deletion contains CDKN2A, and five focal amplifications contain MDM4, PDGFRA, EGFR, MDM2, and CDK4 (Additional File 3 and Additional File 4). Note that MET is not included in the focal aberrations because amplification occurs only in a single sample. The six GBM genes identified using this data are also found in the previous GBM data set. This result confirms that our method is able to detect focal aberrations that are consistent across different experiments.
Broad and focal aberrations in lung cancer
With the value of C = 1.94, the number of nonzero values in y HIGH of all chromosomes in the GBM data set is about 10% of the number of nonzero values in the sample. The value of C that provides approximately the same percentage of nonzero values in y HIGH for the lung data set is C = 5.2.
Using the LOW analysis, we then attempt to detect broad aberrations in lung cancer. For this task, the q-value is first calculated for each probe. As shown in Additional File 5 (a) and 5 (b), with a threshold q-value of 0.01: chr1p, 3p, 4q, 5q, 6q, 8p, 9, 10q, 13p, 15, 16q, 18, 21p, and 22 are deleted; and chr1q, 2p, 5p, 6p, 7, 8q, 14p, 17q, and 20q are amplified in the size of the chromosome arm.
To validate our choice of M, we conducted experiments with various M values. For example, with M = 9, 37 clusters spanning 161 MB included 12 cancer related genes, as shown in Additional File 8(a). However, even though the M = 9 case identified two more genes compared to M = 11, it required the search of five times more genomic regions; refer to Additional File 8 for the results of the other M values. Our analysis of lung cancer confirms that WIFA is useful for identifying cancer related genes in focal aberrations across different cancer types.
Comparison with other methods
We then compared our method with MCR and STAC. For implementation, we used the MCR from waviCGH [13](http://wavi.bioinfo.cnio.es/) and STAC from the authors' website (http://www.cbil.upenn.edu/STAC/). Note that the input files from both methods should have binary aberration calls of amplification, deletion, or no change; hence, GLAD [10], a segmentation method, was applied to single samples. The thresholds for amplification and deletion were then used to determine the aberration regions. In MCR, the fraction of samples in aberrant regions was used to determine the significant regions. In STAC, the p-value of the footprint was used as a measure of the significance of aberrant regions. For WIFA, the cluster score is used for this purpose.
We used a series of simulation data as the basis of our comparison, and generated the simulation data in two steps. First, ten different underlying true data were generated using Multiple Sample Analysis [11](http://www.cbil.upenn.edu/MSA/) software. For each true data, the length of a genome, in terms of number of markers, was 4,500; in addition, the number of samples was 50; the number of markers in the underlying concordant aberrations was 30; and the numbers of samples in concordant aberrations varied from 50% to 70%. In ten true data, the numbers of concordant aberrant regions varied from five to seven, and there were one or two nonconcordant regions. Second, the background aberrations were generated using a normal distribution. Because the maximum (in absolute) values of the markers for each sample were different, we set the standard deviation of the normal distribution to be the multiplication of a fixed number, which we refer to as the noise level, and the maximum value of the true data.
We investigated noise levels of 0.2 and 0.4. Performances of three methods are measured based on values for the area under a curve (AUC) for the sensitivity and false positive rate. For both noise levels, WIFA shows very good performance in identifying concordant regions in the simulation data, as shown in Figure
6
. Note that MCR performs slightly better than WIFA when the noise level is 0.2, but WIFA is superior when the noise level is 0.4. Considering that a lower noise level generally results in easier noise removal, we can conclude that WIFA is the most useful in identifying concordant regions in the simulation data. During these simulations, the parameter values of
C
,
L
, and
M
in WIFA were determined in the same manner as for lung cancer. In MCR and STAC, 0.1 is used as the threshold value for identifying amplifications and deletions in a single sample, after application of the GLAD segmentation method.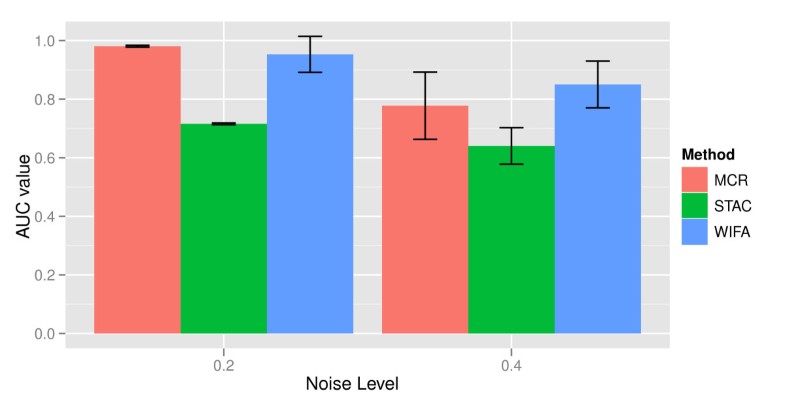 We next compared WIFA with MCR and STAC using real GBM data sets. As a measure of performance, we used the length of genomes to identify known GBM genes. In Figure
7
, the
y
-axis represents the length of the genome regions sorted based on the region significance, and the
x
-axis represents the number of GBM genes contained in the corresponding genomes in the
y
-axis. Because methods with high performance require a smaller length of genomes in their search for known GBM related genes, methods closer to the
x
-axis generally outperform other methods. Here, on average, WIFA typically shows the best performance, as nine genes can be identified around 10,000 KB. In MCR and STAC, five different thresholds of 0.1, 0.2, 0.3, 0.4, and 0.5 are used to determine the amplification and deletion. In both methods, the threshold value of 0.3 shows the best performance. Figure
7
includes the graphs of the 0.3 threshold, along with one other threshold for comparison. In MCR, only three or four genes are identified within 10,000 KB; more than 100,000 KB is required to identify the remaining genes. In STAC, more than 10,000 KB is required to identify most of the genes.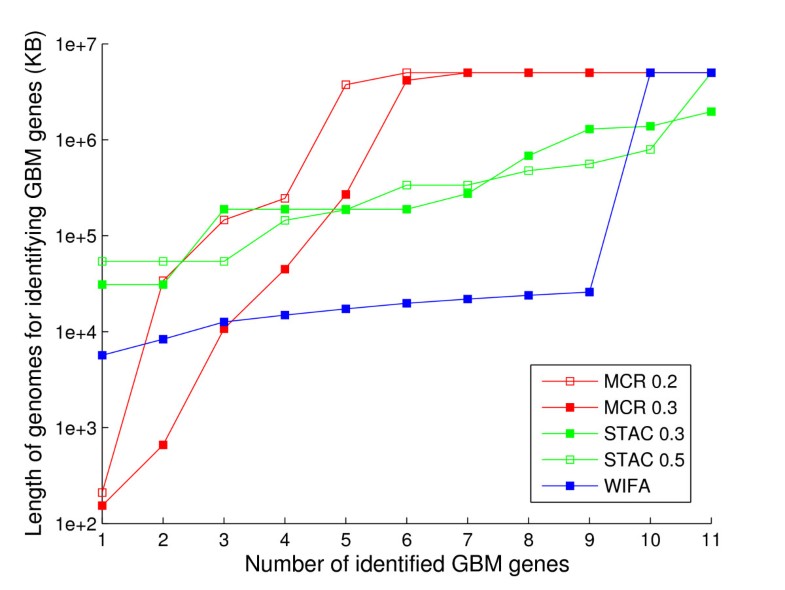 Discussion and Conclusions
Our work is based on a wavelet analysis. The wavelet analysis has been used in other papers to analyze array CGH data (cf. [9], [43]); for example, in [9], it is shown to perform well compared to approaches such as CBS, a change-point method [8], and HMM [44]. Compared to other wavelet-based approaches used to analyze array CGH data, the main differences in WIFA include: (i) a new parameter M is introduced, which is used to identify focal genomic aberrations more effectively; and (ii) a new method that integrates multiple samples, as a post-processing step in the wavelet analysis, is suggested in order to identify cancer-related genes from a data set having multiple samples. As a result, we were able to detect cancer related genes with high rate of accuracy in both GBM and lung data sets.
CNPs are another type of DNA variation that are abundant in the normal population, and are usually observed in kilobase or megabase DNA deletions or duplications. When a HIGH analysis was applied to SNP microarrays, deletions of a single SNP probe were frequently observed. When these were compared to the positions of known CNPs [22], many regions were found to overlap (data not shown); these single SNP probes were removed from our analysis since the relevance of CNPs to cancer requires further study. However, if CNPs are the main subject of analysis, it is possible that a new method based on our HIGH analysis could be developed to achieve this task. As a promising example, a single deletion of the SNP probe from 13 patients was observed at the 55,205,890 base position of chr11 when the GBM data set was used [17]. Olfactory receptor (OR) genes such as OR4C11, OR4P4, OR4S2, and OR4C6 are located at this position, and it was previously shown that the OR genomic location is frequently affected by CNPs [45]. This observation suggests that our wavelet analysis has the potential to be broadly applied to detect various kinds of focal aberrations.
Declarations
Acknowledgements
We would like to thank the three anonymous reviewers for their helpful comments. This work was supported by the National Research Foundation (NRF) of Korea funded by the Ministry of Education, Science and Technology (MEST) (2010-0003597).
Authors' Affiliations
(1)
Dept of Applied Mathematics and Statistics, Johns Hopkins University, Baltimore, USA
(2)
Dept of Information and Communications, Gwangju Institute of Science and Technology, Gwangju, South Korea
Copyright
© Hur and Lee; licensee BioMed Central Ltd. 2011
This article is published under license to BioMed Central Ltd. This is an Open Access article distributed under the terms of the Creative Commons Attribution License (http://creativecommons.org/licenses/by/2.0), which permits unrestricted use, distribution, and reproduction in any medium, provided the original work is properly cited.