Data recovery and integration from public databases uncovers transformation-specific transcriptional downregulation of cAMP-PKA pathway-encoding genes
BMC Bioinformatics
2009
10(Suppl 12):S1
Published: 15 October 2009
Abstract
Background
The integration of data from multiple genome-wide assays is essential for understanding dynamic spatio-temporal interactions within cells. Such integration, which leads to a more complete view of cellular processes, offers the opportunity to rationalize better the high amount of "omics" data freely available in several public databases.
In particular, integration of microarray-derived transcriptome data with other high-throughput analyses (genomic and mutational analysis, promoter analysis) may allow us to unravel transcriptional regulatory networks under a variety of physio-pathological situations, such as the alteration in the cross-talk between signal transduction pathways in transformed cells.
Results
Here we sequentially apply web-based and statistical tools to a case study: the role of oncogenic activation of different signal transduction pathways in the transcriptional regulation of genes encoding proteins involved in the cAMP-PKA pathway. To this end, we first re-analyzed available genome-wide expression data for genes encoding proteins of the downstream branch of the PKA pathway in normal tissues and human tumor cell lines. Then, in order to identify mutation-dependent transcriptional signatures, we classified cancer cells as a function of their mutational state. The results of such procedure were used as a starting point to analyze the structure of PKA pathway-encoding genes promoters, leading to identification of specific combinations of transcription factor binding sites, which are neatly consistent with available experimental data and help to clarify the relation between gene expression, transcriptional factors and oncogenes in our case study.
Conclusions
Genome-wide, large-scale "omics" experimental technologies give different, complementary perspectives on the structure and regulatory properties of complex systems. Even the relatively simple, integrated workflow presented here offers opportunities not only for filtering data noise intrinsic in high throughput data, but also to progressively extract novel information that would have remained hidden otherwise. In fact we have been able to detect a strong transcriptional repression of genes encoding proteins of cAMP/PKA pathway in cancer cells of different genetic origins. The basic workflow presented herein may be easily extended by incorporating other tools and can be applied even by researchers with poor bioinformatics skills.
Keywords
Mutation Cell LineGene Expression Omnibus DatabaseRobust Multichip AverageComplete Linkage ClusterInducible cAMP Early Repressor
Background
Integration achieves one of the most important imperatives of systems biology, namely it reduces the dimensionality of global data needed to deliver useful information about the networks active in the system of interest. The integration of data from different sources provides an effective means to deal with this issue by reinforcing bona fide observations and reducing false negatives. Moreover, because different experimental technologies provide different insights into a system, the integration of multiple data types offers the greatest information about a particular cellular process [1–3]. For example, gene perturbation experiments (e.g., knockouts or RNA interference) and microarrays analysis can reveal relationships between genes that may imply direct physical interactions or indirect logical interactions. Indeed, microarray experiments permit us to look at overall patterns of gene expression in order to understand the architecture of genetic regulatory networks, a global approach that could ultimately lead to complete description of the transcription-control mechanisms in a cell. In contrast, chromatin immunoprecipitation (ChIp) data can reveal direct protein-DNA interactions or cofactor associations with bound transcription factors. Combined together, these technologies can provide a much more detailed view of a transcriptional regulatory network than either alone.
Several recent methods have addressed the problem of heterogeneous data integration and network prediction by modeling the noise inherent in high-throughput genomic datasets, especially by using statistical methods, which can significantly improve specificity and sensitivity and allow the robust integration of datasets with heterogeneous properties [4, 5]. However, many of these methods recently developed to implement our ability to integrate and compare heterogeneous data, are often not easy to use and/or not freely accessible [6, 7]. Taking into consideration that the development of efficient methods that facilitate the biological interpretation of these data is crucial, in the present work we focus on efficient identification of regulatory mechanisms, and propose an approach for analysis and interpretation of gene expression data based on the integration of various types of related biological information.
The cAMP-PKA signalling pathway is an important regulator of cell fate that controls the activity of metabolic enzymes, transcription factors and cytoskeletal proteins and is strongly associated with the onset of several endocrine and non-endocrine tumors. A fundamental characteristic of cAMP is its ability to stimulate cell proliferation in many cell types while inhibiting in others. Such ability has been related to the fact that cAMP regulates the Ras/Raf/ERK pathway, whose role in cancer onset is well known (about 25% of human cancers have a Ras mutation). Indeed the cAMP pathway is able to suppress ERK signaling through its ability to target C-Raf and conversely, to activate ERK signaling through its ability to target B-Raf [8]. The underlying inhibitory mechanism is reasonably well characterized and involves the uncoupling of Ras signaling to C-Raf. On the other hand, models to explain ERK activation by cAMP are incomplete and in addition to B-Raf the involvement of other proteins has been suggested [9, 10]. Many observations regarding the cAMP ability to inhibit/stimulate proliferation by interfering with ERKs have been collected in normal or immortalized cell lines. However, recognizing the important role of both pathways in the development of cancer, is relevant to a more specific analysis of their crosstalk network also in cancer cells [11–14].
As previously described, the Ras pathway is able to crosstalk with the cAMP-PKA pathway by some typical signal transduction mechanisms (i.e. protein-protein interaction, protein phosphorylation). Moreover, through its ability to regulate the activity of a large number of transcription factors [15, 16], the Ras pathway is able to control several transcriptional programs leading to proliferation, differentiation, metabolism, cytoskeletal reorganization and immune response. Such transcriptional programs are the result of ras-specific effectors stimulation [13, 17]. Until now more than ten distinct functional classes of proteins have been involved as effectors of the small GTPase Ras, but the best studied are Raf kinases, type I phosphoinositide (PI) 3-kinases, Ral-guanine nucleotide exchange factors (Ral-GEFs), the Rac exchange factor Tiam1, and phospholipase C [18].
Raf and phosphatidylinositol 3-kinase (PI3K) were the first two identified Ras effectors and the main focus of research investigating Ras functions [19, 20]. Raf promotes cell proliferation and differentiation through the MAP kinase (MAPK) pathway [21], at the same time as PI3K generates anti-apoptotic signalling, directly or through Akt pathway activation [22, 23]. Both signalling pathways can activate two different signals distinct for their response timing. Indeed both MAPK and PI3K are able to activate phosphorylation cascades that lead, as primary effect, to post-translational modification of several substrates (membrane targets, cytosolic targets, cytoskeletal targets and nuclear targets), which rapidly activate functional processes. Early response to Ras signalling is quite fast: for instance in resting cells stimulated with mitogens, Ras-GTP level increases within 2 minutes from stimulation with serum [19]. Raf-1 undergoes transient activation within 2-3 minutes, and rapidly activates the mitogen-activated protein kinase (MAPK) cascade whose most downstream component, ERK, rapidly moves into the nucleus. Here it phosphorylates nuclear proteins, notably transcription factors [24, 25] whose activity can be controlled by regulating their sub-cellular localization, expression, stability, ability to bind to other components of transcriptional complexes and to DNA, and their ability to remodel chromatin structure [26]. Transcription factors are under the control of MAPK pathway, including members of the ETS family (i.e. Ets-1, Ets-2, PU-1), MADS box family (i.e. MEF2A, MEF2C, Sp1), Zinc Finger family (i.e. GATA-2 and GATA-4), bZip family (i.e. Fra-1, c-Jun, JunB, JunD, ATF-2, c-Fos and CREB), bHLH family (i.e. c-Myc, MITF), Nuclear Hormone Receptor (i.e. PR, GR and ER) as well as other transcription factors (i.e., SMAD1, STAT1) and coregulatory proteins (i.e., CBP, p300) [15, 24, 25].
Like ERKs, Akt and other targets of PI3K signalling can phosphorylate and activate transcription factors [27]. Akt protein can control several transcription factors directly or indirectly. Direct targets are the forkhead box proteins, FOXO, and the cell cycle inhibitor, MIZ1, which are both inhibited upon AKT-mediated phosphorylation. AKT-dependent regulation of p53, nuclear factor B (NFkB), c-MYC, activator protein 1 (AP1) and beta-catenin is indirect [16].
Such an observation led us to re-analyze, by using a generalized workflow for data recovery and integration, available data from multiple global assays and several databases (genomics, transcriptomics, promoter analysis and literature). In particular we searched for information for genes encoding proteins of the downstream branch of the PKA pathway (starting from adenylyl cyclase and downstream) in tumor cell lines (NCI60 cells) as a function of mutational activation of different pathways (notably the Ras and PI3K pathway) in comparison with the corresponding normal tissues, with the aim to define better the connection between these pathways in cancer cells [28].
Results and discussion
Gene-expression profiling has been applied extensively in cancer research. As a first step to identify regulatory mechanisms underlining gene-expression profiles it is necessary to extract, filter, cross-reference and structure information from cancer-related data sets [29]. The aim of this work has been the identification of cancer-specific specific gene expression signatures in genes encoding proteins involved in the cAMP-PKA pathway. In particular we wished to identify, if present, differences between primary normal tissues and cancer cells and search for correlation with the pathway mutationally activated in any given transformed cell line by integrating an accurate analysis of recovered data from several databases with the application of different statistical tests.
Conclusions
By using a generalized workflow for data recovery and integration that combines accurate analysis of recovered data from several databases with the application of different statistical tests we have been able to correlate strong transcriptional repression of genes encoding proteins of the cAMP/PKA pathway in transformed samples of different genetic origin (i.e., bearing mutations in different pathways). This finding prompted us to compute consensus promoters, whose composition was specifically enriched for different transcription factor binding sites (TBFS). Comparison of TFBS computationally identified in the consensus promoters with TBFS experimentally identified by a variety of techniques, shows a good agreement. Indeed, by lowering the stringency used in the workflow, some of the TFBS missed by higher stringency analysis (false negatives) were recovered, in keeping with the notion that intersection of different data sets and/or techniques decreases both noise and the number of hits.
The workflow we have followed is summarized in Figure
7
and detailed in Methods section. As the number of sites hosting curated transcriptional profiles increases, more and more data to be used as starting point become available. We used the GEO database to recover data from the NCI60 cell collection (cancer samples) and matching normal tissues and to which specific statistical tests (i.e. ANOVA, Hierarchical clustering) were applied. By using the COSMIC database, which gives information about the mutational status of the NCI60 collection, we could sort the NCI60 cell lines in 4 subgroups with mutational activation of genes encoding components of the Ras pathway, of the PI3K pathway, of other pathways or for which no information was available. Such a sorting allowed us to uncover an hitherto unrecognized oncogene-dependent pattern of regulation of 41 genes encoding components of the cAMP/PKA pathway (Figure
7B
and
7C
). The transcriptional profiles for transformed cells within one of the identified subgroups may then be used as a new query to GEO database (green arrow), in order to correlate and confirm, i.e. in cancer tissues, the oncogene-dependent pattern identified.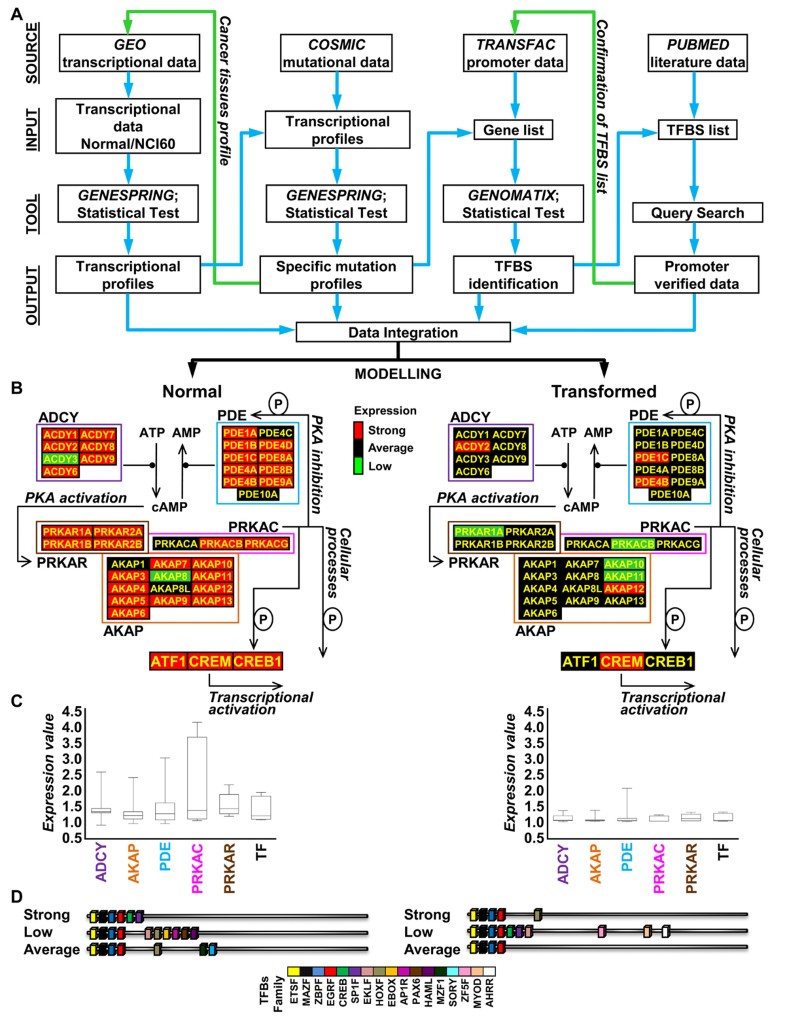 Deregulation of transcriptional programs, such as that identified for PKA pathway-encoding genes, may be considered a direct consequence of a deregulated activity of transcription factors. The TRANSFAC database was used with a high stringency threshold, to identify the regulatory sequence in co-regulated genes with high confidence, improving the deduced linkages between transcription factors and the regulated genes. Using this approach, we demonstrated that in all PKA encoding genes TFBSs for ETS, MAZ, ZBP and EGR transcription factors are present (Figure 7D) and that specific subsets of TFBS are present in the normal and transformed samples. The number of TFBS identified by computational analysis was higher than those that could be retrieved from literature as experimentally determined. This observation was to some extent expected because of limited literature reference availability, complexity to retrieve data, difficulty to analyze data from several origins, and the lack of powerful data analysis and integration tools. Under these less-than-ideal conditions, a dedicated tool such as the TFBS database, can be extremely powerful, allowing predictions that are amenable to experimental verification, should this be necessary. As discussed above, most of the false-negatives that failed to be detected by our computational approaches could be recovered by appropriately lowering the stringency of analysis.
In Figure 7B transcriptional expression of PKA pathway encoding genes is color-mapped (geometric mean, Strong expression, red, Average expression, black and Low expression green) on a block diagram summarizing functional interconnections within the PKA pathway module. A general and balanced co-regulation of both positive and negative regulators of the cAMP/PKA pathway is apparent in both normal and transformed samples. Notably, in normal cells variability in expression is maximal for genes encoding the catalytic subunit of PKA. Because of the pleiotropic role of the PKA pathway (including stimulation of growth and differentiation in many cell types, such as somatotrophs, thyrocytes, melanocytes, ovarian follicular granulosa cells, keratinocytes, nervous, muscle and blood cells and adipocyte and the important role of such pathway in the regulation of the function of tissues as kidney, ovary, brain, and prostate), strong expression in normal tissues is expected [8, 87, 88]. It should also be remembered that cross-talk between the PKA pathway and oncogene-mediated pathways can also take place at post-transcriptional levels. For example, several Authors reported the ability of oncogenic and viral Ras proteins to either stimulate [89–91] or inhibit [92–94] ADCY activity in different cell lines (thyroid, epithelial, kidney, fibroblast). Moreover an involvement of MAPK or PI3K pathways in the regulation of PDE activity has been reported, suggesting that mitogenic stimulation may positively regulate PDE4 expression directly [95], confirming our transcriptional results, or by post-translational mechanisms in which p42(MAPK) phosphorylation activity has a relevant role in their regulation [96]. Another important post-transcriptional mechanism that links Ras or PI3K pathways to cAMP/PKA pathway is the positive and negative control of CREB activity by a phosphorylation [97, 98]. Moreover, it has been reported that cAMP is able to induce proliferation rather than growth inhibition, in several tumors where oncogenic activation of B-Raf has been identified (i.e., melanoma and thyroid cancer) [8]. Nevertheless, the general and coordinated down-regulation of essentially all genes of the pathway in transformed cells (as compared with normal tissues) suggests that at least one PKA-mediated function needs to be reduced substantially in order to express the transformed phenotype. Although at this stage it is too early to propose specific hypotheses, it is intriguing to remember that PKA has been ascribed a role in activating mitochondrial respiration and decreasing ROS production [99, 100], thus effectively counteracting mitochondria dysfunction that is found associated with increased glycolysis (Warburg effect, [101–103]) in many cancer cells. On the other hand, a reduction in oxidative phosphorylation that will decrease ATP supply, as substrate of adenylate cyclase, may result in a decreased cAMP production without relevant changes in the level of the enzymes (and possibly therefore of their gene expression).
It is expected that deeper computational integration of transcriptional data with other genome-wide findings, including -but not limited to- proteomics, interactomics and metabolomics, will allow a better extraction of hidden information. We propose that such data integration can be further applied to examine the topology of biological networks, to provide information on directionality of interactions, and create wiring diagrams that better depict the functional outcome of component-component relationships. Together, these strategies should facilitate a systems approach to modular biology.
Thus systems biology can be approached by perturbing the suspected components of a given cellular process, monitoring the responses, integrating the data and modeling the biological process in question [104]. By applying a single "omic" approach, able to sample a "horizontal" slice (i.e. across all genes or gene products) of a multidimensional space, the knowledge of a system can be expanded from a single gene to a network of genes, which can be regarded as a basic model for the system. When genes or proteins in this network are systematically disrupted, responses from other parts of the network can be recorded and the data obtained can be incorporated into the basic model. However sampling a single dimension of a complex space will undoubtedly provide relevant information, but may not highlight the major regulatory features. Therefore, a wiring diagram that depicts the direction of interactions in the network and the behavior of each of these components can be constructed to better represent the relationships between the components [104]. The example shown in Figure 7 illustrates how our current knowledge of a biological system can be expanded and a model built based on integrated "omic" information. Ultimately, development of such computational methods and their recursive integration with genome-wide and hypothesis-driven experimental investigations that also take into account post-translational and substrate-dependent mechanisms controlling the cAMP/PKA pathway activity, should reconcile experiments from different experimental systems (cell cultures, animal models and human tumor samples) and contribute to explain at an integrative, systems level how the cAMP-PKA pathway is affected by oncogenic processes originated by mutational activation of signal transduction.
Declarations
Acknowledgments
This work has been supported by grants from ITALBIONET to L.A. and FAR to M.V. and F.C. The authors wish to thank Neil Campbell for language checking.
This article has been published as part of BMC Bioinformatics Volume 10 Supplement 12, 2009: Bioinformatics Methods for Biomedical Complex System Applications. The full contents of the supplement are available online at http://www.biomedcentral.com/1471-2105/10?issue=S12.
Authors' Affiliations
(1)
Department of Biotechnology and Biosciences, University of Milano-Bicocca, Milano, Italy
Copyright
© Balestrieri et al; licensee BioMed Central Ltd. 2009
This article is published under license to BioMed Central Ltd. This is an open access article distributed under the terms of the Creative Commons Attribution License (http://creativecommons.org/licenses/by/2.0), which permits unrestricted use, distribution, and reproduction in any medium, provided the original work is properly cited.